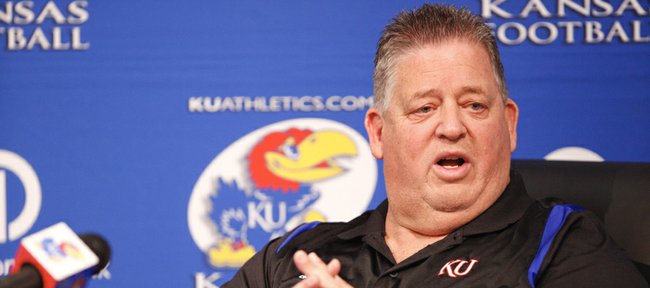 The NCAA recently adopted more than 25 rule changes that range from financial and academic alterations to opening up the way high school athletes can be recruited.
While most of the changes are minor and simply tweak or clarify existing guidelines, the new rules could have a major impact on the way prep athletes make their decisions and, perhaps more significantly, could impact the way college coaches are forced to handle recruiting.
"The college football coaching profession is already a grind," said Rivals.com recruiting analyst Jon Kirby, who has covered recruiting at Kansas University for more than a decade. "Those guys really don't have much time where they get away from the office. With the new rules, the few times that they do get away, they won't actually be able to get away from it. The college recruiter will be held hostage somewhat because they'll always be on the clock now."
Of all the amendments adopted last weekend, the three that will impact recruiting the most include the following:
Rule 11-4, which removes limits on the number of coaches who can recruit off-campus at any one time.

Rule 13-3, which eliminates restrictions on methods and modes of communication during recruiting.

Rule, 13-5-A, which will eliminate restrictions on sending printed recruiting materials to recruits.
In short, the very thing that former Oklahoma basketball coach Kelvin Sampson was penalized for, which led to his departure from OU, is now legal. As Kirby pointed out, not only can coaches and recruiters make as many phone calls or texts as they like, they also can receive as many as they desire from prospective recruits. That's where the whole concept of being held hostage enters the picture.
"You've gotta be there to answer and respond to all of the calls you get," Kirby said. "If you don't, there's gonna be another coach out there who does."
According to the NCAA's official website, the reason for adopting the proposed rule changes was to create "a more flexible manual based on common sense."
According to the release on NCAA.org, the changes, which are scheduled to go into effect Aug. 1, include enhanced academic eligibility standards for incoming freshmen and student-athletes who transfer from two-year colleges, the creation of a tie between a team's academic performance and participation in NCAA championships, a revamped enforcement and Committee on Infractions process, and a multi-year scholarship model.
While those will impact nearly all universities in some way or another during the next several years, the rules aimed at recruiting may have the biggest impact, particularly at a school like KU and with a program such as football, where keeping up with and competing against conference foes such as Texas and Oklahoma already are difficult tasks.
There are, of course, several advantages to the new rules, as long as a school and its coaches are willing to take advantage of them. Based on the way KU football coach Charlie Weis has shown himself to be willing to pound the pavement to get players, KU could be one of those schools that benefits.
"Everybody's on the same level," Kirby said. "It's in each program's hands now."
Said NCAA Board of Directors chairman, Nathan Hatch: "When this process is complete, Division I should operate with rules that create more ways to provide for our student-athletes and are easier to understand and apply."
With just a couple of open spots remaining, Weis and company have less than two weeks remaining to wrap up recruiting the Class of 2013. In all, 25 players in the current class have orally committed to KU. Ten of those signed with the Jayhawks in December and the remaining members of the list of commitments will be eligible to sign their letters of intent starting Feb. 6.
More like this story on KUsports.com