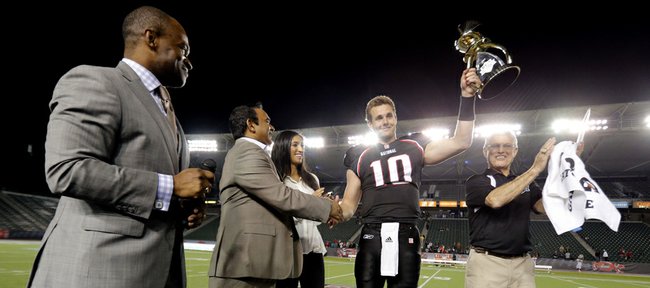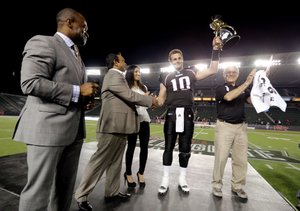 Former Kansas University quarterback Dayne Crist boosted his NFL Draft stock tremendously during the past two weeks, turning in a solid performance at one all-star game and earning MVP honors at another.
The Notre Dame transfer who started KU's first six games of the 2012 season but was benched in favor of red-shirt freshman Michael Cummings for much of the second half of KU's 1-11 season has been one of the hot names on the postseason showcase circuit during the past few weeks.
After finishing 6-of-12 passing with one touchdown in a 40-7 victory at the Casino Del Sol College All-Star Game on Jan. 11 in Tucson, Ariz., Crist one-upped himself with a 7-of-10, two-touchdown showing during last weekend's NFLPA Collegiate Bowl in Los Angeles.
The big night, which staked the National team to a 17-0 lead en route to a 34-0 rout, earned Crist MVP honors, and Monday in an interview with the Journal-World, he talked about what a shot in the arm the two games have been for his career.
"It was an incredible honor and extremely flattering to have been named MVP," Crist said. "I felt extremely blessed all week long to have been surrounded with great players and coaches and had an absolute blast. I am so thankful that the NFLPA Collegiate Bowl invited me to be a part of their game."
Crist said he had not heard much feedback from coaches during the past few days, but added that he felt good about delivering such strong performances in front of so many coaches and scouts.
"I just tried to focus on practicing well all week and having that translate over to the games these past two weeks," he said. "I was extremely blessed to have visited with many scouts each day and hope that leads to further contact down the line."
Heading into the 2012 season, Crist, who even showed up as a long shot on the Heisman Trophy voting odds in Las Vegas, was viewed as a fringe NFL-caliber quarterback who could help his stock tremendously with a solid senior season. That solid season never came, as the former five-star prep standout threw for just 1,300 yards, with four touchdowns and nine interceptions, in seven starts.
Part of the 6-foot-4, 225-pound QB's struggles came because of the enormous pressure put upon him by KU's success-starved fan base, himself and KU coach Charlie Weis. But as the season went on, it became clear that Crist had adopted more of a let-it-rip attitude.
Even though the altered mind-set did nothing to help KU win games, it was clear that Crist played some of his best football during KU's final few games.
Crist currently is in New Jersey working out at Test Sports and also has started training with Scott Brunner, who specializes in training quarterbacks.
Although the showcase games are finished, Crist has KU's pro timing day to look forward to — March 15 — and also figures to get at least a few more workouts in front of NFL scouts.
"Physically, I am just trying to improve in all areas and get bigger, faster, and stronger," Crist said. "Football-wise, coach Brunner and I are fine-tuning footwork and mechanics, and I'm trying to be the best QB I can possibly be."
Here's a quick look at what a few NFL Network analysts had to say about Crist prior to last weekend's NFLPA Collegiate Bowl:
Todd McShay: Consistency is what they are looking for. Looking at his career, it was full of injuries, up and downs, and a transfer. Winds up getting benched. When you look at him on tape he has the size, looks the part, makes some throws that draw you back in when you start to give up on him. He has some parts you are looking for but he needs consistency.
Bill Polian: He has to perform under pressure. He needs to have a good ball game. He does have all the tools including intelligence. He needs to go out here and perform under pressure, and if he does people will take notice of those tools and his draft stock will rise. Everything rests on how he performs on Saturday.
Robert Smith: He has fought through injuries and adversity, and those tend to settle you down. You saw some inconsistency with accuracy and arm strength. His arm strength isn't elite but may be serviceable at the next level. He is the kind of guy from a mental aspect that could be as good as any.