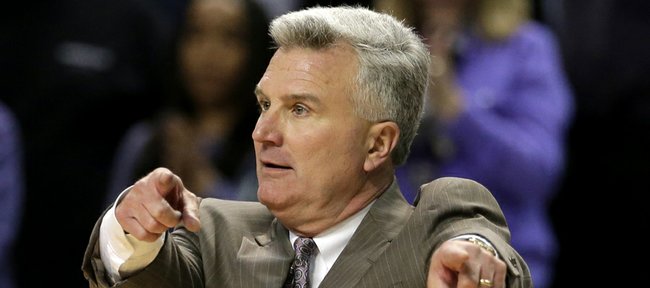 The stench from the cyber stink bomb that exploded when Kansas State athletic director John Currie hired Bruce Weber didn't deter the school's ministers of sports propaganda from doing their jobs.
They needed to line up quotes from prominent college basketball names to promote the hire, and they had plenty of places to turn for help.
The first man quoted was an easy choice. Gene Keady, five-time Big Ten coach of the Year when he was at Purdue, was Weber's chief mentor. A former K-State football player, Keady recommended Weber highly for the job in the wake of his firing by Illinois nine seasons after hiring him.
Keady, now an assistant to former understudy Steve Lavin at St. John's, called Weber "one of the top five coaches in the nation."
Michigan State's Tom Izzo said: "He's beat me and my team more often than not. I've recruited against him and lost, and I've recruited against him and won, and (it) hasn't changed things."
North Carolina coach Roy Williams, who always will keep one eye trained on college basketball news in the state of Kansas, said: "Bruce is an absolutely fantastic hire for Kansas State. Frank Martin did a great job following Bob Huggins, and I feel that Bruce will do a great job following Frank. They have some very good players there, tremendous enthusiasm and fan support."
ESPN analyst Jay Bilas, who doesn't spin when he talks, called Weber "a great hire" and "outstanding basketball coach."
No point in trying to dispute any of those opinions. An upset against Kansas in Bramlage Coliseum tonight would vault Weber into the driver's seat for national Coach of the Year honors.
Kansas State enters the game ranked 11th in the nation with a 15-2 record and an eight-game winning streak that coincides with Weber's shift to a four-guard starting lineup. The coach has come a long way in a short time with the Kansas State fan base.
An exhausted Weber didn't do himself any favors at his introductory news conference. When reeling off the names of famous former coaches, Weber stumbled through Cotton Fitzsimmons, first calling him "Fitzgerald." Then he referred to Mr. K-State, Ernie Barrett, as "Ernie Barnett."
Big deal. All those local references coaches and administrators make when formally saying hello come off as forced anyway. It all comes down to winning. Weber's start has enabled Currie's seat, which heated up when it became obvious Martin's departure at least in part was caused by a poor relationship with his boss, to grow so much cooler.
Already, Weber looks like the perfect hire at the perfect time.
In one monster recruiting season, Bob Huggins brought big-time basketball back to Manhattan. Martin advanced it. And Weber, a better teacher of offensive X's and O's than Martin, has a chance to move the program forward.
Especially considering Missouri's departure from the Big 12, the more progress Kansas State makes in basketball, the better it is for the KU basketball program. As Huggins said during his short stay in Manhattan, a rivalry isn't truly a rivalry unless both teams win some games. Tough tests, especially in rivalries, strengthen teams.
K-State fans didn't appreciate how quickly Huggins bolted for his alma mater, West Virginia, but became grateful to him for leaving behind Martin, his top assistant.
Martin's winning ways, broad shoulders and bug-eyed glare all combined to make him a revered figure with Kansas State's colorful student section and wealthy alumni alike. Currie couldn't run the risk of hiring a coach who might be intimidated by the shadow of Martin's popularity.
Replacing a well-liked coach was nothing new for Weber, who has been dogged for years with criticism over his decision to hold a mock funeral for Illinois predecessor Bill Self in practice during his first year on the job.
"I had been through a similar transition not only at Illinois, but at Southern Illinois and even as a young assistant at Purdue when coach Keady took over after Lee Rose had been to the Final Four," Weber said Monday.
K-State's new coach won 10 NCAA Tournament games in a five-year stretch. The first two years of that span came at Southern Illinois, so Weber did it with more than just Self's recruits. The man can coach. If he can recruit at a high enough level, he'll be mentioned prominently in discussions as to the second-best coach in the Big 12, and the state's basketball rivalry will be better for it.