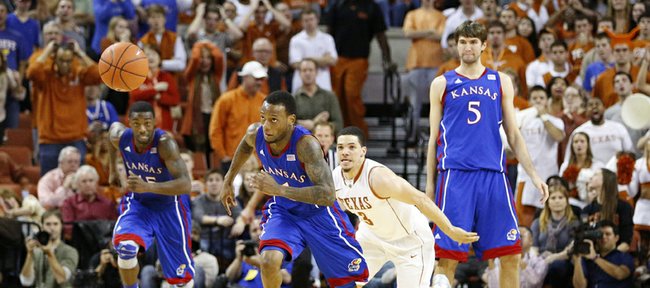 Podcast episode
Kansas coach Bill Self talks after his team's 64-59 victory over Texas on Jan. 19, 2013.
Podcast episode
Kansas players Jeff Withey and Ben McLemore talk after the Jayhawks' 64-59 victory over Texas on Jan. 19, 2013.
Podcast episode
Texas coach Rick Barnes talks to reporters following his team's 64-59 loss to Kansas on Jan. 19, 2013.
Austin, Texas — Kansas University backup point guard Naadir Tharpe, who according to coach Bill Self was "awful early," pleaded his case while sitting the bench with about eight minutes left in the Jayhawks' 64-59 victory over Texas on Saturday in Erwin Center.
"I was like, 'Coach, please get me back in there. Give me another chance,'" Tharpe said. "Coach said, 'Don't worry. I'm going to get you back in there.' He did. I was just grateful for that, and I'm happy we came out with a win," added Tharpe, one of the heroes down the stretch as KU improved to 16-1 overall and 4-0 in the Big 12. Texas fell to 8-9, 0-4.
Tharpe, a 5-11 sophomore from Worcester, Mass., was re-inserted into the game by his coach with 6:08 left and KU down, 51-47.
He made his presence felt by hitting a three that rolled around before dropping with 4:42 left, cutting a four-point deficit to 53-52.
"I think I was talking to the basketball at that point. I was like, 'C'mon, You're not going in there for me again?'" Tharpe said on a day he scored five points off 2-of-6 shooting (1-3 from three) and dished one assist against one turnover with one steal in 16 minutes.
"The basketball gods definitely helped me on that one."
Tharpe next hit what proved to be the shot of the game — a driving layup that erased a 57-56 deficit and gave KU the lead for good at 2:18.
"Ben (McLemore, 16 points, four turnovers, one assist) did a great job driving it. He brought two defenders toward him and pitched it back to me. I saw the lane wide open so I just went in there aggressive," Tharpe explained.
Travis Releford (12 points, four rebounds) hit two free throws, upping KU's lead to 60-57 lead at 1:45.
Next, Jeff Withey poked the ball from a Longhorn and knocked the ball ahead to Tharpe, who fed McLemore for a dunk at 1:16, upping KU's lead to 62-57.
"Ben was running the floor hard. If anybody on the team is going to run the floor that hard, I have to reward 'em. That's what I tried to do," Tharpe said of "giving a little handoff to him (McLemore)."
Tharpe did miss a fade-away jumper at :27, giving Texas (down 62-59) a final chance to tie. Julien Lewis missed a three from the corner with 13 seconds left and 13 seconds still on the shot clock.
KU grabbed the rebound, and Releford was fouled and hit two free throws at :07, accounting for the final points of the 64-59 win.
"Lewis got off a pretty good look," Self said. "I didn't think Ben did a great job getting to him on the perimeter."
Self did not consider fouling Lewis rather than allowing a possible tying three.
"It's too early to tell your team to foul," Self said. "It was not a situation we were going to think about fouling or anything like that."
Asked if he was surprised Lewis (11 points, 5-10 shooting, 1-4 from three) shot with so much time left, Self said: "No. That's what he does. He and McClellan (Sheldon, 18 points, 8-of-18 shooting) can run along that baseline, pivot and make that shot. So that didn't surprise me at all."
It did surprise McLemore, who was the defender.
"Definitely ... so early in the shot clock," McLemore said. "We made that stop and got the defensive rebound."
And won a game in which KU trailed by as many as 11 points (42-31) at 15:21. Tharpe was as responsible for the 'W' as anybody.
"I thought he was terrific late," Self said. "He missed two loose balls that cost us five points in the first half. We subbed him in (second half). He didn't do a great job getting us into anything. There at the end he did a really nice job. He made a couple huge shots."
Tharpe said he received a talking-to at halftime with the Jayhawks down, 28-26.
"From coach Self and (assistant Joe) Dooley," Tharpe said of the message-givers. "They saw I wasn't being myself, not being aggressive."
Tharpe had no points, no assists in six minutes the first half. "It was all positive the way they came at me: 'Just go relax and play your game.' That's what I did," he said.
"We basically stuck together as a team. Coach came down on us hard. We knew what we could do as a team so we came together."
Tharpe's teammates were not surprised he helped the Jayhawks remain undefeated in league play heading into Tuesday's 7 p.m. game at Kansas State.
"(He was) huge," said Withey, who had 14 points, nine rebounds and three blocks. "He was playing great 'D.' He came in and did what he was supposed to. We all know Naadir can do that. He proved it tonight."
"He's a big-time player," said senior Elijah Johnson, who missed 10 of 11 shots and finished with six points, three turnovers and two assists. "He is going to make some plays like that. I know he is finally getting comfortable on the court this year. That's what he's going to do, so expect that from him."