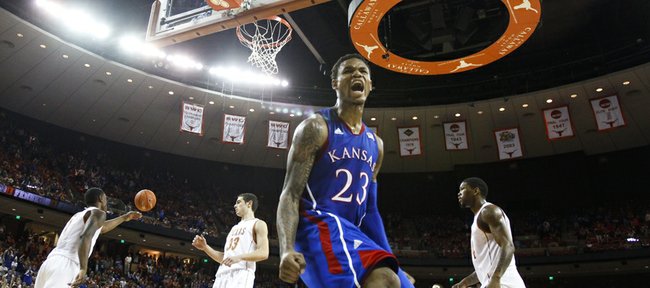 Podcast episode
Kansas coach Bill Self talks after his team's 64-59 victory over Texas on Jan. 19, 2013.
Podcast episode
Kansas players Jeff Withey and Ben McLemore talk after the Jayhawks' 64-59 victory over Texas on Jan. 19, 2013.
Podcast episode
Texas coach Rick Barnes talks to reporters following his team's 64-59 loss to Kansas on Jan. 19, 2013.
Austin, Texas — Sure, there were a ton of negatives in Kansas University's offensively challenged 64-59 victory over Texas on Saturday in Erwin Center.
At the same time, there was one, huge positive to be taken from a game in which the Jayhawks (16-1, 4-0) trailed by as many as 11 points the second half against (8-9, 0-4) UT.
"I thought we were great the last eight minutes," said KU coach Bill Self, who used a four-guard lineup of Ben McLemore, Elijah Johnson, Travis Releford and Naadir Tharpe (to go with Jeff Withey) in crunch time. "We did guard late. Gosh did we guard the last eight minutes."
The Jayhawks also bricked eight of 11 threes and hit 20 of 51 shots for 39.2 percent to UT's 44.6-percent mark (7 of 18 from three).
"The whole thing today," Self said, "was we couldn't score against their defense. Their defense was better than ours today, so we had to do it by getting out in transition. Going small helped us late. Some guys came in and made some big plays."
Self said only Withey (14 points, nine boards, four assists, three blocks in 32 minutes) could be cited as having a good game.
"Our offense is stale," Self said. KU has scored 64, 61 (Baylor) and 60 (Texas Tech) in its last three Big 12 games. "Today was totally different. They guarded us," he exclaimed. "They pressured us. They took us out. We couldn't get our shoulders past them. Sometimes that happens on the road. Even though we don't want to admit this, these guys haven't played a ton of road games. This is the only competitive road game we played. I didn't think we reacted favorably, but when the game was on the line, the guys believe they are going to win."
Mad coaches: KU had five quick turnovers to start the second half. "Not very often in a college game do you have a combined three timeouts (two KU, one Texas) before the under-16 timeout because the coaches are mad. Both teams," Self said, smiling. "That doesn't happen. We made it possible today by our poor play to start the second half."
Elijah Johnson on KU surviving and improving to 4-0: "It's a learning process. What happens happens. What happened happened. We learned something today. We probably would have learned more if we lost, but we definitely learned something today. That's all that matters. We learned something today," Johnson said.
He's OK: Freshman forward McLemore, who sprained his right ankle late in the Baylor game, scored 16 points off 6-of-10 shooting. He had six rebounds, four turnovers, two steals and one assist in 37 minutes. He rated his physical condition as "100 percent" after the game.
Stats, facts: KU is 16-1 or better for the third time in the last four seasons and the fifth time in the 10-year Bill Self era. ... KU has won 15 straight games. ... KU is 4-0 in the Big 12 for the second straight season and the seventh time under Self. ... KU is 21-7 all-time against Texas, including 6-5 in Austin (5-4 in Erwin Center). ... KU has overcome deficits of eight or more three times this season (eight at Ohio State, 12 vs. Chattanooga, 11 at Texas). ... The Jayhawks' 42-31 deficit in the second half marked the largest deficit that KU has faced in Big 12 play (previously six vs. Iowa State, 1/9), one point shy of its largest deficit of the season (12 vs. Chattanooga, 11/15). ... For the first 13 minutes, all of Texas' scorers were freshmen. ... KU went more than nine minutes without a field goal in the first half. ... The Jayhawks' 26 points in the first half marked their fewest scored in a half this season (27 at Texas Tech, 1/12). ... KU erased an 11-point deficit in 11 minutes and nine seconds (42-31, 15:22/54-53, 4:13). ... KU outscored Texas, 17-6, in the final 5:36. ... Texas shot 45 percent (25-for-56) to Kansas' 39 percent (20-for-51), becoming the second team this year to outshoot the Jayhawks (Michigan State, 11/13). ... Texas is 0-4 in the league for the first time since starting the 1997-98 season with the same record (Coach Tom Penders' final season at Texas). ... KU outrebounded Texas, 36-29. ...
Individual notes: Withey (three blocks) has at least one block in 27 straight games. ... Withey moved into a tie for third on KU's career blocked shots list (243, Nick Collison). ... McLemore shot 60 percent (6-for-10), the fourth time this year he's shot 60 percent or better.
Frankamp hurt: KU signee Conner Frankamp of Wichita North suffered a concussion in Friday's Dodge City Tournament of Champions semifinal vs. Scott City. He was diagnosed with a concussion and was to be held out of the finals.