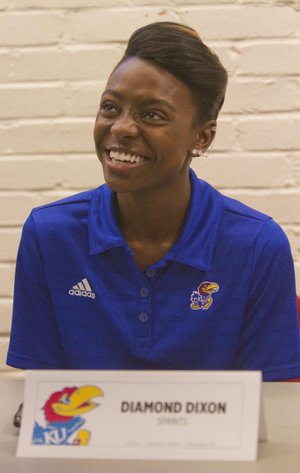 Pop quiz: What diamond sparkles the most?
a) Round brilliant
b) Marquise cut
c) Heart cut
d) None of the above
Gemologists would claim the answer is a) the round brilliant. Forgive their ignorance. They never have seen the sparkle of the smile on the poster of sprinter Diamond Dixon as she bites into her gold medal, earned as part of the U.S. Olympic team's 4X400 squad.
Mona Lisa's eyes follow visitors as they stroll through the Louvre. Dixon's smile from the poster plastered all over the Kansas University athletic department has a staying power of its own. To see it staring down at you tends to make you feel better inside for the rest of the day.
Lance Armstrong shot his way to the top, and anyone who told the truth about that, we now learn, ran the risk of having his or her character assassinated.
Manti T'eo's girlfriend died, but never was born. Maybe he wasn't trying to tackle Alabama's Eddie Lacy after all. When we thought that was what he was doing he actually was giving his phantom girlfriend a hug for all the world to see.
Diamond Dixon is real, and so is her smile and her gold medal and her national championship in the 2012 NCAA indoor 400 meters.
Now that she has acquired the ultimate track-and-field hardware, what keeps Dixon motivated, what keeps her humble?
"You're never really at your best," said Dixon, fresh off hernia surgery. "That's what I learned from my coach (Stanley Redwine). No matter what time I run, I can always eventually run faster. I always want more. I'm a little greedy. I always want more."
More success in her event. Not more publicity. Not more drama. Not more air time. More polishing of the gem of a gift she has been given, the gift of speed, the gift she constantly buffs with the help of coaches and teammates.
She said she keeps her gold medal in her room, shares it with visitors and gets a kick out of how they seem to marvel at how heavy it is.
She works extremely hard and has so much talent that she has a way of turning her dreams into reality, not that she wants all of her dreams to leave the realm of fantasy.
My recurring nightmare started 39 years and 150 pounds ago, during track season as a freshman in high school. In the dream, I was winning a race — that's how I could tell it was a dream — and my legs all at once turned to mush. I couldn't move. I asked Dixon if she ever had a similar dream.
"Actually, I have a nightmare about a lion chasing me in the backyard," she said. "The lion's running really, really fast, and I'm just moving so slow, not going anywhere. I don't know what it means, but it's a fierce lion. Pretty scary."
She said it has recurred several times.
"I haven't had it lately," Dixon said.
Maybe the lion is resigned to never catching her. Dixon's that fast, yet not so fast as to get ahead of herself by seeking fame instead of tangible goals measured in fractions of a second.