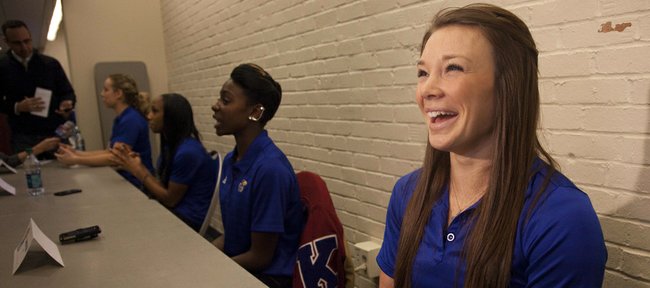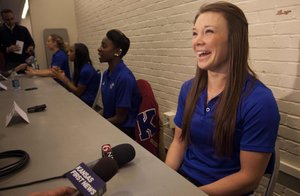 Confidence, talent and a reason to keep running.
The Kansas University women's track and field team has all of those ingredients and more as it enters the 2013 indoor season with a No. 2 national ranking and aspirations of making the upcoming seasons some of the best in school history.
"We're excited with where we are," said coach Stanley Redwine, who is beginning his 13th season at KU. "But there's a lot of work to do. We have a target on our back. ... When we step on the track, people want to beat Kansas. And we have to step up to the challenge every time we compete."
Backed by an all-star cast of returning All-Americans — nine of the 10 Jayhawks who earned the honor last season are back — the Jayhawks have their sights set on winning a national championship.
"So many of us have been to nationals year after year, and we feel like this is our year," senior javelin thrower Heather Bergmann said. "It's not necessarily, 'Oh my gosh, we have to do this.' It's more, 'We can do this.' And I think all of our senior leadership is one of the reasons our team is so good this year. We're not being timid about it at all. We have such a talented team this year, and it's like, 'Why would you not go after it?'"
After finishing 2012 as the NCAA indoor and Big 12 outdoor runners-up, the KU women believe their experience will put them over the top this season. But they're not simply counting on picking up where they left off. The seniors in particular have worked all offseason to make sure they position themselves to take their best shot.
"You can talk all you want," said reigning indoor triple jump champion Andrea Geubelle, who also placed third in the event during the outdoor season and won bronze at the U.S. Olympic trials. "But it's what you do on the track that matters. It comes down to numbers. I can sit here and talk all day about how I want to be a national champion, but it doesn't happen until you do it."
Fortunately for the Jayhawks, athletes such as Geubelle and junior Diamond Dixon, a fellow national champion (400) and Olympic gold medalist, are leading the way.
"We definitely have a lot of leadership," Redwine said of his squad's 20 combined seniors. "And it's fun for me to watch (senior long jumper) Francine Simpson and Andrea Geubelle teach (freshman sprinter) Sydney Conley. It's fun to watch (senior sprinter) Paris Daniels teach (freshman sprinter) Tianna Valentine. Those are the things that it takes in order to have a great team, and they're doing an excellent job."
It's not just the women's program that's on the rise. The men, led by seniors Josh Baden (distance), Isaac Bradshaw (hurdles), Kyle Clemons (sprints), Eric Dyson (distance), Kevin Hays (pole vault), Colin Jokisch (distance), Sam Jones (middle distance), Kaman Schneider (distance) and Jesse Vaughn (javelin), have their minds focused on keeping up with the KU women.
"It definitely motivates us to do better," said Clemons, who earned second-team All-American honors in 2012. "Seeing them in the spotlight, doing so well, makes us want to step up and do as well as they do."
Last week, when Redwine was at the KU men's basketball game at Allen Fieldhouse, he saw a fan holding up a sign that read, "This is what we do." Realizing the sign was referencing the Jayhawks' incredible stretch of home success, Redwine smiled and thought about his program.
"We want to be like that," he said. "... And I think (our athletes) expect it."
Added Bergmann: "The other day, I was having a discussion with Sydney Conley in the locker room, and I was saying outdoor's gonna be so great this year, we're gonna win, and she was like, 'What are you talking about? We're gonna win indoors, too.' And that's the kind of attitude you want and need from everyone on the team."
New venue
When Redwine was hired to take over at KU 13 years ago, university officials shared with him their hopes and preliminary plans for a new track and a permanent home for KU's tradition-rich program. Although ideas came and went during the next decade, no dirt was moved, and the Jayhawks continued to operate out of Anschutz Sports Pavilion and Memorial Stadium.
In the not-too-distant future, however, that will change, as KU has moved full-speed-ahead toward breaking ground on the Rock Chalk Park project that will bring to Kansas a 7,000-seat track and field venue and a state-of-the-art IAFF track which only a few programs in the country have. Redwine did not try to hide his enthusiasm for the project during Thursday's media day.
"Here we are 13 years later, and it's actually happening," said Redwine of the facility that could be open in time for the 2014 Kansas Relays. "We're really excited to have it, and we're really looking forward to the track portion of it. It's been a huge desire of ours since I've been here. It's a place that we can actually call home. It's a huge recruiting advantage, and, for the tradition of KU track and field, it's needed. We're probably 20 years behind everyone else in terms of facilities."
Local flavor
This year's roster features 30 men and 16 women from Kansas. Of that group, seven are Lawrence natives, with six — red-shirt freshman Hayley Francis, senior Kyra Kilwein, freshman Lynn Robinson, red-shirt freshman Rachel Schaffer, sophomore Austin Hoag and red-shirt freshman Logan Smith — hailing from Free State High and the other, senior transfer Ben Wilson, a product of Lawrence High.
Kilwein is by far the most recognized and accomplished member of the bunch.
"She's definitely an example of hard work paying off," Redwine said. "She's one of the hardest working girls on the team, and it means everything for her to succeed."
Up next
Once this weekend's UCS Pole Vault Summit wraps in Reno, Nev., the Jayhawks will have been through four meets already this season. Redwine said both the men and women already have set facility and school records and placed themselves among the nation's best in their individual events. Next up for the squad will be the Jayhawk Classic on Jan. 25 at Anschutz.
More like this story on KUsports.com