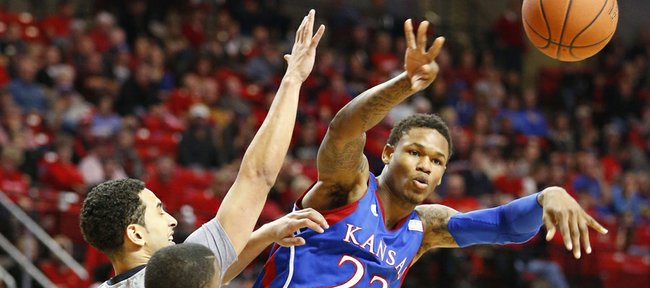 Kansas University freshman guard Ben McLemore pounded his hand on the floor after twisting his right ankle late in Monday's basketball victory over Baylor in Allen Fieldhouse.
He didn't mean to scare the heck out of KU fans, who were worried the 6-foot-5 St. Louis native might have suffered a serious injury instead of what was diagnosed as a Grade One ankle sprain.
"I was hurting at the time. I was in pain," McLemore said Thursday. He had a big smile on his face after practicing "full-go" in preparation for Saturday's 1 p.m. game at Texas.
"I also heard it pop. I felt my ankle getting real loose. Knowing that I thought something bad happened ... I calmed down and got up, and that was that.
"I mean, that was the first time I sprained my right ankle. It's usually my left ankle," added McLemore, who deemed his right ankle "85 percent."
"Spraining it for the first time is kind of weird and scary. Now I'm just going to keep working on it and get better every day."
McLemore, who was helped off the court by teammates and doctors after suffering the sprain, said he didn't notice the concern in the fieldhouse stands.
"At the time, I didn't hear it because of the pain and stuff," he said. "Afterward, going in the locker room, the (student) manager was telling me, 'You should have heard the crowd when you went down. It was complete silence.' I appreciate the support of the fans asking me, 'Are you all right?' I'm doing fine. I'm doing rehab. I got done doing pool work early this week, doing a little laser treatment. I should be great by the time Saturday gets here."
KU coach Bill Self, who said he believes McLemore "will be close to 100 percent come Saturday," was asked at his weekly news conference if he was afraid when McLemore went down.
"I don't think I was scared. Concerned is a better word. I've seen a lot of players turn an ankle in the past," Self said. "I'd be nervous for anybody to get hurt. Because it was Ben, it seemed to me there was a little bit of air in the building that left."
KU point guard Elijah Johnson said it was nice to have McLemore back at practice full speed Thursday. The entire team was awarded the day off Tuesday, with a brief shooting session held Wednesday.
"We've not had a full practice until today. He didn't miss much," Johnson said. "He's all right. I think he kind of panicked on the court a little bit. It happens to all of us. Something happens to catch you off guard, you panic more than you should. I think that was the case. He'll be all right."
The Jayhawks' practices aren't as long this time of year.
"Ninety minutes around there every day," Johnson said. "We know what we are doing. Every drill is cut in half. We get in and pretty much knock it out."
High praise: Self is pleased with the work of senior point guard Johnson, who has averaged 9.9 points a game off 43.2 percent shooting (25 of 70 threes for 35.7 percent). He has 83 assists against 48 turnovers.
"If you had a football team, and they were 15-1, and the starting quarterback — this was his first year to play quarterback — you'd probably think the football team's quarterback had a pretty good start to the year," Self said. "To me, there's only one stat that matters with a point guard. That's wins and losses. I think he's done a real good job there. He hasn't made shots yet. You take away the fact he hasn't made shots, he's been pretty sound. He's been very solid. When he's been matched against other great point guards, he's done a really nice job in those particular match-ups."
Johnson grinned when told of Self's praise.
"I appreciate that, coach," he said. "I am not even focusing on myself, though. I am focusing on people like Ben, the rest of the team, getting them going. I lost a couple games in my book because I didn't get Ben going a couple games. If we're going to lose, we have got to lose with him. I like to see how the team evolves so I put my stats in that because I'm the one who does it (leads team)."
Self on freshman Perry Ellis, who has been more active of late: "Perry came in with a lot of expectations and hype because he's local. If Perry came in from Arizona, we wouldn't look at Perry the way we do now because we watched him grow up (in Wichita). Hype and expectations are around that," Self said. "It takes everybody a little bit of time. Perry is going to be a terrific player. He's just going through the process. There is a natural maturation process you go through. Sherron (Collins) until Christmas ... I didn't know if he was coming back (to KU or staying in Chicago). He never got in the game hardly, and he's probably the most talented kid we've had."
Vitale gala: Self, former UConn coach Jim Calhoun and former Florida State football coach Bobby Bowden will be honored at Dick Vitale's V Foundation cancer fundraiser on May 17 in Sarasota, Fla. To purchase tickets, go to www.jimmyv.org/vitale.
KU recruited Longhorn: KU recruited Texas starter Ioannis Papapetrou, a 6-8 freshman forward who is averaging 6.8 points and 4.4 rebounds a game.
"We offered Papi a scholarship, and he chose Texas," Self said. "He's having a good freshman year. He's kind of a hybrid forward (who can) play the three and the four. He's done a good job."
This, that: Josh Perkins, a 6-2 junior from Regis Jesuit High in Aurora, Colo., has cut his list of schools to KU, Arizona, Colorado, Denver, Duke, Gonzaga, Minnesota, New Mexico and Stanford, according to jayhawkslant.com. He's Rivals.com's No. 42-rated player in the class of 2014. ... KU signee Conner Frankamp of Wichita North is one of 814 high school seniors being considered for the McDonald's All-America game The final roster of 24 will be announced during the selection show on ESPNU at 4 p.m., Feb. 14.