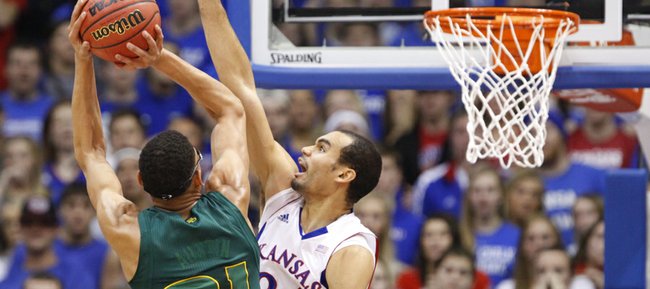 Wichita Heights valedictorian Perry Ellis didn't disappoint in the classroom his first semester at Kansas University.
"I did pretty well. I got three A's and two B's. I tried my best. That's all you can do," said Ellis, a 6-foot-8, 225-pound freshman forward.
He admits it's been nice only having to think about basketball since last day of finals on Dec. 14.
"It's going to be pretty tough getting back adjusted to class and stuff. I feel after the first couple weeks we'll get used to it again," Ellis said of next Tuesday's start of spring semester of the 2012-13 school year.
Ellis — he has averaged 5.3 points and 3.8 rebounds while logging 14.5 minutes a game in 16 games (two starts, 14 reserve roles) — has big plans for his on-court performance second semester.
One of the quietest members of the team — "Perry doesn't talk," coach Bill Self joked a few weeks ago — Ellis suddenly opened up in KU's last game, Monday's 61-44 home victory over Baylor.
"I like it. I like it. I like it. He is begging for the ball now," KU point guard Elijah Johnson said after Ellis scored six points off 3-of-9 shooting and grabbed seven rebounds while playing 21 minutes. "I wanted to get him the ball because I feel right now he's trying to take a step as far as what he's going to do at Kansas," Johnson added.
Ellis explained his requests for the ball on the block.
"This was my first time really calling for it," Ellis said. "It's something I was feeling a lot more comfortable out there. That's why I did that."
Self, who has wanted Ellis to become more of a presence, saw progress against Baylor.
"I thought he was aggressive," Self said. "The guy is a great shooter and just shot it miserably for his skills. As far as shooting the ball ... he shot a couple airballs, bricked free throws (0-for-2) but that's OK. He was at least aggressive and put himself in position to score which I thought was very positive."
Ellis had two of KU's 13 blocked shots versus Baylor.
"We tried to keep our hands up, play with our head and feet, not your body. That's what we tried to emphasize. That's what we did," Ellis said. "I mean, we learn from Jeff (Withey) in practice," Ellis added of how to block shots. "We are following him, trying to do what he does."
McLemore back at practice: KU freshman Ben McLemore, who sprained his right ankle late in Monday's game against Baylor, will return to practice today, Self reported Wednesday. McLemore shot on the side at practice on Wednesday. Barring any setbacks, he's expected to play in Saturday's 1 p.m. game at Texas.
Honoree: McLemore was named to the Sporting News Mid-Season All-America first team on Wednesday. He was joined by Oklahoma State freshman Marcus Smart, Michigan sophomore Trey Burke, Creighton junior Doug McDermott and Duke senior Mason Plumlee.
Recruiting: Rashad Vaughn, a 6-4 junior shooting guard from Cooper High in Robbinsdale, Minn., will visit KU second semester, Zagsblog.com reports. Vaughn, who is ranked No. 12 in the Class of 2014, also is considering Iowa State, Kentucky, Louisville, North Carolina, Florida, Minnesota, Texas, Maryland, Baylor, Tennessee and Georgetown. ... KU coach Self on Tuesday reportedly attended a game of Joshua Perkins, a 6-2 junior guard from Regis Jesuit High in Aurora, Colo. The No. 42-rated player in the Class of 2014 told Rivals.com he's hearing the most from KU, Arizona, Arizona State, Colorado, Gonzaga, Houston, Minnesota, San Francisco, Stanford and Wake Forest.