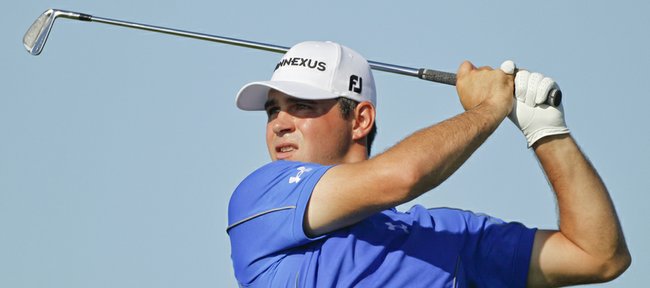 On the eve of his 2013 season debut, PGA touring pro Gary Woodland had an unsettled mind badly in need of soothing.
"How's Ben McLemore's ankle?" Woodland asked early in a telephone interview he conducted from La Quinta, Calif., where he is playing in the Humana Challenge, formerly known as the Bob Hope Classic.
Woodland was relieved to hear that McLemore appears to be on course to play Saturday against Texas in Austin.
Like so many Kansas graduates, the state of the basketball team never strays far from his mind. He said he will have a Jayhawk back on his bag this season and two of his clubs will be protected by Jayhawk head covers.
Despite all his own fame, acquired by winning The Transitions, a PGA tour event in Palm Harbor, Fla., two years ago, and by competing so well in the four major tournaments in 2011, Woodland is no less wowed than the average fan by KU's freshman guard from St. Louis.
"I've never seen anyone like him," Woodland said of McLemore. "I went to a couple of practices last year and I couldn't believe how active he was defensively. He was all over Tyshawn (Taylor) and you just don't see that from a freshman. You could tell he was having a blast and that's carried over into this year. He's definitely at a different level."
Once Woodland's mind was put at ease as to the status of KU's mega-talented guard, it was time to ask about the health of the most talented golfer ever to play for the Jayhawks.
So how is Woodland, one of the hottest stories on the tour in 2011 when he placed 17th on the money list with $3,448,591 in earnings before slipping to 134th ($592,879) during an injury-plagued 2012?
Fresh off a two-month layoff prescribed in order to restore health to his ailing hand, Woodland sounded like his old confident self.
"I needed to get healthy, so it was a much-needed break, but I'm itching to get back," Woodland said.
Woodland tees off No. 10 at La Quinta Country Club at 9:40 a.m. today in the tournament also being played at the PGA West Palmer Course. He lost a playoff to Jhonattan Vegas in the tournament two years ago. In keeping with its policy of making pairings as interesting as possible, Vegas and Woodland will play together the first two days of the tourney, joined by Lynn Rose and Skip Klintworth.
"It's nice to get back here and get a little positive vibe going," said Woodland, who skipped the tournament last year. "It's nice to get back to where you've had some success."
As was the case two years ago, Woodland is staying at the winter home of Kansas car dealer Laird Noller, a Lawrence resident.
Woodland's 2011 near miss in the tourney launched him onto the national stage and soon everyone became familiar with his college athletics path: Played basketball as a freshman for Division II Washburn University, including in an exhibition in Allen Fieldhouse, and then transferred to Kansas to play golf. Ever since, Woodland has been one of the longest blasters of drives on the planet.
He twice made it out of challenging Q school and earned two-years of exempt status with his victory in Orlando. To stay on tour without winning a tournament this year, Woodland must finish in the top 125 on the money list.
"It's great now that I'm healthy," Woodland said of his confidence. "I proved I could play with anybody when I was healthy. Last year I was playing in pain and going through swing changes."
Woodland switched swing coaches before last season, when he became one of instructor Butch Harmon's select group of pupils. Harmon worked with him on drawing the ball.
"We're back to fading," Woodland said. "He just wanted me to be able to learn to draw. We're back to fading it 90 percent of the time but I'm definitely able to hit a draw now."
Woodland said he is "a better golfer and a better person" for what he went through last year.
"I'm excited to get off to a good start and ride the momentum," Woodland said. He added he plans to play in 25 tournaments.
Naturally, Woodland seized the first opportunity to return to the conversation to KU basketball. What, he was asked, might he and Vegas be talking about during their rounds? Vegas golfed for the University of Texas and has been known to wear burnt orange on the course.
"With us playing Texas on Saturday, I'm sure there will be a lot of going back and forth about that," Woodland said.