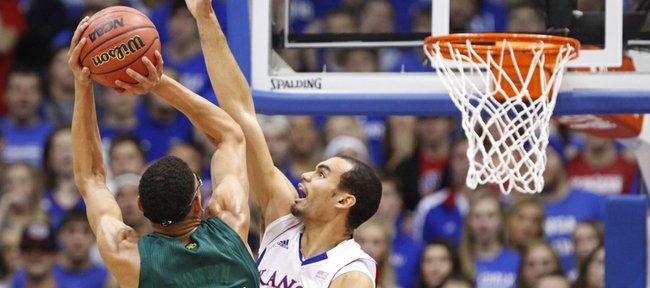 Photo Gallery
KU basketball v. Baylor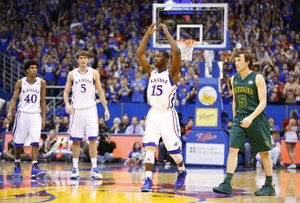 Images from Monday night's game against Baylor at Allen Fieldhouse.
Podcast episode
Kansas coach Bill Self talks after his team's 61-44 win over Baylor on Jan. 14, 2013.
Podcast episode
Baylor coach Scott Drew talks after his team's 61-44 loss to Kansas on Jan. 14, 2013.
Podcast episode
Kansas seniors Jeff Withey, Travis Releford and Elijah Johnson talk to reporters following the Jayhawks' 61-44 victory on Jan. 14, 2013.
Box score
On another one of those nights in which the Baylor basketball team looked more like a collection of all-stars thrown together at the last minute than like a squad that tries to build chemistry 365 days a year, Kansas University played defense in a way that made it seem as if its players were reading minds.
Baylor called a play, and Kansas looked more sure about the moving parts than the guys running it. Kansas made it that difficult on the visiting team Monday night in a 61-44 victory.
The perimeter was such an uncomfortable place for Baylor that Kansas limited the Bears to .286 three-point shooting and totaled 10 steals, and the paint was defended even more vigorously. Baylor made just nine of 42 two-point field goals, a .214 shooting percentage. Five KU players had multiple shot-block totals, and a sixth contributed to the final tally of 13 blocks.
Kansas has a long body anchored by quick feet at every position, so it should play strong defense. But more than that enters the equation. Travis Releford, KU's best perimeter defender, offered insight on another factor that had more to do with preparation and alert minds than with physical attributes.
"First of all, you've got to give credit to our assistant coaches for doing a great job on our scouting report on their plays and play-calling," Releford said. "We did a lot of work on that in practice. Once they called a play, we were all in tune. We knew who was trying to get the ball on certain plays."
That knowledge led to Kansas making steals in the passing lanes and knocking the ball away in the lane for steals. It also resulted in purposeful help defense arriving on time.
College basketball coaches armed with three chief assistants assign one man to scout each opponent on a rotating basis. Most programs have each assistant do every third game. Kansas coach Bill Self has his assistants assigned to the same schools year in and year out, regardless of how the schedule falls.
Kurtis Townsend always scouts Baylor.
"The thing about it is, when you've been in the league a long time, over the years you get a pretty good feel for the teams, and I think they had a pretty good feel for us," Self said.
It didn't look as if Baylor knew what was coming. The different levels of discipline in the program extend to all areas, and it's obvious when they play each other.
"I think that's pretty important when you're playing a team on an hour of practice, 40 minutes of practice, because those Saturday-Monday games, there's not much time for guys to work on it on the court," Self said of scouting. "Most of the stuff's done through talking and through film."
Self and Baylor coach Scott Drew are in their 10th seasons at their schools. Drew has elevated the Baylor program a great deal by bringing in far better athletes than the school used to land. But that seldom seems to matter when the Bears face Kansas.
"The one good thing is, I've been here so long, and I've had Baylor the whole time, and he (Drew) has been here the whole time," Townsend said of sharing his Baylor scouting report with the players on such a quick turnaround.
Townsend said his last scouting report was American, two weeks ago, and he started working on Baylor right after that game, studying film of the Bears' most recent 10 games.
"You try to pick out calls and see if they're doing anything different," Townsend said.
The short turnaround results in a less extensive report shared with the players.
"You really simplify it," Townsend said. "Coach is the best at saying, 'Pick seven or eight of the actions they do most, and let's just make sure our guys know those pretty well.' Luckily, we had play calls on them so we would call out what they were running, and our guys knew where their shots were coming from."
Having four seniors in the starting lineup helps.
"The veterans are better," Townsend said. "The younger guys don't pick it up as quickly, but they're starting to listen to the scout better. Perry (Ellis) and Jamari (Traylor), they're both getting better. Naadir (Tharpe) was here last year, so he's getting it. The older guys, they know exactly what's coming, and they've done a great job of bringing the young kids along."
Having a strong contingent of veterans who as younger players see upperclassmen pay such close attention to scouting reports helps sustain the defensive success that always has been a staple of Self's programs. Stability on the coaching staff helps for a variety of reasons as well. For one thing, as Townsend referenced, it makes each coach more familiar with his schools, at least until a coaching turnover takes place. Townsend is in his eighth season at Kansas under Self, Joe Dooley his ninth. Norm Roberts has worked for Self at Oral Roberts, Tulsa, Illinois and twice at Kansas, his stints interrupted by a head-coaching assignment at St. John's.
"Joe's had the biggest games so far this year," Townsend said of Dooley, who didn't look as if he enjoyed watching Tharpe have an atypical night of decision-making Monday. "He had Ohio State, Temple and Michigan State because he's scouted them before and is familiar with them."
What happens when the same assistant is responsible for preparing the scouting report back-to-back games?
"We just start working on them ahead of time," Townsend said.
Self's system works. Kansas has held opponents to .342 shooting and .312 three-point shooting.
More like this story on KUsports.com