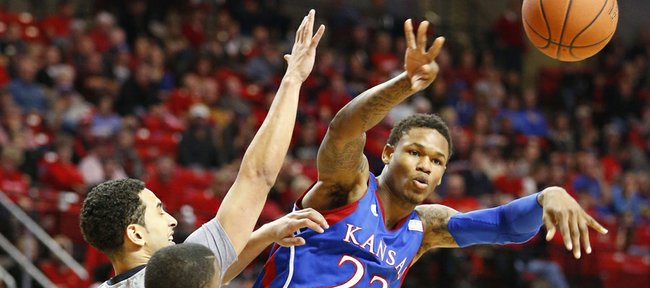 Photo Gallery
KU basketball v. Texas Tech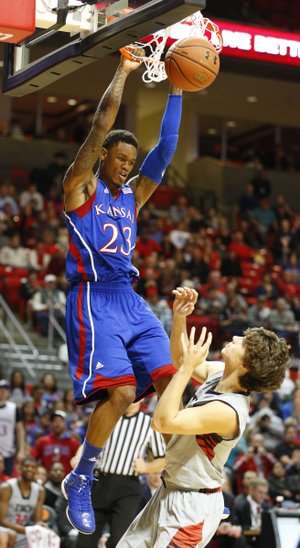 Images from Saturday's game against Texas Tech in Lubbock.
Podcast episode
Kansas coach Bill Self talks after his team's 60-46 win over Texas Tech on Jan. 12, 2012.
Podcast episode
Kansas seniors Travis Releford and Kevin Young talk to reporters following the Jayhawks' 60-46 victory over Texas Tech on Saturday.
Lubbock, Texas — Texas Tech junior Jamal Williams led his team with 11 points Saturday in a 60-46 loss to Kansas in United Spirit Arena. But it was talk of his defense that put a smile on his face.
Williams spent part of the game checking Kansas freshman Ben McLemore, who was coming off a 33-point night against Iowa State. McLemore made two of seven shots, misfired on all four three-pointers and scored 10 points.
"He's a great player," Williams said. "I like the fact that i got a chance to play against him. During film, I knew he was going to have a good game, so I just anticipated him. I tried to be a step ahead of him, tried to think it through each time and read what he was going to do. Some plays he made good plays and we defended him well. … I didn't let him get comfortable. I kept him out of his comfort zone."
Red Raiders interim head coach Chris Walker, elevated when Billy Gillispie lost his job, discussed the approach against McLemore.
"We just wanted to limit his touches," Walker said. "He's a great player, taking nothing away from him. He didn't take as many shots as he normally had taken."
McLemore's such a great finisher on drives to the hoop that Tech's approach was to try to stymie the drives at the beginning.
"We just didn't want to let him have clean looks," Walker said. "That was our No. 1 goal. Not let him have clean looks, and to push him a little higher, really stay on his dribble and force him to drive the ball, because he's really good with space. I don't know if it was us or him today, but we did slow him up. I think our guys did a good job on him."
Tech's approach worked against McLemore, and the strategy Walker employed against KU's big men worked in the first half and was exploited in the second. The Red Raiders consistently double-teamed center Jeff Withey and decided if a big man was going to beat them, it was going to be Kevin Young, for whom opportunities were created because of the special attention paid to Withey. Young didn't make them pay in the first half and did in the second.
Tech also made Withey earn eight of his 12 points at the free-throw line, playing him physically at both ends and challenging him defensively.
"That's the only way you can," Red Raiders center Dejan Kravic said. "If you don't play physical against him, he's blocking every shot And there were times in the second half where I faded away from him and just missed easy shots. But the objective was just to go at him and try getting in the air to try to get him to foul you That was our objective in the first half. Just take it inside and be aggressive. If you're not aggressive, he's blocking it."
Attempts to draw fouls on Withey failed, but he only blocked one shot. The underdogs stayed aggressive, but couldn't keep Kansas dominating the interior in the second half.
Coming off an 82-48 Tuesday night loss to Baylor, Tech (8-6 overall, 1-2 in the Big 12) played better Saturday in part because of the lopsided nature of that loss, according to Walker.
"Now that we had that situation — and I called it a hiccup — versus Baylor, we had their attention. We had a chance to prove that we're not that team that everyone saw on Tuesday," walker said. "I think those guys did that. We didn't get the job done today. We're not satisfied with losing. The objective is to win the game, but I think we played with more pride today."