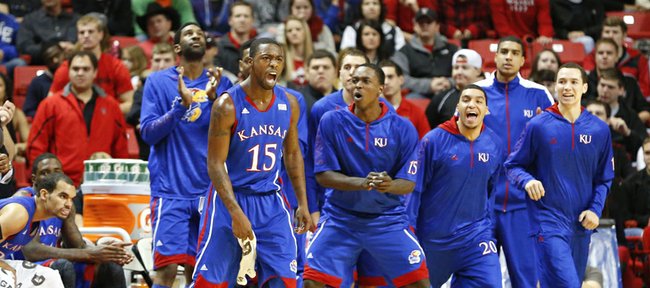 Photo Gallery
KU basketball v. Texas Tech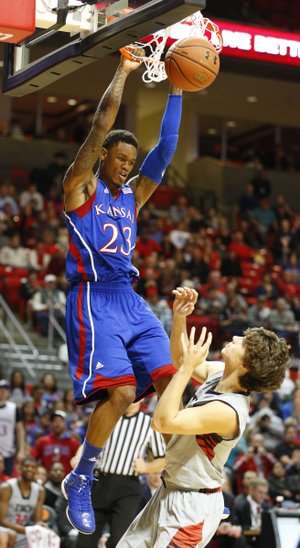 Images from Saturday's game against Texas Tech in Lubbock.
Podcast episode
Kansas coach Bill Self talks after his team's 60-46 win over Texas Tech on Jan. 12, 2012.
Podcast episode
Kansas seniors Travis Releford and Kevin Young talk to reporters following the Jayhawks' 60-46 victory over Texas Tech on Saturday.
Lubbock, Texas — Lunatics who trust comparative scores in attempting to forecast outcomes will note that Baylor and Kansas, the Big 12 powers who meet for the first time this season Monday night in Allen Fieldhouse, both played Texas Tech in United Spirit Arena this past week with distinctly different results.
Kansas stretched a two-point halftime lead into a 60-46 victory Saturday against the Red Raiders, four days after visiting Baylor scored an 82-48 slaughter.
Is it a mistake to read anything into the outcomes?
"Most definitely," Tech interim head coach Chris Walker said. "I wouldn't even comment who is the better team."
But when Walker talked about his two most recent foes it sounded as if he likes KU's chances of staying unbeaten in the Big 12.
"First of all, it's in Lawrence, I believe, and that is something in and of itself," Walker said. "And Kansas has guys who played in the championship game. They have four seniors and a guy predicted to be a lottery pick, and Baylor has pros on its end too. So it's going to be a heck of a game with a lot of future NBA players on the floor."
A heck of a game Saturday's was not, at least not for Kansas, which played as ugly a first half as it had in years. So much for the second-half field-goal drought of 9:18 against Iowa State disappearing in the rear-view mirror, as predicted here. The Jayhawks topped themselves for offensive futility Saturday by not scoring a single field goal in the final 11:13 of the first half, during which they made just five buckets from the field.
Tech had two more offensive rebounds in the first half than Kansas had defensive boards.
Kevin Young, the team's energizer bunny, looked to be out of batteries and repeatedly abused on the boards in the first 20 minutes. KU coach Bill Self's tongue gave him new batteries at the half, and the senior forward led the way from there.
Freshman sensation Ben McLemore followed a 33-point night in a home victory against Iowa State with a 10-point game. Point guards Elijah Johnson and Naadir Tharpe combined for more turnovers (six) than assists (five). Looking very much like freshmen playing against older players, Jamari Traylor and Perry Ellis combined for one point in 23 minutes.
So why believe that a team in such a sluggish state for 20 minutes against a Red Raiders squad picked for ninth in the 10-team Big 12 will gather itself in time to stop a talented Baylor team hitting stride just two days later? For one thing, it happens all the time in college basketball. It happened during halftime Saturday. For another, Kansas will go from playing 20 minutes in a fog to 40 minutes in the Phog.
The obvious home-court advantage cited by Walker ranks as the biggest but far from the only reason to like Kansas extending to 31 an Allen Fieldhouse winning streak seriously challenged the past two games. Even when its offense drops into a prolonged funk, the defensive intensity doesn't fall as far with it. Plus, the veteran Jayhawks won't let the Bears' flapping jaws erode their composure. The Red Raiders were tagged with two technical fouls in the loss to Baylor, and both could be traced to Baylor players egging them into retaliating to trash talking.
Self won't have much time to dissect what went wrong in Saturday's lackluster victory.
"I want them to forget about it," Self said. "There are things we may learn from them and show them five minutes of edit clips or whatever. But we need to put our focus on Baylor."
As he made his final post-game comment, Self sounded tired. And he sounded tired of talking about a game that for a long stretch looked as if his players were shooting at upside-down peach baskets.
"I don't know how you guys feel, but we look like a tired team," he said. "So we need to get our batteries recharged. I'm sure we will for Monday night. We're playing a really talented team."
Consequently, it will take as much passion as talent to beat the Bears. The former didn't show up until the second half Saturday, a formula that won't cut it Monday.