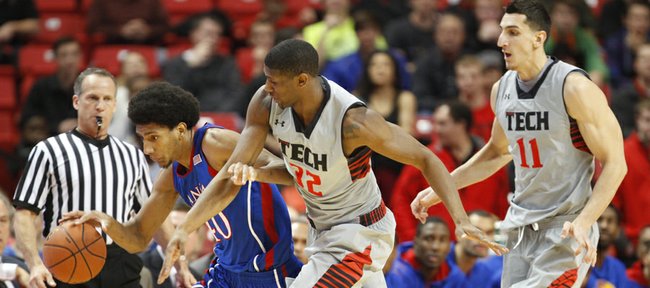 Photo Gallery
KU basketball v. Texas Tech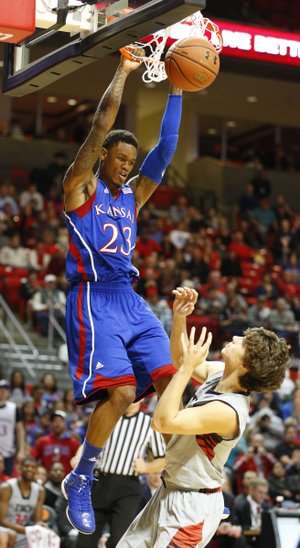 Images from Saturday's game against Texas Tech in Lubbock.
Podcast episode
Kansas coach Bill Self talks after his team's 60-46 win over Texas Tech on Jan. 12, 2012.
Podcast episode
Kansas seniors Travis Releford and Kevin Young talk to reporters following the Jayhawks' 60-46 victory over Texas Tech on Saturday.
Lubbock, Texas — Billed as one of the best sixth men in the country, Texas Tech's Jaye Crockett had a game to forget against Kansas University on Saturday at United Spirit Arena.
"We just guarded him," KU coach Bill Self said of the Jayhawks' work on 14.8 point a game scorer Crockett, who totaled three points off 1-of-8 shooting in 28 minutes in the Jayhawks' 60-46 win over the Red Raiders.
"He made the three late, I guess his only points," Self added of Tech's final basket. "We did a good job on him. Our defense ... you go in anybody's building and the other team scores 46, that's pretty good. Their field goal percentage was down (35.4 percent, 4-of-11 from three). We turned them over the first half (13 times; 16 total). We did some good things."
KU committed nine turnovers.
"It wasn't a lot. Nine is an unbelievable number for us," said Self, whose squad had eight assists to Tech's 11. "The problem is there's no assists. Elijah (Johnson, four assists, four turnovers) never got in the paint and made plays for others. Naadir (Tharpe, two threes, one assist, two turnovers) didn't get in the paint and make plays for others.
"Ben and Travis didn't drive it much," he added of Ben McLemore (10 points, 2-7 shooting and 6-8 free throwing) and Travis Releford (12 points, 4-5 shooting, 4-4 free throwing). They (Raiders) played it smart. If you only score 19 baskets (in 41 shot attempts) you are not going to get a ton of assists. You can't get 25 assists if you only score 19 baskets. A lot of our baskets were in transition off steals and stuff. That doesn't create opportunities."
Weird rule?: Self was quite upset at the start of the second half when the officials awarded Tech the ball to begin play. Most assumed KU would get first possession, considering KU won the opening tap and there was just one tie-up the first half, Tech gaining possession.
However, with 8:11 left in the half, a foul was committed after Tech received a tied-up ball, causing the ball to go to KU. Since no time ran off the clock, the arrow didn't change, so Tech had the arrow to begin the second half.
"I've never heard of the rule. I'm sure the officials are right," Self said. "This isn't me being upset with them ... when the foul occurred we got the ball. They said it would be double jeopardy for them to lose the possession arrow and the foul cost them possession which is total crap because it cost us a possession. The bottom line is they went back to the old possession arrow since the foul occurred when the ball wasn't live, which I've never heard of that rule at all. To me it makes zero sense, but that is the rule.
"I'm sure they're right. They said they've had it happen other times, but that's one (rule) that may need to be visited. That penalizes a defense," Self added.
No meeting with Billy: Former Tech coach Billy Gillispie, who still lives in Lubbock, did not attend the game. Self, who is a good buddy of Gillispie, did not meet with him on this short trip to Texas.
"We texted back and forth two or three times, but didn't talk," Self said.
Self on KU's offense: "We need to correct some things, pay more attention to detail on some things. It'd be nice to get some rhythm back offensively. Rhythmic games means you are usually not stopping them either. Winning ugly is fine with me. If there's no rhythm to a game, it means we're probably guarding them pretty well."
Next: Baylor, which beat TCU, 51-40, on Saturday in Waco, travels to KU for an 8 p.m. tip Monday. BU is 3-0 in the league and 11-4 overall; KU is 14-1, 2-0.
"They are a great team. They have been the past few years. It's going to be a fun game. It's Big Monday," KU's Jeff Withey said.
Stats, facts: KU, which has won six straight over Texas Tech, leads the all-time series, 23-4. ... KU is 2-0 in Big 12 play for the seventh straight season. ... KU held Texas Tech to a season-low 46 points. ... KU's five field goals (5-for-18) were the fewest made baskets in a half since the Jayhawks made six shots in the first half against Oklahoma State on Feb. 13, 2006. ... KU's two assists in the first half are fewest since recording one in the second half at Texas on Jan. 21, 2012. ... Travis Releford grabbed KU's first rebound at the 11:42 mark. ... KU started the game 10-for-10 from the free throw line and finished 19-for-26. ... KU's 16 made free throws in the first half tied the most made in a half this year (Ohio State, 16, second half) and marks the seventh time this season that KU has made double-digit free throws in a half. ... KU collected 10 steals, the fourth time the Jayhawks have swiped double-digit passes.
Individual notes: Ben McLemore's first bucket came via dunk at the 11:37 mark in the first half. Both he and Withey recorded dunks and are now tied for the team lead with 24. ... With 1:39 remaining, McLemore missed his first free throws in five games. He had hit 24 straight prior to the missed pair. ... In his last six games, Travis Releford is 27-for-34 (79.4 percent) shooting. ... Justin Wesley, who missed three weeks with a broken finger, played his first minutes since the Colorado game on Dec. 8.