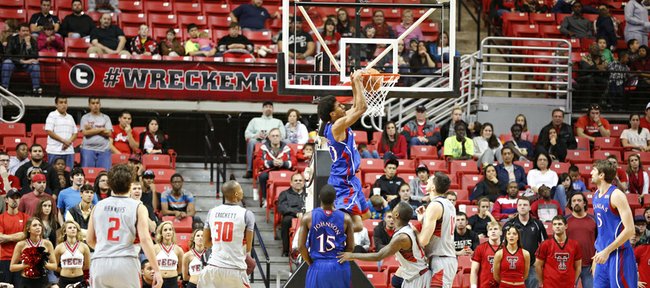 Photo Gallery
KU basketball v. Texas Tech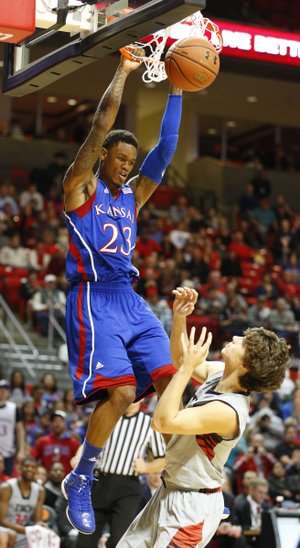 Images from Saturday's game against Texas Tech in Lubbock.
Podcast episode
Kansas coach Bill Self talks after his team's 60-46 win over Texas Tech on Jan. 12, 2012.
Podcast episode
Kansas seniors Travis Releford and Kevin Young talk to reporters following the Jayhawks' 60-46 victory over Texas Tech on Saturday.
Lubbock, Texas — Like the rest of his Kansas University basketball teammates, ever-energetic Kevin Young had a case of the blahs Saturday afternoon in half-filled, tomb-like United Spirit Arena.
"We were playing flat in the first half. It seemed like we were just out there," KU senior forward Young said.
Young scored just two points off one shot in the first half as the zombie-like (14-1, 2-0) Jayhawks led the (8-6, 1-2) Red Raiders, 27-25, at halftime. He erupted for 12 points off 6-of-8 shooting the final 20 minutes as the Jayhawks rallied to claim a 60-46 victory before an announced crowd of 8,534 fans in Tech's 15,098-seat facility.
"Kevin drives me nuts. He drives me nuts," KU coach Bill Self said. "He can play so well. At 6-foot-8, he can run and jump and not even contest a shot or a layup with a 6-foot guy shooting it with one second left on the shot clock or not even come close to blocking out a guy when his man is the best offensive (rebounder). When he turns the switch, he does a lot of great things.
"We're so much better with Kevin in the game, but if he would just hone his focus in on the thing that we know he's good at, we're so much better. That's what he did in the second half. In the first half he didn't play with that energy, and I think that's one reason we labored."
Self grinned and said, "I don't know. You'd have to ask him," asked if KU's coach "turned the switch" for Young at halftime.
"At halftime we were down on the boards. Coach emphasized they had seven offensive rebounds and we had only five defensive rebounds. We tried to stop them from attacking the offensive glass," Young said. Tech outrebounded KU, 16-8, the first half — a half in which KU scored just five baskets and dished a mere two assists. "Coach said that stat at halftime, and it was another emphasis we needed to change," Young said of the made baskets/assists.
Self had a lot of things to say, rather emphatically, at the break.
"He was pretty mad," KU center Jeff Withey said. "I've seen way worse. We were still up by two. I felt we played pretty bad, but we knew what we needed to do to correct ourselves and did it."
The Jayhawks' five first-half hoops in 18 shot attempts were fewest made baskets in a half since the Jayhawks made six in the first half at Oklahoma State on Feb. 13, 2006 (KU's half-only records began in the 1988-89 season).
As far as assists ... KU had just one in the second half at Texas last season.
"Well, we tried to wake up," Self said of the mood at halftime. "I was disappointed in our play obviously. That's as miserable as an offensive team can play, I think.
"I thought their defense was good and they kind of punked us on the glass, being physical. We had to decide whether we wanted to be here or not."
Young had six points in a 12-0 run that upped a 29-28 lead to 41-28 with 13:41 left. Included was a bucket following his own miss; a basket following his two missed free throws and a highlight-reel dunk on a breakaway.
"It helps a lot," Self said of the team benefiting from Young playing with energy as he did in the final half. "He needed to step up. He had plenty of room for improvement based on the first half. He stepped up and was real aggressive the second half."
Self said one problem has been the way the last two opponents have guarded KU. Young has been unguarded on the perimeter with extra attention being paid to Withey, who scored 12 points off just 2-of-3 shooting. Withey did sink eight free throws in 10 tries.
"It will be difficult getting Jeff the ball if they don't guard Kevin and they didn't guard Kevin the first half. The second half he took advantage of that, personally. He goes and scores eight straight points or whatever the second half off being aggressive because they were shading Jeff the whole time," Self said.
Withey said he's noticed double-teaming.
"I feel a lot of people are going to start playing us like that," Withey said. "Iowa State played us like this (in KU's overtime victory on Wednesday in Allen Fieldhouse). We have to learn from it and get better.
"He (Young) had a great game the second half," Withey added. "The first half he made some bonehead plays; the second half he showed energy. He was starting to get dunks."
Noted Young: "We have a 7-footer down there. He has to touch the ball. He has to get off more than three shots a game. I think the next game (8 p.m. Monday at home vs. Baylor) we'll work on that a lot."
The Jayhawks upped their second-half lead to 46-32 on a three by Naadir Tharpe with 9:31 left. KU built the lead to 18 points (58-40) with 4:21 left. The Jayhawks hit 14 of 23 shots the final half, heating up to 46.3 percent for the game to Tech's 35.4 percent. KU hit three of 10 threes; Tech four of 11.
Freshman Ben McLemore followed his 33-point game against Iowa State with 10 points off 2-of-7 shooting.
"It was a tough night for the whole team to get in the flow," Self said after his team scored a season-low 60 points, lowest total since 59 in last year's NCAA title game against Kentucky. "Ben ... he would tell you that's probably the roughest night he's had this year. There were some other guys who had rough nights, too."
Elijah Johnson had five points off 2-of-6 shooting with four assists and four turnovers; Travis Releford 12 points off 4-of-5 shooting with three rebounds. Tharpe had six points and Jamari Traylor one for the only bench points.
"Give Tech credit. They played hard," Self said. "I think they've got good players. If they play with that type of energy all the time and guard, I think they can be a good defensive team. I think you should look at us as being inept offensively, but in large part because Tech was good defensively."
Young said a valuable lesson can be learned from KU's second-half performance, heading into the Baylor game.
"It (33-21 advantage) came from us as a team playing well on defense, getting steals and rebounding and being able to push the ball," Young said, noting "energy" is always a key.