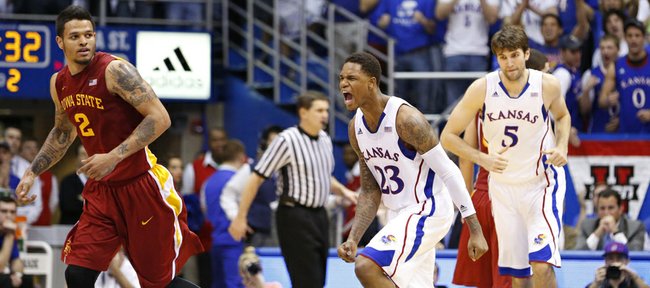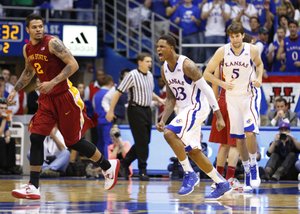 Former Kansas University basketball assistant coach Matt Doherty was not surprised to see Ben McLemore's last-second, game-tying, overtime-inducing three-pointer bank off the backboard before falling through the net.
"It's the Phog," ESPNU color announcer Doherty exclaimed Wednesday, asked how the 6-foot-5 McLemore could kiss a 22-foot shot off the glass with 1.3 seconds to play and force the KU-Iowa State game into OT — one in which the Jayhawks scored the first 11 points en route to a 97-89 victory.
"That," Doherty added, "was one of the best games I've been part of in Allen Fieldhouse."
That is saying a lot, considering Doherty worked seven seasons on Roy Williams' KU staff — 1992-93 to 1998-99.
Asked to recall some other huge shots he'd witnessed in KU's tradition-rich building, he came up with ...
"Steve Woodberry's shot in the corner against Oklahoma State," Doherty said of a Woodberry trey that gave KU a 62-61 victory over OSU for Williams' 150th career victory on Jan. 26, 1994.
"Jacque's shot against Indiana," he added of Jacque Vaughn's three that gave KU an 86-83 victory over the Hoosiers on Dec. 22, 1993.
Doherty was impressed with the play that tied Wednesday's game at 79 and the person who hit the shot.
"It was a great play, and we've seen that play before. They ran it for Mario Chalmers against Memphis," Doherty said of the "chop," which KU used to send the 2008 NCAA title game into overtime. "The secondary part was the flare screen. It was a great screen by (Travis) Releford and a great read, because they switched the screen. McLemore is fantastic. He has a beautiful jump shot. It's a true jump shot."
Doherty perhaps paid the ultimate compliment to McLemore.
"He's great. He's great. He's Paul Pierce great," Doherty said, comparing McLemore to former KU and current Boston Celtics great Pierce.
Accuracy: McLemore hit six threes in six tries en route to 33 points Wednesday.
"I was pretty proud to shoot 6-for-6 from three," McLemore said. "I practice my shot every day."
KU senior Elijah Johnson, who passed the ball to McLemore before he stroked the game-tying three, backs up the fact McLemore is a student of the game.
"Ben is the type of person willing to learn his whole life. He never thinks he knows too much. Even when he knows something, he won't just come off with that type of attitude," Johnson said. "That gave him the ability to keep up with us, to know all the plays, know what to do. He's so fundamental.
"When his man catches the ball, every time he closes out with high hands. Just small stuff other people don't do. It hurts him when he doesn't do something right, whether it's make a shot or help-side defense.
"Anything he is getting right now, I truly, deep down in my heart think he deserves it," Johnson added. "He's a little kid on the court. At the same time, he's growing up. He's the coolest person in the world, one of those people you could never get mad at. I feel his character off the court is showing on the court."
Noted Jeff Withey: "Ben does everything the right way. He's a great teammate. That matters a lot. The fact he sat out last year, he gained so much knowledge. This year, he's just exploding into such a great player. He's a good guy."
Kevin Young on McLemore's three and KU's winning the game in overtime: "It's magical. I don't think any of us thought we were going to lose that game."
Wooden list: McLemore and Withey on Thursday were named to the John R. Wooden Award Midseason Top 25, announced Thursday via ESPNU by The Los Angeles Athletic Club. Selected by the Wooden Award National Advisory Board, the list is made up of 25 players, who, based on their performances in November, December and the beginning of January, are front-runners for college basketball's Wooden Award. Others on the midseason list: Anthony Bennett, UNLV; Laurence Bowers, Missouri; Trey Burke, Michigan; Isaiah Canaan, Murray State; Michael Carter-Williams, Syracuse; Jack Cooley, Notre Dame; Seth Curry, DUke; Jamaal Franklin, S.D. State; Erick Green, Virginia Tech; Elias Harris, Gonzaga; Pierre Jackson, Baylor; Sean Kilpatrick, Cincinnati; C.J. McCollum, Lehigh; Doug McDermott, Creighton; Brandon Paul, Illinois; Mason Plumlee, Duke; Otto Porter, Georgetown; Phil Pressey, Missouri; Marcus Smart, Oklahoma State; Russ Smith, Louisville; Deshaun Thomas, Ohio State; Nate Wolters, S.D. State; Cody Zeller, Indiana.
Honesty: ISU's Tyrus McGee told the Des Moines Register he did foul McLemore on his game-tying three.
"The ref just didn't call it. I got him on the bottom of his hand. I should have smacked him in the head," McGee said.
Weis happy: KU football coach Charlie Weis, who had a courtside seat behind the goal, was jubilant after McLemore hit his game-tying three. To check out video of Weis' reaction, see Jesse Newell's blog.
More like this story on KUsports.com