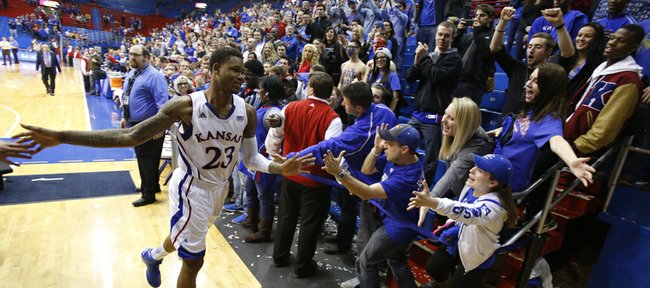 Photo Gallery
KU basketball v. Iowa State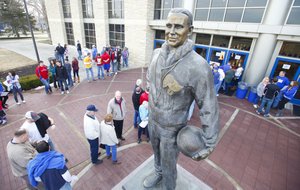 Images from Wednesday night's game against Iowa State at Allen Fieldhouse.
Podcast episode
Kansas coach Bill Self talks to reporters following the Jayhawks' 97-89 overtime victory over Iowa State on Jan. 9, 2013.
Podcast episode
Kansas players Ben McLemore, Travis Releford and Jeff Withey talk after the Jayhawks' 97-89 overtime victory over Iowa State on Jan. 9, 2013.
We never would have seen just how impressively Kansas freshman guard Ben McLemore can take over a basketball game if not for his team's second-half stretch of longer than nine minutes of game clock without a field goal.
Now that McLemore showed what he can do when his team needs somebody to take the game by the throat, look for the days of long field-goal droughts to be a thing of the past for this Kansas team.
Defended well and going without a shot for long periods, McLemore still managed to score 33 points in leading Kansas to a 97-89 overtime victory against Iowa State in Allen Fieldhouse.
He couldn't have scored during the field-goal drought that lasted 9:18. Know why? Because he didn't attempt a shot during the stretch in which Kansas went 0-for-10 from the field and had five turnovers. Elijah Johnson took four shots and had four turnovers. Kevin Young took two shots and turned it over once. Naadir Tharpe and Jeff Withey put up two shots apiece.
McLemore sat for 2:36 of the drought and played the rest of it. And thanks to a 14-1 Iowa State run that gave the Cyclones a lead, we all were afforded the treat of seeing how McLemore plays when his team plays under a scoreboard that spells out long odds.
Kansas was down six with 4:01 left, down four with 1:10 and again with 27 seconds left and down three with eight ticks remaining. He made key play after key play to push KU's record to 13-1 overall and 1-0 in the Big 12.
McLemore scored 13 points in the final 6:49 of regulation and five in overtime, bringing Kansas back from a six-point deficit. Remarkably, he attempted just 12 field goals and made 10. Showing phenomenal range, he made all six three-point shots and didn't miss from the line, where he scored seven points.
"He's very efficient, but it's kind of sad," Kansas coach Bill Self said after the thrilling victory. "I mean, this is coaching, but we've got to do a better job. When a guy gets 33, that's impressive. But when he does it on 12 shots, we've got to get him more shots."
McLemore holds his veteran teammates in high esteem, which can lead to him deferring to them, so getting him more shots will need to be a group effort.
"I don't think he does a great job at all of plugging himself into the game, and I don't think we do a great job of looking for him like we should," Self said. "It's one thing for guys to play the first 35 minutes of the game. It's another thing for a player to make plays the last five minutes of the game. That was something we hadn't seen. So that was great to see."
Kansas survived stiff challenges in Allen Fieldhouse from Temple and Iowa State in a four-day span, which might cause uneasiness in some circles, but consider this to ease the anxiety: The player who looked as if he has the most room to improve from today until the end of the season is the same player who scored 18 of his 33 points in the final 11:49 of a pressure-packed game.
McLemore knows he needs to look for shots more often and in more ways, and Johnson said after the game he needs to "plug" McLemore in the game on a more regular basis.
In the first half, McLemore passed up a shot and gave the ball to Perry Ellis, who was fouled and had to earn the points on the line. Self hollered his name, and McLemore instantly knew what message he was about to hear. The freshman from St. Louis mimed tossing an underhanded layup and Self nodded affirmation. A shot, not a pass, was the right call, even if McLemore's heart was in the right place.
McLemore's an eager pupil, and this thriller of a game sent into overtime by a rare off-target McLemore shot, a three-pointer that banked in with one second left, serves as a good lesson for the entire team. Two stretches taught two different lessons. McLemore didn't take a shot in the first stretch, won by Iowa State, 14-1. He made two of three two-pointers, two of two threes and three of three free throws during the deciding stretch won by Kansas, 40-26.