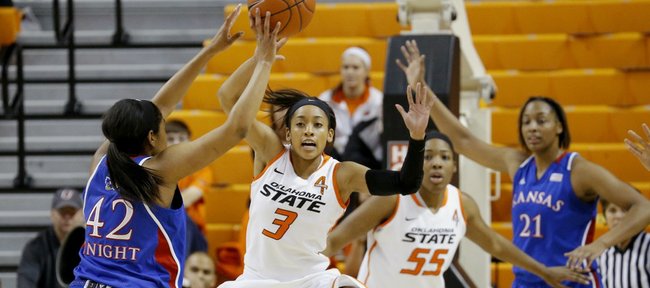 Stillwater, Okla. — Liz Donohoe scored 17 of her season-high 24 points in the first half and No. 21 Oklahoma State never let No. 17 Kansas lead in its first conference loss, 76-59, on Tuesday night at Gallagher-Iba Arena.
Carolyn Davis scored 14 points to pace the Jayhawks (11-3 overall, 2-1 Big 12), who trailed 37-29 at intermission, their fourth straight halftime deficit. The Cowgirls (12-2, 1-2) led by as many as 18 points in the second half.
Angel Goodrich passed out eight assists and was the only other KU player to score in double digits, with 12 points. She made just 4 of 14 shots from the field and 1 of 6 from three-point range as the Jayhawks misfired from deep all night, hitting just 2 of 16 tries.
Toni Young had 15 points for Oklahoma State, which dropped its first two games of the season to Big 12 rivals Texas Tech and No. 1 Baylor. Brittney Martin had 14 points and 10 rebounds for Oklahoma State, and Tiffany Bias also had 14 points.
Monica Engelman scored nine points, Chelsea Gardner added eight points and a team-best seven rebounds, and Asia Boyd had seven points, including five in an 11-2 Jayhawk surge that cut the deficit to 62-53 with 6:06 left in the game.
"I thought we were flat and didn't have that much bounce, but Asia came in and gave us a little plug," KU coach Bonnie Henrickson said.
Oklahoma State countered with a 9-2 run to put the game out of reach, 71-55, with 3:25 left.
Kansas will host No. 1 Baylor at 1:30 p.m. on Sunday in Allen Fieldhouse.
Davis enters top 10: With her third basket at 9:33 in the first half on Tuesday, KU senior Davis passed Angie Snider (1,518 points) for the No. 10 spot in the Kansas women's career scoring list. Davis now has 1,527 points.