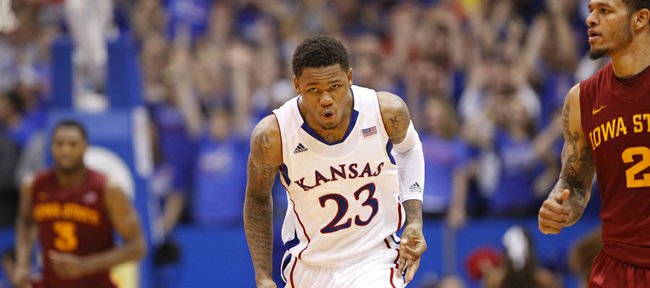 Photo Gallery
KU basketball v. Iowa State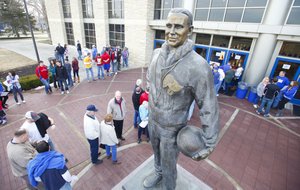 Images from Wednesday night's game against Iowa State at Allen Fieldhouse.
Podcast episode
Kansas coach Bill Self talks to reporters following the Jayhawks' 97-89 overtime victory over Iowa State on Jan. 9, 2013.
Podcast episode
Kansas players Ben McLemore, Travis Releford and Jeff Withey talk after the Jayhawks' 97-89 overtime victory over Iowa State on Jan. 9, 2013.
For all of the things about Wednesday's battle with the Kansas University men's basketball team that Iowa State coach Fred Hoiberg was proud of, there was one thing he could not get over: the ending.
After playing tough and with poise, controlling most of the second half and having Kansas down as many as six points in the final minutes, Hoiberg's crew lost, 97-89, in overtime, a session that was made possible because of KU freshman Ben McLemore's banked-in three-pointer with three seconds remaining.
"I wish it would've swished," Hoiberg said of the heroic shot by McLemore, who scored a game- and career-high 33 points in the victory. "I'd feel better about myself right now if that thing didn't bank in."
Asked why, Hoiberg was brutally honest.
"Well, it wouldn't have seemed quite so lucky," he said.
That was the prevailing thought from the ISU locker room as the Cyclones (10-4 overall, 0-1 Big 12) filed out of one of the toughest places to play in the country with the haunting thought of just how close they were to winning.
"It hurts," Hoiberg continued. "It's gonna hurt all night long, driving back to Ames on a bus. And then you let it go. Our guys know we let one slip away. They're very disappointed about that. But, at the same time, if you can come in here and compete with a team that's won eight league championships in a row, you can play with anybody in the country. That's gonna be the mindset going forward."
As for whether a swish actually would have made things better, the ISU locker room was somewhat divided on that issue.
ISU senior Chris Babb (11 points, four rebounds, four assists) addressed the thought with one word and a half smile.
"Nah," he said.
Freshman forward Georges Niang, who scored 13 points in just his second start of the season, sided with Hoiberg.
"I probably would agree with that," Niang said. "The bank is sort of artificial. I don't know if we would've counted that on the playground."
Doesn't matter. It counted at Allen Fieldhouse and, although the two teams played five more minutes after the shot from the left wing went in, McLemore's fifth three-pointer of the night — he finished 6-for-6 — was the dagger.
"I think we just kind of felt it," said Babb, who watched his team give up 11 straight points to start overtime. "We played our hearts out. We played as hard as we could and that last shot, it just kind of hurt us."
With his team leading 79-76 and just 8.4 seconds remaining, Hoiberg said he contemplated fouling so KU (13-1, 1-0) could not get a look at a game-tying shot. But the third-year ISU coach elected to hunker down and play defense because he felt too many things could go wrong if he chose to foul.
"We thought we knew the play they were gonna run," Hoiberg said. "And they did run it. ... It came down to a freak play there at the end. When it left (McLemore's) hand I said, 'We got it.' It looked like it was off to the left. And it banks in."
Although the heart-breaking shot kept replaying in his mind, it did nothing to tarnish Hoiberg's opinion of McLemore.
"He's unbelievable," Hoiberg said. "He's got the potential to be the No. 1 pick in the (June NBA) draft. He's great now, and he's got great upside just because of his athleticism, he's got a great stroke, he's got great elevation on his shot and he seems like a wonderful kid. He's a star."