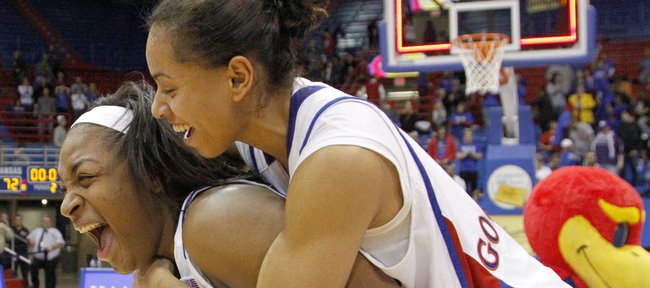 Few college players mean as much to their teams as Kansas University women's basketball senior Angel Goodrich means to hers.
Goodrich sets the fast pace, sets up teammates for shots in their comfort zones in the halfcourt and even has been known to set fire to the nets from time to time.
Given Goodrich's extreme value to KU's chances of winning Big 12 games, coach Bonnie Henrickson takes great care in making sure she maximizes the minutes Goodrich spends on the floor. With inadequate depth at the point guard, Henrickson views Goodrich foul trouble as her No. 1 enemy.
Staying out of foul trouble will be of paramount important for Goodrich in a tough Big 12 test in Stillwater, Okla., where No. 17 Kansas (11-2 overall, 2-0 in the Big 12) faces No. 21 Oklahoma State (11-2, 0-2) at 7 tonight.
A native of Tahlequah, Okla., Goodrich averages 1.8 personal fouls in home games and three on the road.
Henrickson does not adhere to a strict formula when dealing with Goodrich and her foul count. Last week in a home game against Kansas State, Goodrich was whistled for her second foul with 3:32 remaining in the first half. Haley Texada made both free throws to cut KU's lead to six points. Goodrich watched the rest of the half, and K-State took a two-point lead into intermission, reeling off a 17-3 run that started before Goodrich went to the bench.
Afterward, Henrickson explained what gave her the discipline to leave Goodrich on the bench.
"If we're down, and the lead grows, I'll put her back in," Henrickson said. "But if we can maintain and hold and hold and, yes, it was a monster run, but we're down two. I'm not going to go down 10 with that going on. I trust her enough to play her."
It depends on the game.
"She had been in foul trouble early in the year, and I think one time it got away from us, I felt like it was going to get away from us, I put her back in," Henrickson said. "But it's as much as I felt like I could trust CeCe (Harper) and Natalie (Knight) and Monica Engelman too, that, 'OK, if we can just hold on here and stop the bleeding a little bit or not get run out of the gym here, I'd rather have Angel start (the second half with two fouls) because of how aggressive she is and how much they rotate, how much she drives it in the paint their potential to maybe slide over and take charges on her. Because I knew she was going to want to come out and be aggressive in the second half."
The three guards Henrickson referenced are Angel's wings, but nobody comes close to running the team the way Goodrich does.
Oklahoma State junior point guard Tiffany Bias knows how to draw fouls and will attempt to send Goodrich to the bench. Bias leads the Cowgirls (11-2, 0-2) in attempted free throws, assists and steals and ranks third with a 13.3 scoring average.