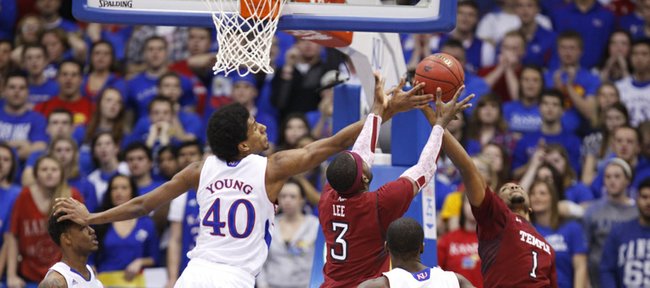 Podcast episode
Kansas coach Bill Self talks after his team's 69-62 victory over Temple on Jan. 6, 2013.
Podcast episode
Temple coach Fran Dunphy talks to reporters following his team's 69-62 loss to Kansas on Jan. 6, 2013.
Podcast episode
Kansas players Kevin Young, Jeff Withey and Elijah Johnson talk to reporters following the Jayhawks' 69-62 victory over Temple on Jan. 6, 2013.
Box score
During his team's loss to then-No. 2 Duke in early December, Temple senior Khalif Wyatt was held to just six points on 3-of-15 shooting in a game he would just as soon forget.
Since that disappointing outing, Wyatt has more than made up for the early-season dud with a 19-point scoring average and two of the best games of his career against two of the country's top teams.
The most recent such outing came Sunday at Allen Fieldhouse, where Wyatt's hot shooting and poised play allowed Temple to take the Kansas University men's basketball team to the wire before the Jayhawks pulled away for a 69-62 victory.
Wyatt followed up his huge game in an upset victory against Syracuse on Dec. 22 — 33 points on 12-of-22 shooting — with an equally impressive performance against the sixth-ranked Jayhawks. The savvy senior from Norristown, Pa., led all scorers Sunday with 26 points on 8-of-19 shooting, knocking down all seven free-throw shots he took while playing a huge part in forcing KU senior Travis Releford to sit on the bench for most of the second half with four fouls.
"He's a really good player," said Temple coach Fran Dunphy, one of a small number of people in the gym Sunday not surprised by what he saw from Wyatt. "He has no fear and he knows what he's doing out there. He's just a terrific player. It's an extraordinary game that he has. There's no speed or quickness to it, but there's a whole lot of intelligence."
That was on full display early during the second half, when Wyatt scored in a number of different ways and refused to let Temple (10-3) fold. With his team trailing 41-33, the 6-foot-4 scorer took it upon himself to get the Owls back into the game by scoring 11 straight Temple points. That put the visitors ahead for the first time, and, thanks largely to Wyatt's 17 second-half points, they stayed in front or tied for the next 12 minutes before KU (12-1) pulled away in the final 2:45.
"I think we handled the atmosphere great," said Wyatt, whom KU coach Bill Self complimentarily said had "kind of an old man's game." "I was proud of all the guys. Nobody showed any fear, nobody let the stage get the best of them. A stage like this is what you play for. You get a chance to shut all those people up in the crowd, but we didn't take advantage of it. But it was a fun atmosphere, and that's just a great college basketball game."
Asked where KU's home court ranked in all of the places he has played throughout his Temple career, Wyatt did not hesitate to give Sunday's venue the nod when it came to noise.
"This was probably the loudest," he said. "They score even a layup and they go crazy. It doesn't matter what they do, the crowd goes crazy."
That's the way Dunphy remembered it from his two previous trips here. But, even with that knowledge, the Temple coach was blown away by Sunday's experience.
"This is my third time here (and) I don't remember it being this loud," Dunphy said. "The other two were deafening. This was beyond that, early in the game. But I think our kids were not troubled by that. I don't think they were in awe as much as I would've been had I been a player. I'm proud of our guys, and I think we showed some toughness."