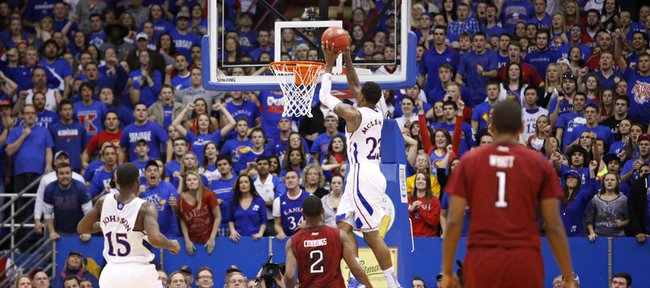 Podcast episode
Kansas coach Bill Self talks after his team's 69-62 victory over Temple on Jan. 6, 2013.
Podcast episode
Temple coach Fran Dunphy talks to reporters following his team's 69-62 loss to Kansas on Jan. 6, 2013.
Podcast episode
Kansas players Kevin Young, Jeff Withey and Elijah Johnson talk to reporters following the Jayhawks' 69-62 victory over Temple on Jan. 6, 2013.
Box score
Resembling a football defensive back, Ben McLemore broke on the ball at just the right time, intercepting a Temple pass and flushing it to give Kansas University's basketball team a late one-point lead it would not relinquish in a 69-62 victory over the Owls on Sunday afternoon in Allen Fieldhouse.
"I definitely was reading it," KU freshman sensation McLemore said of a pass from Will Cummings to high-scoring guard Khalif Wyatt near midcourt right in front of KU's radio broadcast crew.
"I knew they were trying to get him the ball," KU's 6-foot-5 red-shirt freshman added of Wyatt, who scored a game-high 26 points. "I was playing high on the floor. I tried to time it, to go for the steal. It happened, and I got it."
McLemore's breakaway dunk, which followed two Kevin Young free throws (at 4:21), helped erase a 57-54 deficit and give the Jayhawks a 58-57 advantage at 2:42.
It's a lead sixth-ranked KU (12-1) expanded upon late. McLemore's defensive play and slam turned out to be the plays of the game as the Jayhawks defeated a Temple team (10-3) that resembled the squad that beat No. 3-ranked Syracuse on Dec. 23.
"The game wasn't over yet, but with that dunk, I think it sealed the game," said McLemore, not about to take sole credit for the victory. "Travis' amazing shot also gave us confidence down the stretch."
Young — he had his first double-double as a Jayhawk (16 points, 10 rebounds) — hit four straight free throws around one by Temple, and KU led, 62-58, at 1:26. Following a block by Jeff Withey (nine rejections, 11 rebounds, eight points), foul-plagued Travis Releford hit a three with :35 left to give KU a 65-58 advantage. Releford answered a Temple bucket with two free throws at :20.5, keeping the lead at seven, 67-60. McLemore dunked at 8.2 seconds again, answering two free throws by the Owls.
"I'm not surprised he could pick it off," KU senior point guard Elijah Johnson said of McLemore's key theft, KU's only steal on a day the Jayhawks forced just four turnovers, fewest turnovers by a KU foe since March 16, 2008, when KU forced just four against Texas.
"I give him that much respect he was the only one to get a steal. He was pressuring. He wasn't giving up. He wasn't scared to get out and pressure the ball. I felt he deserved it," added Johnson, who came up with a pair of driving layups to erase KU's game-high deficit of four (54-50) with 5:31 to play.
"That brought energy," Releford said of McLemore's steal. "The crowd got into it. That one steal is the only one we had, I guess, the whole game.
"That was the key to it (victory)," added Releford, who finished with 14 points off 5-of-5 shooting in just 23 minutes.
Noted KU's Young: "I think it took all the momentum from them and gave it to us. It got the crowd pumped up and everything and helped us a lot."
KU coach Bill Self was philosophical about the steal. "To win close games, players have to make plays, and he made a big one," Self said.
"It was huge," Self added. "We get one steal for the game (KU last had one steal on March 15, 2005, versus Oklahoma State). Ben runs through a pass and gets a dunk, which was pretty special. Ben was never plugged in offensively the whole game, it seemed like. That wasn't his fault. It was our fault. We did a poor job of plugging him in."
McLemore scored 13 points off 5-of-12 shooting. His one steal is the play that brought down the house, so to speak.
"We were just talking about this. I couldn't hear myself think," McLemore said of the crowd reaction the second half. "I think Elijah was trying to talk to me. I couldn't understand him. Good thing I know how to read lips. It was crazy. The crowd was into it. We were trying to revolve around the crowd. The crowd was with us, and we were with them."
Young's free throws were huge on a night Self said KU "never had any rhythm offensively." Young entered the game a 56.3 percent free-throw shooter and went 6-for-6.
"He was terrific," Self said. "We're 16-of-18 from the line (to Owls' 20 of 26). It was amazing. We couldn't get to the free-throw line. I'm not saying we got a bad whistle, but it probably wasn't a typical home whistle, so to speak."
Seniors Young, Johnson and Releford scored 15 of KU's final 19 points.
"I don't think about it too much, just another free throw," Young said. "I'm just trying to focus on making it."
KU's play down the stretch made it easier for Self to forget the Jayhawks led by as many as 12 points the first half and 11 the second.
"We made a lot of plays down the stretch when we got down three late," Self said. "I'm proud of our guys to how they reacted to not being very good today. To have a great season, you have to play games where you don't play as well. Today was one of those games for us."
It may be remembered as the day McLemore arrived as a defensive player. He helped shut down the 6-foot-4 Wyatt late after Wyatt got Releford in foul trouble.
"Playing here, it's been great. It's a blessing to be here and out here playing for the University of Kansas. I'm just out here having fun," McLemore said.
As far as remaining grounded ... "I think it's my family telling me to be focused on nine in a row," he said of KU going for its ninth straight Big 12 regular-season title.
KU opens Big 12 play on Wednesday against Iowa State. Tipoff is 6 p.m. in Allen Fieldhouse.