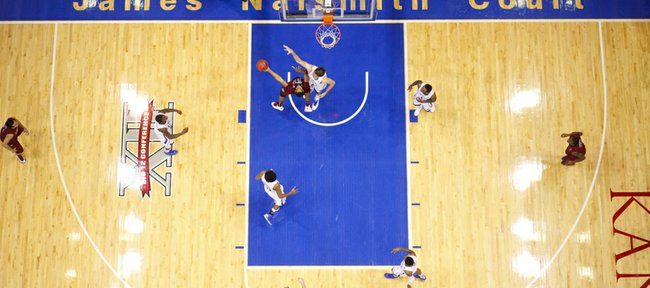 Podcast episode
Kansas coach Bill Self talks after his team's 69-62 victory over Temple on Jan. 6, 2013.
Podcast episode
Temple coach Fran Dunphy talks to reporters following his team's 69-62 loss to Kansas on Jan. 6, 2013.
Podcast episode
Kansas players Kevin Young, Jeff Withey and Elijah Johnson talk to reporters following the Jayhawks' 69-62 victory over Temple on Jan. 6, 2013.
Box score
A Temple University basketball team that already had an upset victory against Syracuse to its name avoided all the common causes to visiting teams getting eaten alive in Allen Fieldhouse.
The Owls fell behind by double digits and didn't feed the beast with careless passes and wild shots. They turned it over just four times, 10 fewer than the home team. They didn't let themselves get rattled and still when all the baskets were counted up they lost, 69-62, joining the last 62 nonconference visitors.
It wasn't difficult to determine the difference in the game. Kansas had a nimble 7-footer blocking shots from start to finish and Temple didn't.
Even when Kansas plays with a lack of wire-to-wire fire, as was the case Sunday, it doesn't get burned with a loss because there is no answer for a great shot-blocker who never gets into foul trouble and has the maturity not to let a subpar offensive day taint his overall game.
On a day Withey made just 3 of 10 field goals and scored just eight points, he more than compensated with nine blocked shots and 11 rebounds.
"What it doesn't tell you is how many alters he had," Temple coach Fran Dunphy said. "He changed so many of our shots because of his presence. He's a really terrific player."
Asked about plays that had nothing to do with Withey, Dunphy always seemed to circle back to the impact the senior from San Diego had on the game.
Asked about Ben McLemore's pivotal steal late in the game, Dunphy quickly changed the subject, saying, "Overall, we were at the rim a couple of times late and Withey would just not let us finish."
When talking about his leading scorer, Khalif Wyatt, a senior guard who brings so much savvy to the game, Dunphy praised his passing skills as much as the impact of his 26 points. In so doing, again Dunphy couldn't help but return to his recurring postgame theme.
"He made a couple of great passes as well," Dunphy said of Wyatt while looking at the box score. "I only see one assist for him. I don't know how."
It didn't take the coach long to figure out how that statistic could be accurate.
"It seemed like he made opportunities for his teammates. Maybe we didn't finish. It looked like we were going to and Withey said no."
Withey says no a lot, which keeps the crowd from saying, "Oh, no, not again," when Kansas defenders get beaten on a play.
"I told our guys at halftime he bailed us out of everything," Kansas coach Bill Self said. "Even when he's not blocking shots, he's altering."
From his coach's point of view, Withey's reach forgives the sins of teammates, but that doesn't mean the coach forgives them.
"We're so overrated defensively," Self said. "Our field-goal percentage defense is off the charts. We may be No. 1 in the country now, I don't know. But we make so many mistakes. It is pretty remarkable to have a guy back there making up for so many mistakes because we're making too many of them."
Kansas had just one steal Sunday, proof Self cited to support his argument that the mistakes defenders in front of Withey make can't be traced to defenders emboldened by the knowledge Withey will prevent them from paying for gambling.
"They rely too much on him," Self said. "We had one steal. We didn't turn Richmond over. We didn't turn Ohio State over much. We didn't turn American over much. So to me, if you're making mistakes out of aggressiveness, that would translate to some screwups, but also some benefits. We're not seeing much of the benefits from a pressure standpoint at all. I think there's a lot of soundness that needs to be corrected."
A more sound defense in front of Withey would result in an even tougher riddle for opposing coaches and players. As it was, Temple had tough enough challenge.
Withey ended the Owls' first possession by blocking Anthony Lee's shot. On the second time down the court, Wyatt drove into the lane and shifted to Plan B when Withey's long reach came into view. Plan B resulted in an errant pass to the corner for a turnover.
Withey finished in much the way he started.
Scootie Randall tried to pad the lead, was rejected by Withey and Kevin Young grabbed the rebound. With 1:05 left, Temple's Rhalir Hollis-Jefferson drove to the hoop looking to cut the deficit to two points. Withey blocked his shot and grabbed the rebound. With 27 seconds left, Withey blocked Will Cummings' shot out of bounds.
No wonder Dunphy had trouble talking about anyone else. Shot-blockers have a way of staying in people's heads like that.