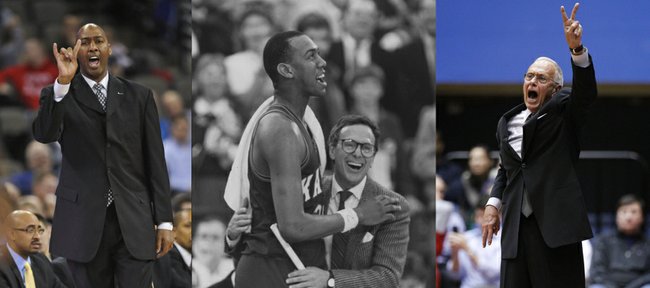 University Park, Texas — The last time Larry Brown and Danny Manning were together on a college basketball court, it ended with what Brown called "one of the greatest feelings I've ever had in my life."
That was 25 years ago, when Manning completed a Hall of Fame collegiate career by carrying Kansas to the 1988 NCAA title, grabbing the game ball and raising a triumphant fist in the air as the final horn sounded, while Brown, the coach who helped push him to greatness, beamed.
They'll be together again at 7 tonight in SMU's Moody Coliseum – only this time Brown, beginning his latest reclamation project as the Mustangs' 72-year-old first-year coach, feels less than great about it. That's because Manning, his pride and joy, a player Brown calls "maybe the best example of how our game should be played," is the opponent.
Manning, now 46, was hired by Tulsa in March for his first head coaching position after nine seasons as an assistant to Bill Self – another Brown protégé – at KU. His first Conference USA game just happens to be against his old coach, a match-up Manning said he's looking forward to. Brown? Not so much.
"I dread this game," he said. "Danny's been such a big part of my life. It will be a special moment for me to see him on the bench coaching. But I don't enjoy that opportunity. Because if we lose, I don't take losses very well, and if we win, I'm not going to be happy about him being on the losing side."
The two have been on a collision course since April, when Brown returned to college coaching for the first time since his KU days by accepting the SMU job, ending two years of wandering basketball's wilderness after he was fired by the NBA's Charlotte Bobcats in 2010.
Brown spent that down time traveling the country to watch the practices of some of his many former players and assistants who now run college programs. He visited John Calipari at Kentucky, Mark Turgeon at Maryland and, of course Self – and Manning – at Kansas.
One February afternoon, Manning summoned Brown to his office. He had an important question: Do you think I'm ready to be a head coach? Brown's answer: It's about time.
"It was inevitable," Brown said. "He had such great knowledge of the game, he played the right way, he respected the game. … I was surprised it took so long for him to decide to be a head coach.
"He's exactly where he needs to be. I think he's going to be special. He was meant to be doing this."
It sure didn't seem that way when Manning arrived at KU as a gifted but quiet freshman. Despite his obvious talent, the 6-10 forward was content to let others take the leading role.
Brown would have none of that, dragging his star kicking and screaming into a leadership role. Brown was on Manning daily, pushing him to take charge and be more assertive.
"I was not of that frame of mind when I first got to college," Manning recalled. "I just wanted to play and not step on any toes and not ruffle any feathers. But I started to understand that those were things that needed to happen for me to mature both as a player and as a person."
"Coach Brown is a very challenging coach. He is always pushing you to reach your limit, to max out your potential. Playing for someone like that and being around someone like that also helps make you mentally and physically tough in terms of being able to grind through tough situations. … That is part of his DNA and part of what makes him such a great coach – his relentless pursuit of excellence."
Now Manning has taken that approach to Tulsa, and Brown is applying the same tough lessons he taught Manning to a new generation of players at SMU.
"People tell me I have to be the leader," SMU point guard Nick Russell said. "I feel like during the game I am that extension of coach on the court. I try to the best of my ability to mimic him, as hard as that may be with his pedigree. All of us are trying to accept the role of some form of leadership, but the personalities on this team, most of us are go-with-the-flow-type guys. So to him, I'm sure it's like pulling teeth to get us to speak up and lead."
So far, the results are mixed. Manning's Golden Hurricane has struggled to an 8-6 start in part because of a rash of injuries that claimed leasing scorer Rashad Smith. Brown's Mustangs lack depth but are a solid 10-5 after a narrow loss to undefeated Wyoming on Wednesday.
Tonight, they test themselves and their teams against each other in a reunion that will be at once joyful and miserable for the coaches.
"There will be a lot of hugs and love before the game," Manning said. "Once the game starts, the competitor in all of us will come out. And once the game is over we'll go back to the hugs and love."
More like this story on KUsports.com