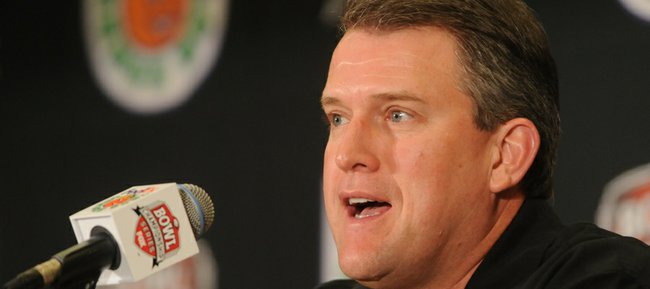 Columbus, Ohio — Step inside the Woody Hayes Athletic Center. All the way at the end of the hall is the legendary coach's final chalkboard with words and numbers chalked by the legend the day he threw a punch that ended his career. Out of the speaker in this alcove, Hayes' voice forever loops.
Well before reaching the end of that hall, a left turn brings a visitor into the weight room, where excuses come to die. On the wall is a "loaf chart" with a number listed next to names. Every time a player is caught putting less than maximum effort into a lift, a graduate assistant hollers, "Loaf, (player's name)."
What amounts to a public wall of shame for athletes arms assistant coaches with ammunition to draw better effort from their pupils.
One of those assistants is Ed Warinner, former Kansas University offensive coordinator and current co-offensive coordinator/offensive line coach on Urban Meyer's staff at Ohio State.
Keeping in mind that the word "Michigan" is prohibited from ever being uttered by coach or athlete on the premises, here's how a conversation between Warinner and one of his offensive lineman is liable to go when the player's name appears next to a scarlet number on the loaf chart:
Warinner: "What's this all about?"
Player: "I was sick that day, throwing up."
Warinner: "Oh, really? Why don't you tell that to the guy from that team up north when he's slamming your quarterback to the ground. Maybe he'll go easy on you if you tell him you're sick."
That's what coaching football sounds like at the elite level. Coaches constantly drag players out of their comfort zones and challenge them in ways designed to make them a little tougher every day, mentally and physically.
Warinner would know. His football coaching life is as star-crossed as the movie life of Forrest Gump. Warinner has ties, direct and indirect, to the biggest names in college football, past and present.
Warinner's family roots reach to as big a name as there is in the college game's history. Warinner's father, Edgar, was part of Bear Bryant's first recruiting class at Kentucky.
Indirectly, Warinner's coaching roots stretch to the most celebrated defense in football history. He worked as a defensive graduate assistant at Michigan State when the head coach was George Perles, coordinator of the Pittsburgh Steelers' Steel Curtain defense that won four Super Bowls.
A search for Warinner's direct ties to active coaching giants does not require looking past the top three teams ranked in the Associated Press poll.
After Kansas and before Ohio State, Warinner worked for No. 1 Notre Dame's head coach Brian Kelly as offensive line coach. As a GA at Michigan State, Warinner coached under then-position coach Nick Saban, head coach of No. 2 Alabama.
Ohio State, ineligible for a bowl game because of NCAA rules violations under former head coach Jim Tressel, went 12-0 in its first year under Meyer and is ranked No. 3 in the nation.
"I really wanted to hire a coach with coordinator experience," Meyer said in explaining the hiring of Warinner. "That was very important to me. Ed has that experience. His offenses at Kansas were not only impressive, but they were some of the top offenses in the country."
A native of Strasburg, Ohio, and 1984 graduate of Mount Union University, Warinner said he would have left Notre Dame for "probably only one" assistant coaching job — the one he has.
"It was a dream place for me to coach here in my home state," said Warinner, whose two daughters are students at KU. "Woody Hayes was a (high school) coach in the county I grew up in. I have family close by. I moved away 25 years ago and have been away from my family and friends. This was a chance to come home."
Professionally, it fit for Warinner as well.
"To work with another high-level coach like Urban, to be able to work with Brian Kelly and Urban Meyer over a two-year period for me is very lucky," Warinner said. "I've learned a lot from both of them. I've learned a lot of football. I've learned a lot about leadership. I've learned a lot about being a head coach and how to manage a program. Obviously, they are two people who are as good at it as anybody in the country."
Back at Kansas
During a recent interview in his office inside the Woody Hayes building, Warinner shared his impressions of Kelly, Meyer and Saban, as well as what his father told him it was like playing for Bryant. Before talking about those coaching legends, Warinner discussed coaching under Mark Mangino at Kansas.
Their time together ended in 2009 after a 5-7 season, the final weeks of which were played out after then-Kansas athletic director Lew Perkins ordered an investigation into Mangino's treatment of players, alleged to be excessively harsh. During that time, prominent players came to Mangino's defense and a few past players who played obscure roles publicly criticized their former coach. The Jayhawks lost the final seven games of 2009 in the wake of a 25-6 streak during which Kansas won back-to-back bowl games. Warinner was not retained and Perkins hired Turner Gill to replace Mangino.
Warinner was asked if he thought Mangino's treatment of players was too harsh.
"Our practices were exactly what I think they should be," Warinner said. "They were tough, physically demanding and got the most out of the players. And I think it forced them to become mentally and physically tough, and it showed by the way they played on the field over a long stretch there. I feel really good about the way we played and the way we trained our players."
Warinner shared what strengths he thought made Mangino, for whom he worked twice (2003-04 as O-line coach, 2007-09 as OC), the first winning coach at KU since Jack Mitchell.
"He had a good overall grasp of the entire program," Warinner said. "He wasn't one-dimensional. He understood the value of the strength program. Chris Dawson did a good job of our strength and conditioning, so we had a good offseason plan. We had a good training camp. He understood defense as well as offense and special teams."
The more Warinner discussed Mangino, the more a profile of an effective CEO emerged.
"Good time management, had a good routine, a good schedule for the coaches," Warinner said. "He was really good at, 'What do we need to do today? Not just because we did it last year on the third practice of August. Is that what we need to do today, this week?'"
Warinner called attention to Mangino's ability to change a team's approach based on the balance of its talent.
"The 2005 team was just dynamic on defense," said Warinner, who was coaching at Illinois that season. "And then two years later to be maybe the best offense in the Big 12 when two years before you're maybe the best defense in the Big 12. And to think about that, the formula changes constantly at a place where you aren't always going to have the top-level talent at every position every year. That was his strength, how to manage that. I think he did a great job of that."
From the sound of it, the workouts Kansas players endured didn't rival those Warinner's father experienced playing for Bryant. After coaching at Kentucky, Bryant went to Texas A&M;, where his first training camp was the subject of Jim Dent's 2001 book, "The Junction Boys." It includes tales of dehydrated players collapsing in the blistering sun and others leaving in the middle of the night, never to return. ESPN adapted the book for TV movie.
"We watched the movie and he said there was a lot of truth to what was going on there," Warinner said. "He said it was very high structure, high discipline, almost like a military boot camp. When Bear Bryant left Kentucky, my dad joined the military during the Korean War and then came back and finished at Morehead State. My dad said playing for Bear Bryant was a lot like being in the military."
Coaching with the best
Warinner said working for Saban as a defensive graduate assistant was invaluable in that it gave him insight into what defenses will try to stop his offenses.
"Nick's as good as it comes when it comes to defensive football," Warinner said. "When I worked for him I thought, 'Wow, this guy is something.'"
What makes him special?
"Just his overall understanding of the game," Warinner said. "How to take advantage of schematics, how to take advantage of personnel, just very thorough, very detailed in all parts. Very good at evaluating the opponent. Very good at evaluating himself."
More than anything, it's Saban's ability to react to the game as it's being played that makes him an elite coach, Warinner said.
"He's always able to adjust really quick and know how to counter anything that's happening in a game," he said. "He recognizes it. He doesn't need to go the next day and watch film to figure out, 'Oh, shoot, this is what they were doing.' He knows right now. One time they run the play, and he knows exactly how to answer that. I sat in the press box with him for two years and I was astonished at the vision, and the comprehension of what was happening and how to adjust to it."
Warinner on Kelly: "It's not surprising to me what he's done. He's a good person to work for as a coach, good person to play for as a player. Demanding but fair. He's a very intelligent guy, so he makes a lot of good decisions. You have to make a lot of tough calls in this business in a lot of different areas, personnel-wise and decisions on how you want to run your program. Sometimes one or two of them backfire on you and things go down. He's shown in his 20-year career as a head coach he can make those tough decisions, and 99 percent of the time they work out to be the right decision. That's amazing. Not a lot of people can do that."
Warinner on Meyer: "Tireless work ethic. Intense detail. Extremely thorough and, again, strong at all facets of football. Strong at recruiting. Strong in football. Strong in player development. The whole gamut. He's really good at it— promoting a program, leading a program. He is a complete package; that's why he's the head coach at Ohio State."
The next step
With celebrated quarterback Braxton Miller back for his junior season and Meyer at the helm, Ohio State has a chance to rank No. 1 in 2013 preseason polls.
With each season he works under Meyer, Warinner's resume will look stronger, and he's bound to become a popular short-list candidate when the next wave of firings hit.
"I've worked with a great group of head coaches," Warinner said. "Guys who will be in the Hall of Fame, some guys who already are. So you try to take everything you can from them, store it away, and then use what fits your personality and what you believe in. The next step comes when it comes."
Warinner's too proud of the job he has to waste any time looking for his next one.
"Coaching at Ohio State is a great, great thing," he said in a way that made it obvious he meant it.
More like this story on KUsports.com