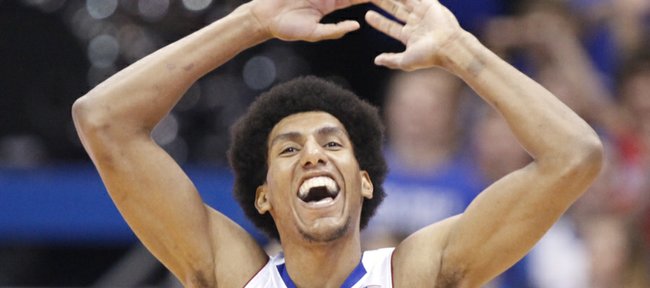 A superbly conditioned athlete, who, in his own words, could "run all day," Kevin Young doesn't need much downtime in a two-hour Kansas University basketball workout.
"I try to get in every possession at practice. One day coach (assistant Norm) Roberts said, 'Take a break. These guys have got to learn the plays, too,'" senior power forward Young said of younger frontcourt players Perry Ellis and Jamari Traylor as well as red-shirt Landen Lucas.
"When he told me that, it dawned on me they are going to be in the game just as much as me. If they mess up, we lose possessions. It's my role on the team to help them get better and make sure they know the plays and know what to do when they are out there," Young added.
It hasn't taken much urging from big-man coach Roberts or head coach Bill Self to get Young to embrace a leadership role on the 2012-13 KU team.
Remember, this is the same player, who, in taking off the 2010-11 season, worked as a volunteer assistant coach at Barstow Community College in California.
"Kevin is an unbelievable kid. He coaches those other (young) guys trying to get them better," Self said. "He knows the better they get, they will not necessarily beat him out, but cut into his minutes because we become more balanced and deeper. It is good for our team later on. He gets that. It's kind of fun to see," Self added of such unselfishness.
"I've been really pleased with Kevin on how he's utilized his maturity to help the young guys," Self said.
Young, who played two seasons at Loyola Marymount, then played last year at KU, said he's bought into everything surrounding KU's tradition-rich program.
"At the end of the day, it's not about me. It's about us, and it's about Kansas," said Young. The 6-foot-8, 190-pounder averages 6.5 points and 6.7 rebounds a game heading into Sunday's 3:30 p.m., home game against Temple.
"One of the biggest things I took in when I got here was coach's philosophy on recruiting. He said it's our duty to get somebody better (to come) here, and I am already leaving, so it's not like I'm having much effect on bringing some new kids, so why not help the kids that are here?"
Young — he is majoring in African American studies with a minor in history — said he's not yet decided if he'll continue playing next year, become a coach or enter another field.
"My mom ... when she sees me coming home with scratches, says, 'Maybe basketball is not cut out for you. Maybe you should start coaching already,'" Young said with a smile.
His mom, Alicia, and younger brother, Donovan, recently moved from Perris, Calif., to Lawrence as chronicled in the Journal World last month (http://bit.ly/Wjnyuz).
Young, by the way, said he has no plans on cutting his trademark afro hairstyle anytime soon.
"Probably not until the end of the season," he said, smiling.
Wesley's back: KU junior forward Justin Wesley practiced with limited contact on Friday and is listed as questionable for Sunday's game, Self said. It's expected he'll be used only if he's needed in the game. Wesley broke the little finger on his left hand on Dec. 13.
Larry vs. Danny: Former KU coach Larry Brown's SMU team (10-5) will meet former KU All-American Danny Manning's Tulsa team (8-6) at 7 p.m., Sunday, in Dallas. The game will be televised locally on cable channels 36, 236 and 144.
"It's pretty neat to see a guy that was arguably the best collegiate player of the decade of the 80s — right there collegiately maybe (the best) in the last 30 years — that led his team to the national championship coaching against the coach that everybody feels like was maybe the best X's and O's guy, best last-minute strategist our sport has seen in many, many years," said Self.
Tough for Tad: Self on Colorado's last-second, game winning shot against Arizona being waved off Thursday after the officials checked the replay. CU went on to lose in overtime.
"Tad (Boyle, former KU player and current CU coach) is right on this point ... when the NCAA tournament committee is evaluating if you are on the bubble or not, they are not going to say, 'Well, this should have been.' They are going to go off the facts and the facts are Arizona won the game," Self said. "That is why I think it is so important we get it right (by checking replay and making sure the replay table has high-definition TV replay that is available to the networks)."
Hudy honored: Andrea Hudy, KU's assistant athletic director for sports performance, has been named the National College Strength and Conditioning Coach of the Year by the National Strength and Conditioning Association (NSCA). Hudy is receiving her award this weekend at the annual NSCA Coaches Conference in Nashville.
"It is a privilege to honor Andrea Hudy and recognize her achievement," NSCA Founder Boyd Epley said. "Andrea's well-earned award and her contributions shape the NSCA into what it is today."
No. 15 prospect considers KU: Leron Black, a 6-7, 215-pound junior power forward from Memphis' White Station High, who decommitted from Baylor this week, has KU on his list of schools, Rivals.com reports. The country's No. 15-rated player in the Class of 2014 lists KU, Kentucky, Ohio State, Florida, UConn, Memphis, Missouri, N.C. State, Louisville, Tennessee, Vanderbilt as well as Baylor.