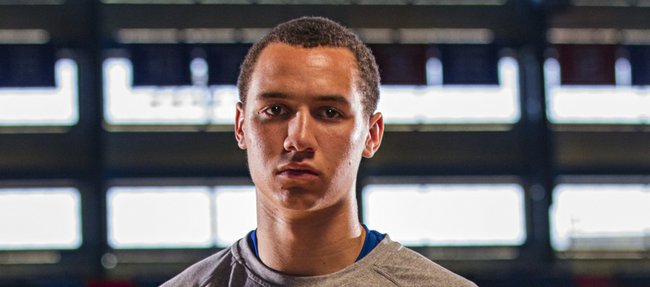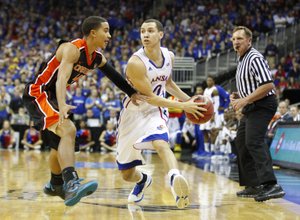 Evan Manning's three-pointer with a minute remaining in Saturday's 89-57 victory over American University was Kansas University's 15th — one off a single-game school record.
"Everyone on our team can shoot," Manning, KU's 6-foot-3 freshman out of Free State High and New Hampton (N.H.) Prep, said, expressing no surprise at KU's 15-of-24 shooting (62.5 percent) from beyond the arc.
"Our guards are great shooters, and our inside guys. Whenever somebody gets open, we want them to shoot because anybody can get hot," Manning added. "Whenever a team can get hot and keep shooting, you definitely want to do that. We also want to get easy baskets. If we can make threes like that, then do it."
Six Jayhawks hit threes versus American. Like Manning, fellow freshman Perry Ellis connected on the first three of his college career.
"Making a three felt good after the last one I shot was an airball," Manning said of an off-target three against Richmond on Dec. 18. "It's definitely good to make one."
Evan — son of KU's all-time leading scorer, Danny Manning — hit a layup with 1:05 left in the Richmond game for his first points as a Jayhawk. His three in the American game came with 58 seconds remaining off a pass from fellow walk-on Tyler Self.
"The fieldhouse is such a familiar place. I practiced here all the time growing up around here. Making a shot here is pretty cool," said Manning, who visited Allen Fieldhouse a lot during his dad's nine-year stint as member of Bill Self's KU staff. Danny has moved to Tulsa, where he's first-year coach of the Golden Hurricane.
"He is learning on the fly. That can be expected of a first-year coach," Evan said of Danny, whose Golden Hurricane take a 7-6 record into today's home game against Buffalo. "He is liking it there and coming into his own. He's battling quite a few injuries now. He's enjoying coaching the game and overall experience."
Evan Manning is also soaking up a lot of information in his first year as a major-college player.
"Coach Self is a basketball genius. I always listen to him," Manning said. "Definitely Elijah (Johnson, starting point guard) ... he is a great role model the way he plays. He is a great person to look up to. I'm really happy. This is my dream school. I'm glad I came to KU. I love it and have loved every minute of it."
Manning said that in practice he "guards the 2 or 3 position, so it's usually Travis (Releford) or Ben (McLemore)."
On offense, Manning says that he usually runs the point.
"Whenever you are point guard, you try to be a leader. Whenever I am on the court, I try to be a general," said Manning, who averaged just under 10 points and six assists last year for 26-9 New Hampton after averaging 7.3 points, 3.3 rebounds, 2.8 steals and 2.4 assists his senior year at Free State High.
He's the Firebirds' single-season record-holder for steals with 64.
"We've got four great seniors. Each bring something different," he added of leaders Johnson, Releford, Jeff Withey and Kevin Young. "Kevin knows the offense inside and out. Jeff is the enforcer. Elijah is our floor general, leader. Travis is really playing well, great defender and scorer."
Of late, everybody has been impressed with backup point guard Naadir Tharpe, who has 22 assists and no turnovers over the last four games.
"I think he is gaining confidence in himself and what coach wants him to do and his abilities," Manning said. "Everyone on our team knows what he is capable of. It's no surprise to us, and he's showing it to everyone else. He can do anything, shoot it, make assists, get to the lane, create havoc."
Practicing against such talented players has definitely been challenging for Manning.
"I never experienced anything like that prior to college," Manning said. "I've seen practices here, but I'd not been on the court. It's a whole different ballgame when you are out there. It's physical, fast — first one on the floor (for loose balls) — whoever gets it, it is a momentum builder."
Self, who has known Evan for many years, is pleased to be coaching him now.
"He is from Lawrence, Kan., has a fairly-popular last name. Everybody kind of knows his family. This guy is going to make a name for himself.
"He's an absolute stud," Self said of Evan in introducing him to campers at last week's holiday clinic in the fieldhouse.
More like this story on KUsports.com