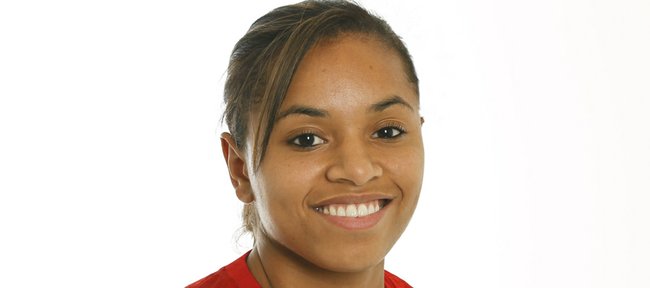 Document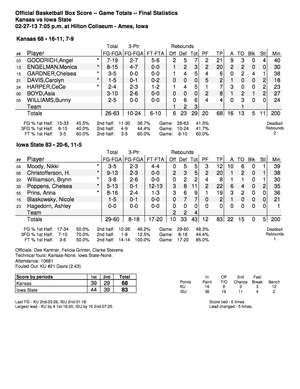 Ames, Iowa — Angel Goodrich and Monica Engelman combined to score 41 points, but lack of an inside game doomed Kansas University's women's basketball team to an 83-68 loss to No. 23 Iowa State on Wednesday at Hilton Coliseum.
Goodrich had 21 points, seven rebounds, nine assists and four steals, while fellow senior Engelman added 20 points, three boards and a pair of assists for KU (16-11 overall, 7-9 Big 12).
But center Carolyn Davis was held to a season-low two points on 1-for-5 shooting before fouling out, and KU was outscored 36-16 in points in the paint (and 19-9 in points off turnovers).
"We were good in stretches, but the bad stretches lasted too long," KU coach Bonnie Henrickson said. "Both (Angel and Monica) played confidently, but we just didn't have enough around them tonight. We really shot it and had good rhythm (early), and I thought we were a lot better, but we had too many stretches with not much (offense) inside and defensive lapses."
Trailing 56-44 with 15:00 left to play, Kansas used a 13-4 run to cut the deficit to three, 60-57. However, Davis, Chelsea Gardner and Bunny Williams battled with foul trouble throughout the second half, and Iowa State (20-6, 11-5) took advantage.
Kansas tied its season-high with 10 three-pointers and shot 41.7 percent from beyond the arc.
KU led, 22-20, with 11:56 left in the first half, but Iowa State used its three-point accuracy to stifle the Jayhawks. The Cyclones hit their first six threes and seven of their first eight. ISU led by as many as nine points, 42-33, in the first half and carried the lead into the half, 44-39.
Iowa State had four players in double-figure points, led by Chelsea Poppens (22) and Hallie Christofferson (20).
Kansas will meet Oklahoma at 7 p.m. Saturday in Norman, Okla.