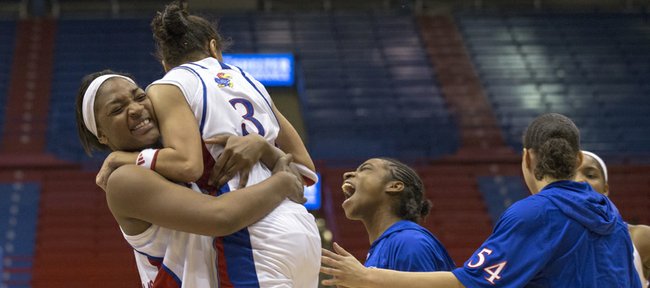 Count KU women's basketball coach Bonnie Henrickson among those who hope what KU senior Elijah Johnson did to Iowa State during Monday night's 108-96 overtime victory will have a lingering effect on Hilton Coliseum.
At 7 p.m. Wednesday, just two days after Johnson torched Iowa State for 39 points to keep the KU men atop the Big 12 standings, Henrickson's club will step into the same venue looking for a much-needed victory of its own.
Although comparisons between the men's and women's game are not made often, Henrickson said this week's back-to-back battles with the Cyclones could be unique.
"I think you look at that parallel of, 'OK, how did they do it?' They made plays. And a senior made plays," Henrickson said. "And it's more magnified because it's guys that are friends of ours and the relationship we have with the program."
Although Henrickson spent most of Monday night watching film of the 23rd-ranked Iowa State team her Jayhawks knocked off, 78-75, in overtime on Jan. 30 at Allen Fieldhouse, she tuned in to the men's game when it mattered most.
"I was watching film and following it on my phone and once I saw about three minutes left I turned it on and said, 'I don't want to miss this,'" Henrickson said.
What she witnessed was an explosion from Johnson, who outscored Iowa State 8-3 in the final 29 seconds of regulation and 12-6 in overtime.
"I was happy for him," Henrickson said. "As much as he's been such a great player here during his career, it was exciting to see him play with that kind of confidence."
That's another area she's hoping will rub off on her senior-laden squad, especially given that the two games are being played so closely together and the impressive support Iowa State's men's crowd routinely gives its women's program, as well.
After falling behind by 18 points with just under nine minutes to play in the first meeting, Henrickson's Jayhawks turned up the tempo and roared back to force overtime. During that stretch, the Jayhawks shot in 10 seconds or less on 85 percent of their possessions. Henrickson is hoping to see a similar style prevail tonight.
"We're gonna have to hit some jump shots and turn up the defensive pressure to get out in transition," she said. "We need to push after a miss and a make. That's what we had success with toward the end of the second half and overtime down here."
The Jayhawks (16-10 overall, 7-8 Big 12) have lost four of their last six games and two straight. They have also been plagued by slow starts that left them just short at the end.
"It's in there, we have it in us," Henrickson said. "But when are we gonna learn the lesson to start with it and go ahead and play like that for 40 minutes? It's more nightmarish than cool, I'll tell you that."
As for how to fix it, Henrickson said the responsibility fell on everyone involved.
"We played ourselves into this hole," she said. "And now we gotta play ourselves out of it. Everyone has to do more and that starts with me."
More like this story on KUsports.com