Photo Gallery
Kansas v. Iowa State basketball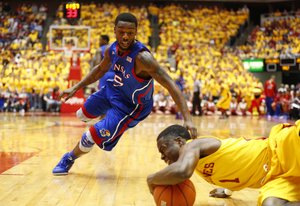 Images from Monday night's game against Iowa State in Ames, Iowa.
Podcast episode
Kansas coach Bill Self talks after his team's 108-96 overtime victory over Iowa State on Feb. 25, 2013.
Podcast episode
Kansas guards Elijah Johnson and Travis Releford talk after the Jayhawks' 108-96 overtime victory over Iowa State on Feb. 25, 2013.
Ames, Iowa — Fred Hoiberg sat on a folding chair at the free-throw line, staring at two studio lights that resembled upside-down white umbrellas.
It was just an hour after Kansas University's 108-96 men's basketball victory over Iowa State, and for the first time all year, Hoiberg, the ISU coach, was recording his TV coach's show on the Hilton Coliseum floor following a home loss.
With the camera rolling, Hoiberg said he couldn't fault his defense late against KU. Then he talked about how KU guard Elijah Johnson appeared to increase the degree of difficulty with every shot he made late.
Johnson's career-high 39 points ended up lifting KU, and that included a desperation dagger with 54 seconds left in overtime that put the Jayhawks ahead, 103-96.
"That was one of our better defensive possessions, I thought, of the night," Hoiberg said, "and he drills a big one with a second on the shot clock. Not a lot you can do about that one."
Hoiberg didn't hesitate to give Johnson credit for his late-game heroics, saying he played "great."
ISU guard Korie Lucious left wishing he could have done more late.
"I definitely take ownership for that, because I was the one holding him (defensively)," Lucious said. "He hit a couple of deep threes that brought them back and gave them the lead. He played good, but I think I had to step up my defense."
ISU also left frustrated after not getting a call on KU's final possession in regulation.
With KU trailing 90-88 with six seconds left, Johnson drove all the way to the rim and banged into ISU's Georges Niang, who fell down with the contact.
No charge was called, and with 4.9 seconds left, Johnson was fouled during a loose-ball scrum by Niang before hitting two free throws to tie it.
"I thought Georges made a heck of a play by stepping in there and drawing contact," Hoiberg said. "But, hey, it happens in this game. It didn't go our way. It's one of those things ... you move past it and try to get on to the next play. Unfortunately, we didn't get it done in overtime."
With 45 seconds left in regulation, Niang hit a three-pointer to push ISU's lead to 87-82 before lifting his arms in celebration.
At the postgame news conference, Niang was asked if he thought that shot was going to seal the game.
"The way this season has gone? No," Niang said. "But I thought we had a good chance to win it, especially at the end. But a call's a call, and we're men here.
"We're going to move on. I promise you one thing: We're going to come back even harder the next day."