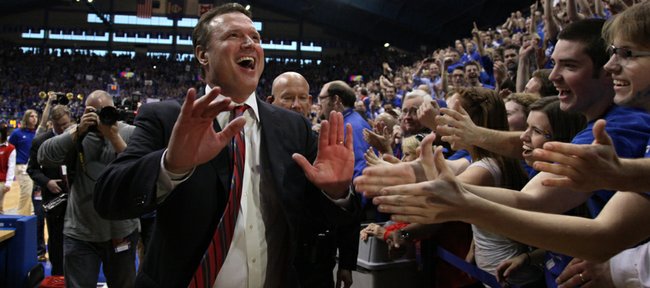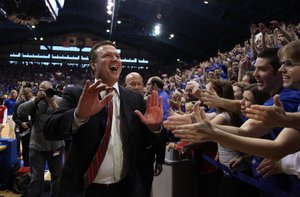 Self at a glance
Bill Self has 499 career coaching victories in 20 seasons heading into tonight's Kansas-Iowa State game in Ames. Self is trying to become the fourth coach to win 500 games by his 20th season. If KU wins, he ties John Chaney for ninth quickest to 500 victories in terms of number of games.
Quickest to 500
Adolph Rupp, Kentucky, 583 games (500-83, .858), in 23rd season
Jerry Tarkanian, Long Beach State and UNLV, 604 games (500-104, .828) in 20th season.
Roy Williams, Kansas and North Carolina, 627 games (500-127, .797) in 19th season.
Henry Iba, Northwest Missouri State, Colorado and Oklahoma State, 633 games (500-133, .790) in 24th season.
Phog Allen, Baker, Haskell, Central Missouri and Kansas, 646 games (500-146, .774) in 34th season.
(tie). John Calipari, UMass, Memphis and Kentucky, 652 games (500-152, .767) in 20th season
(tie) John Wooden, Indiana State and UCLA, 652 games (500-152, .767) in 24th season.
Dean Smith, North Carolina, 653 games (500-153, .766) in 23rd season.
John Chaney, Cheyney and Temple, 662 games (500-162, .755) in 22nd season.
Bill Self, Oral Roberts, Tulsa, Illinois and Kansas (661 games (499-162, .755) in 20th season.
Self facts/figures
Record at KU: 292-57 (.837). At home: 159-8. On road: 71-26. Neutral: 62-23.
Overall record: 499-162 (.755). At home: 275-32. On road: 122-93. Neutral: 102-37.
Conference games: 199-51. At home: 114-9. On road: 84-42. Neutral: 1-0.
Non-conference games: 300-111. At home: 113-9. 159-23. On road: 38-51. Neutral: 101-37.
Conference regular-season titles: 1999, 2000, 2001, 2002, 2005, 2006, 2007, 2008, 2009, 2010, 2011, 2012.
Conference tournament titles: Illinois (2003), Kansas (2006, 2007, 2008, 2010, 2011).
NCAA Tournament record: 34-13 overall; 23-8 at KU.
Self year by year
Oral Roberts (55-54, .505)
1993-94: 6-21; 1994-95: 10-17; 1995-96: 18-9; 1996-97: 21-7.
Tulsa (74-27, .733)
1997-98: 19-12; 1998-99: 23-10; 1999-00: 32-5.
Illinois (78-24, .764)
2000-01: 27-8; 2001-02: 26-9; 2002-03: 25-7
Kansas (292-57, .837)
2003-04: 24-9; 2004-05: 23-7; 2005-06: 25-8; 2006-07: 33-5; 2007-08: 37-3; 2008-09: 27-8; 2009-10: 33-3; 2010-11: 35-3; 2011-12: 32-7; 2012-13: 23-4.
Ames, Iowa — Mario Chalmers believes a kinder, gentler version of Bill Self chases his 500th career coaching victory tonight in Iowa State's Hilton Coliseum.
"He's a lot more mellow than when I played at KU. I was telling him that yesterday. He's a lot different than he was with us," said former Kansas University combo guard Chalmers of the Miami Heat after watching his mentor lead a two-hour practice in Allen Fieldhouse.
While never admitting to becoming a softie — oh, how KU's 10th-year coach hates "soft" basketball teams — Self acknowledges he's a different "cat" (one of his favorite words) in Year No. 20 of his career than Year No. 15.
"I don't know if I've changed from a philosophical standpoint or how we teach things. I think I'm more understanding, more patient," said the 50-year-old Self, who takes a 499-162 record (292-57 at KU) into today's 8 p.m. battle between the Jayhawks (23-4, 11-3) and Cyclones (19-8, 9-5).
"Previously, I'd worry about things that had nothing to do with winning," he said. "I believe I am able to see the big picture better than I used to. I probably understand more about kids and how to deal with them than five years ago."
Self, whose current players insist he remains plenty tough — evidenced by preseason Boot Camp, time on the treadmill and fieldhouse stairs at practice — certainly has evolved over the years.
One constant?
His burning desire to win.
"One thing he does that is very good … he knows every win is a big win no matter what," said KU assistant Norm Roberts, who has worked with Self two seasons at KU and also at previous stops Illinois, Tulsa and Oral Roberts. "It doesn't matter if we are playing Southeast Missouri to start the season or playing Oklahoma State in the conference. He understands you have to go for every single one because it's so hard to win at this level on a consistent basis."
'Mind-numbing' percentage
Self has said many times he remembers the losses more than the wins.
"I've only been around him nine years, but I'd say more than hating to lose, I think he gets a lot of pleasure in kicking somebody else's butt, especially on the road," said ninth-year KU assistant Kurtis Townsend. "I think there's no better feeling to him than going in somebody else's house and beating them."
This would certainly explain Self's uncanny .837 winning percentage at KU and overall win mark of .755.
"It's mind-numbing," 10th-year KU assistant Joe Dooley said of Self's winning percentage, the best of any coach in KU history. "When you are out among our peers, I think those people have an unbelievable appreciation for what he's done and accomplished."
Self's assistants have theories as to how he's managed to win so many games en route to eight Big 12 titles in nine years at KU with one NCAA title and one runner-up finish.
"He's not stuck on something," Dooley said. "He has principles he's going to follow, yet if he needs to tweak, change, tighten, he's able to adapt, where a lot of people are, 'We are going to do it this way and if it doesn't work this way we're in trouble.' He is not afraid to change if change is necessary."
First-year KU director of basketball operations Doc Sadler said it's a simple matter of belief in oneself. Self knows things he's borrowed from previous bosses Larry Brown, Eddie Sutton and Leonard Hamilton — as well as his college coach (Paul Hansen, Oklahoma State) and high school coach (Mike de la Garza, Edmond Memorial High) — work.
"He has a lot of great qualities, but confidence is at the very top," Sadler said. "He knows what he wants and knows how to get it done.
"At Nebraska (where Sadler coached against longtime buddy Self for five seasons), I knew everything they were going to do from the name of the plays to when they were going to run them, but what separates coach is the execution of those things.
"He gets the guys to execute the plays the way he wants them to get them done. It's the confidence. When you have a plan, the players see you put in the time to identify the things that are going to be important to help you win. That gives confidence to the players. They know, 'This guy didn't just show up today. He's studied it and looked at it and prepared and now he has us execute it.'''
Norm Roberts says that by holding "everyone (players and assistants) accountable" they ultimately deliver most of the time.
"A guy can make a shot and everybody is happy about the shot, but what coach will do is stop the play (on tape) and say, 'Hey great shot. You made the basket, but one thing you didn't do is post up strong. Against a real defense you wouldn't have gotten that shot off.' Then he'll say, 'Two plays you didn't block out and on one you didn't hedge the ball screen,''' Roberts said.
"Where a guy is trying to feel all happy about himself making a bucket, coach is pointing out three errors he made that if this were a game, he'd been out of the game or we'd been down six points. Holding guys accountable in that way is one of the reasons we have been so successful in close games because guys know, 'This is the way we do things. This is the way we have to execute.'''
'He instills confidence'
Townsend points out an obvious reason for Self's winning percentage.
"We've had pretty good players. Coach gets guys who are top players in the country to buy into the defensive side. I think that's a skill in itself," Townsend said. "He's had guys like Thomas Robinson, Elijah (Johnson) and Jeff Withey buy into staying around, then when it's their turn, they really produce. Jeff didn't play (early in his career). Elijah didn't play. Thomas didn't play his first two years, but when it's their turn, they end up being the guy. They end up being ready."
Self's players tend to be unselfish players.
"Coach tells them the pie is big enough for everyone if you win. He gets them to believe it," Townsend said. "Guys like Russell Robinson sacrifice from being a scorer in high school to playing a role and helping the team win, then he ends up doing well for himself (winning 2008 national title and playing overseas)."
Many of Self's wins have been blowouts; many nailbiters; some come from behind. His Jayhawks rarely are out of a game. KU trailed Memphis by nine points with two minutes left in the '08 national championship game. The Jayhawks forced overtime against Iowa State earlier this season on Ben McLemore's last-gasp three that banked off the glass.
"Down nine against Memphis, he was unbelievably positive: 'Guys we are going to do this. All we've got to do is get a few stops,''' Townsend said. "We had to catch a couple breaks. They had to miss a few free throws. But it happened. Against Missouri (last year in OT victory) we were down 19. It looked like we were dead in the water. He was positive where some coaches would be negative and jumping on guys. Players respond to what he says."
As Dooley put it, "He instills confidence, comes up with a plan and puts guys in position to make plays. If the guys have practiced it, it gives them a better chance. There can be stern words (in timeouts) but it always ends up being positive: 'Here's what we are going to do, and here's why we're going to do it. Now we need to do it.'"
'I have a great job'
As to how much longer he's going to lead young men … well, Self has said there's no way he'll be in the game long enough to catch Duke's Mike Krzyzewski, who has won an all-time NCAA best 950 games with no end in sight.
"Coach is a guy who is going to want to enjoy life, I think," Sadler said. "He is one of the great ones and the great ones do have a hard time walking away. You can count them on one hand. Darrell Royal (Texas football) walked away. Frank Broyles (Arkansas football). Al McGuire (Marquette basketball) was not old and walked away after winning it. Joe B. Hall (Kentucky) walked away at a relatively young age. There's not many who can."
Winning 30 games a season can vault Self up the all-time win list in a hurry.
"I'd love to see him do it a long time and get a record because I think he's a Hall of Fame coach, but I'd also like for him to enjoy life, because he really deserves it," Townsend said.
Self, who considers golf his main hobby, has said he's not yet burned out on the ever-challenging college recruiting game. He's said there's no burning desire to try the NBA, though he hasn't discounted moving on to the next level.
What he knows is he loves college coaching and working at KU.
"I have a great job," Self said. "I enjoy coaching kids, trying to put a team together and see a team through October to March. That's what is fun and challenging. A lot of people ask me, 'What do you do in the offseason?' I get that all the time. 'When basketball is over, what do you do?' I get busy. I don't think the normal public would envision that. This is a 12-month-a-year job, no question. I have one of the best jobs basketball has to offer. I can't see wanting to be anywhere else."
He has no regrets as he approaches win No. 500.
"I thought that we were good at Illinois and good at Tulsa. We knocked on the door," he said. "I thought Kansas would give us the best product to have a chance to be great. It's played out beyond expectations for me, personally. The worst team we've had was a 4-seed in the NCAA Tournament. I'm pretty proud of that, a model of consistency. We will not win 80 percent of our games, I know that. We'll take dips. I know that. It's been pretty consistent so far even though we've had peaks and valleys."
He and wife, Cindy, who run the Assists Foundation, have been active members of the Lawrence community. Self is approachable by just about every group imaginable — players, boosters, administration, media. He's been spokesman for the entire athletic department on a number of occasions.
"It's been a humbling and great privilege to work at Kansas and work for Bill," Dooley said. "He's a Hall of Fame coach and better person."
"He's more than a friend. We're family. We've always been family," Roberts said.
"He never changes day to day. He's considerate of everybody. I hope I can be like him if I'm ever a head coach," Townsend noted.
"He's remained one of the most humble people I've ever come across. That's a credit to him, an unbelievable quality. He's always a guy you can pick up the phone and call and he'll always be that way," said Sadler.