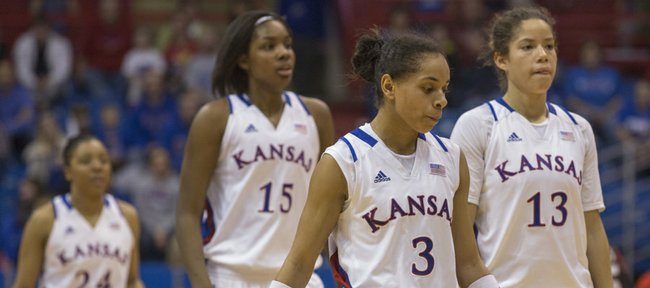 Angel Goodrich crouched at mid-court, hands on her knees, motionless for a few seconds while her teammates headed to the locker room following the Kansas University women's basketball team's 72-70 loss to Texas Tech on Sunday afternoon.
After a 16-point second-half rally fell short, Goodrich stared down at the Allen Fieldhouse floor, still trying to sort out her thoughts.
"I don't really know what to think right now," KU's senior point guard said. "It's kind of indifferent a little bit, because it's like the same thing over and over and over."
Before Sunday, the Jayhawks had rallied from 18 points down in a home victory against Iowa State and 23 down in a road victory over TCU.
KU even started to work its magic again Sunday, overcoming a 16-point halftime deficit to tie the score with 18.7 seconds left on a three-point play by Goodrich.
Tech answered, though, when 5-foot-10 guard Christine Hyde drove to the rim before putting in a turn-around shot with 3.5 seconds left to give the Red Raiders a 72-70 lead.
Goodrich took the inbounds pass and raced to the other end, but her leaning, desperation three-point attempt from 25 feet sailed wide-left and failed to hit rim.
"I let it off too slow," Goodrich said. "I kind of saw (teammate) Moni (Engelman) in the corner of my eye, and I didn't know if I had enough time to throw it. Then, by the time I thought about it, it was too late."
This comeback left the Jayhawks wishing they hadn't put themselves in such a deep hole.
After a competitive first half, the Jayhawks fell apart in the final 6 1/2 minutes, with the Red Raiders posting a 19-4 run to take a 39-23 halftime lead. During that stretch, KU made just one of seven field-goal attempts with five turnovers.
"We've been down this road too much," KU coach Bonnie Henrickson said, "where we allow people to come in here and feel comfortable and confident."
KU's biggest issue in the first half was turnovers. The Jayhawks gave it away 13 times, one more than they had in their previous game against Texas.
KU finished with 23 turnovers, which tied its season high. Most of Tech's 13 steals came in a 2-3 zone defense that was aggressive and hounded KU's players when they decided to drive.
"You can't be a poodle and try to get in the cage of a pit-bull," Henrickson said, "and we were soft."
KU still made it interesting late with help from two unlikely momentum swings.
The first came with 1:32 left and KU trailing 65-58, when Goodrich hit a three-pointer from the top of the key while drawing a foul on Tech's Chynna Brown. Goodrich missed the free throw, but Carolyn Davis picked off the offensive rebound, and a few seconds later, Engelman found Chelsea Gardner for a layup and foul.
Gardner's free throw capped the six-point possession, and KU trailed by just one with 1:17 left.
"It's there," Goodrich said of her team's effort. "We just find it late when we're down."
Following a foulout by KU's Asia Boyd — and three free throws in two possessions from Tech — Markisha Hawkins checked in with a heavily taped left hand and her pointer and middle fingers wrapped together.
With only 34 minutes coming in — and just seven field-goal attempts the whole year — the right-handed Hawkins didn't hesitate in knocking down a three-pointer from the wing to close the gap to 68-67 with 36 seconds remaining.
After tying the game on Goodrich's three-point play, though, KU couldn't get a defensive stop on Tech's final possession.
Goodrich led KU with 23 points on 7-for-16 shooting. Engelman added 15 points on 6-for-8 accuracy.
Tech (20-7, 10-5 Big 12), which double- and triple-teamed Davis in the post, limited the senior forward to 10 points on 4-for-9 shooting.
The loss leaves the Jayhawks (16-10, 7-8) still needing victories to solidify their case for a second straight NCAA Tournament spot.
KU has road games against Iowa State and Oklahoma next week before ending the regular season at home against TCU.
"All the games at the end are important for us right now," Goodrich said, "because right now, I think we just kind of put ourselves in a spot where we don't want to be."