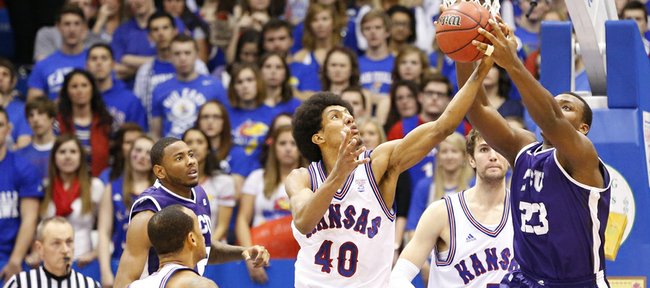 Photo Gallery
Kansas basketball v. TCU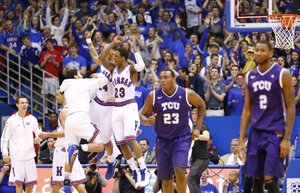 Images from Saturday's game against Texas Christian University at Allen Fieldhouse.
Podcast episode
Kansas coach Bill Self talks after his team's 74-48 victory over TCU on Feb. 23, 2013.
Podcast episode
Kansas players Jeff Withey, Ben McLemore and Perry Ellis talk after the Jayhawks' 74-48 victory over TCU on Feb. 23, 2013.
Podcast episode
TCU coach Trent Johnson talks after his team's 74-48 loss to Kansas on Feb. 23, 2013.
TCU men's basketball coach Trent Johnson said he was leaving Lawrence with a few positives following his team's 74-48 loss to Kansas on Saturday afternoon.
Not only did his players compete hard in the second half after falling behind 38-9 at intermission, they also were able to tour the KU facilities the night before to learn more about the game's past.
"I'm a big basketball historian and a big basketball guy," Johnson said. "Phog Allen (Fieldhouse) was eye-opening for us."
Johnson also said his players were able to meet former KU guard Jo Jo White — he was in town for KU's 115-year reunion — at their team hotel.
Three of TCU's players didn't even know that Wilt Chamberlain played for KU before learning more about him this weekend.
"When you get a chance to experience something like this," Johnson said, "you don't want to take it for granted."
Concerning the game, Johnson said his team once again struggled to score against a tough defensive team.
"The first half, I thought it was tough for us to get a wing entry, let alone a shot up," Johnson said. "Again, you're talking about a group (in KU) that's experienced, that's extremely well coached, that's physical."
The Jayhawks also started well, opening the game on an 18-4 run. That included four dunks in the first six minutes.
"We knew what we were expecting when we came up here, especially with the crowd. They really got fiery with the crowd," TCU sophomore forward Devonta Abron said. "It's a beautiful atmosphere in here. All I can say is they came with it."
Johnson started his news conference by joking that he didn't know why KU was so upset.
Afterward, KU coach Bill Self admitted his players were eager to play TCU after the Horned Frogs' 62-55 victory on Feb. 6 in Fort Worth.
"I understand we won that game," Johnson said, "but the game we won down there, that probably should count for six wins."
Johnson said he wasn't happy with losing, but that didn't stop him from stating the facts as he saw them.
"They could score every which way they wanted to," Johnson said. "They are a lot better than we are in all aspects. That's pretty much it."
More like this story on KUsports.com