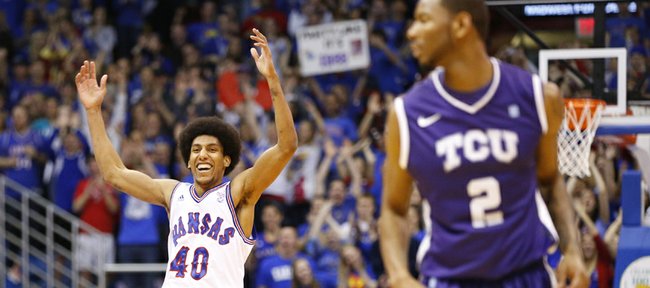 Halfway into Kansas University's 74-48 basketball rout of last-place TCU Saturday in Allen Fieldhouse, the Jayhawks' starters had outscored the Horned Frogs' starting five, 34-0.
And it wasn't even close to being the strangest half of basketball the teams played against each other this season.
Kansas leading TCU 38-9 at the half can't compare to the Big 12's last-place team leading the Jayhawks 22-13 at the half, as was the case in Fort Worth 17 days earlier, when TCU won its first and to date only game since the calendar flipped to 2013. Aside from a 62-55 upset victory against KU, TCU (10-17 overall, 1-13 in the Big 12) last won a game in December.
And neither one of those bizarre halves of basketball qualified as the strangest single happening tied to the first series between the schools.
That came after Saturday's game when a reporter, who shall remain nameless because he's a good guy and everybody deserves one mulligan, asked 10th-year Kansas coach Bill Self, "Would you like to get win 500 on the road, or rather get it at home, or does it matter?"
A smiling, incredulous Self answered, "That's a really bad question. ... I don't even know how many I've got, but I'd like to win the next game, for sure. Yeah, for sure."
He has 499 career coaching victories. In case anyone else was wondering (or not), Self would like No. 500 to come Monday night in Ames, Iowa. Since he won't celebrate the milestone, he does not care whether the non-celebration doesn't take place in Ames or doesn't take place in Lawrence, but he really would like for the victory to come in Ames, where snow always seems to greet the Jayhawks.
Enough about No. 500. Back to No. 499, which would have been No. 500 if not for, you know, that game played in Fort Worth. Nobody wants to relive that. I know. I get that, just as nobody from my alma mater wants to watch KU's first game in the 2003 Final Four. But I decided to watch the first half of the Feb. 6 Kansas-TCU game one more time Saturday morning before leaving for the fieldhouse. I have read many, many books about serial killers because they are so strange that they become interesting to study, and that's how I viewed the first Kansas-TCU game, so strange it became interesting.
The nuns let me know in no uncertain terms that if I swore or thought bad thoughts or didn't improve my penmanship and do a better job of combing my hair I would have to go to purgatory, but they never really did a great job of describing the undesirable layover. It wasn't until I watched that game on TV on Feb. 6 that I developed a better feel for it. You knew the game wouldn't last forever, but when you were watching it, you couldn't convince yourself of that.
Elijah Johnson driving the baseline, jumping in the air without knowing what he was going to do with the ball, then firing an intercepted pass. Ben McLemore trying to throw a pass to the block from the top of the key, a nearly impossible angle. Countless other similar occurrences strung together. That was then.
This was Saturday: TCU starters Kyan Anderson, Nate Butler Lind, Connell Crossland, Garlon Green and Adrick McKinney combined to play 75 first-half minutes. They went 0-for-14 from the field, 0-for-6 from three-point range, 0-for-2 from the free-throw line and had one assist and eight turnovers.
By halftime, just two Horned Frogs had scored. Devonta Abron had seven points, Charles Hill Jr. two points. Repeat: None of TCU's five starters scored a point in the first half.
"I've never seen that before," Self said of a scoreless starting five for a half. "... But they also missed some open looks. It's not all defense. They missed some open shots. They helped us."
Give the Kansas players credit for coming out so locked in and not letting their eyes wander to a very difficult challenge Monday in Ames, but at the same time remember that motivation was easy to find. The loss to the Horned Frogs stung so badly that it came as no surprise the payback would be immediate and thorough. Muhammad Ali in his prime snapping punches on a speed bag.
"That first half was as focused and best we've been as far as both ends of consistency in a long time," Self said. "That was the best we've executed and moved the ball and also the most active we've been defensively."
It was a nice launching pad for a much tougher challenge in an environment Monday inside Hilton Coliseum that will be as hostile as Saturday's was friendly.
More like this story on KUsports.com