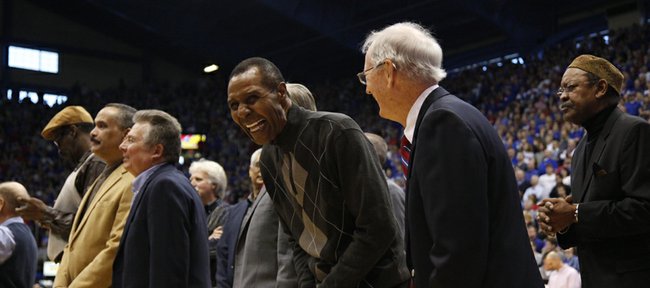 Photo Gallery
Kansas basketball v. TCU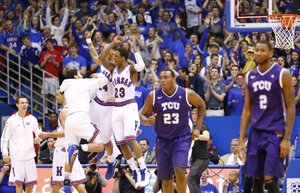 Images from Saturday's game against Texas Christian University at Allen Fieldhouse.
Podcast episode
Kansas coach Bill Self talks after his team's 74-48 victory over TCU on Feb. 23, 2013.
Podcast episode
Kansas players Jeff Withey, Ben McLemore and Perry Ellis talk after the Jayhawks' 74-48 victory over TCU on Feb. 23, 2013.
Podcast episode
TCU coach Trent Johnson talks after his team's 74-48 loss to Kansas on Feb. 23, 2013.
Former Kansas University basketball coach Ted Owens, who is 83 years old, on occasion shoots his age in golf.
"I shot a 74 about a month ago. I would have shot a 72, except I couldn't get through the windmill blades," Owens joked at KU's 115 Years of Basketball reception held before Saturday's KU-TCU game in Allen Fieldhouse.
Of course, he's kidding.
Owens still remains a regular on regulation-sized golf courses, not miniature-golf layouts, in the spring and summer.
"I can't put this into words. It's one of those great moments you look forward to every five years getting us back together," Owens, who lives in Tulsa, said of KU bringing back its former players, coaches and managers for a reunion.
"Unfortunately we're losing a few. I have such fond memories. I feel so privileged to be part of Kansas basketball and the great people involved."
About 200 players from various KU eras were on hand for KU's 74-48 rout of the Horned Frogs and a post-game banquet.
It's safe to say a good time was had by all.
"I tell Bud (Stallworth) all the time, 'You scored a lot of points. I scored as many points as you did with half the shots,'" said Tony Guy, a State Farm Insurance agent in the Kansas City area who played for Owens.
"He says, 'Tony, come on man!'" Guy added, imitating Stallworth. "That's what makes it fun, getting with these guys, reminiscing and realizing we are all part of something special."
Douglas "Booty" Neal, another Owens player with a sweet shooting stroke, grinned when asked if any Jayhawk in history could put up 10 points quicker than Neal.
"I doubt it," said Neal, who works as a special education teacher in the Washington, D.C. area. "And with the three-point line now? I roll over every night and say, 'Take me back; take me back.'
"I love Bud Stallworth to death, but if we could turn back the clock, it'd be an awesome shootout. You have other great shooters like Billy Thomas, (Terry) Brown, Ron Kellogg. If I've overlooked somebody, I don't mean to. I would hope I was in the top three," added Neal, who still plays in 50-and-over leagues.
Moulaye Niang, who played for Bill Self and Roy Williams, sells mutual funds in Austin, Texas.
"I think we've got the tools to win — a great freshman, great inside presence," Niang said of the current Jayhawks. He spoke as he stood next to Jeff Hawkins and Christian Moody of the Self era. "We definitely have a chance to go far. And we have coach Self."
During the game, the Jayhawks wore 1988 throwback jerseys in honor of the '88 national champs.
Stomach aches: KU senior Elijah Johnson scored seven points off 2-of-5 shooting with four assists and two steals in 29 minutes.
"He was aggressive," Self said. "He's had some stomach issues we thought potentially might be serious the last three to four days. We know what's wrong. He's going to be fine. He was struggling out there a little bit today."
Asked to expand on the stomach issue, Self said: "Cramping and stuff. He's fine now. They got him some medicine. It might have been the side effects of flu. He's OK."
Student section not full: There appeared to be 500 empty seats in the northwest corner of the fieldhouse.
"I thought the crowd was good, the people that were here. We just didn't have as many people here," Self said. "I don't know if it's a reflection of all the snow days, people leaving (town) early. We had some cancellations for the (115 Year of Basketball) reunion due to weather. Maybe that was it. I thought the crowd did a great job of recognizing those guys that gave their heart and soul to this place."
Dunk you very much: Ben McLemore had a vicious one-handed slam off a drive down the baseline to conclude the first half.
"After the game, coach (Kurtis) Townsend told me that was one of the best dunks I had this year," McLemore said. "I think the windmill was better, the one at the beginning of the year. I've had some good dunks. I thank my teammates for helping me out."
Recruits: Justise Winslow, a 6-5 junior from St. John's High in Houston, commented on Twitter about attending the game. "McLemore dunk had us all out our seat... Crazy! I had to hold the crowd back." Tyus Jones, a 6-1 junior from Apple Valley (Minn.) High also attended. Jones is ranked No. 3 and Winslow No. 6 in the Class of 2014 by Rivals.com.
Lotta wins: Bill Self will be going for his 500th victory against Iowa State on Monday in Ames. This prompted a Tweet from CBSsports.com's Jeff Goodman: "Bill Self is 50 years old and has a chance to win his 500th game on Monday. If he goes til 65 and averages 33 wins, he'd have 995 total."
Stats, facts: KU scored its 13th point just 5:37 into the game. On Feb. 6 in Fort Worth, KU finished the first half with 13 points. ... KU led, 18-4, at the 11:36 mark. ... TCU was held scoreless the final 8:37 of the first half. KU rolled, 18-0 in that span. ... TCU's first-half scoring output is the lowest for a Big 12 game in 15 years. ... TCU's four first-half field goals were the fewest by any KU opponent since Florida Gulf Coast made three in the first half on Nov. 18, 2008. ... TCU's 17.4-percent shooting in the first half is the third lowest by a KU opponent in Big 12 play. It's the lowest since Oklahoma shot 16.1 percent in the first half on Feb. 20, 1999. ... KU did not shoot any free throws in the first half. The Jayhawks went on to make their next 17 free throw attempts in the second half. KU hit 18 of 19 overall.