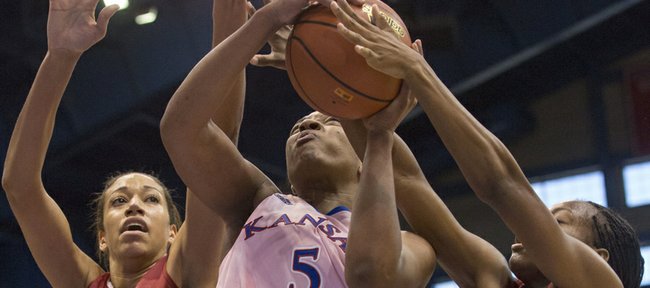 Kansas University coach Bonnie Henrickson says there's a lot of preparation that will go into the KU women's basketball team's noon game today against Texas Tech.
None of it will matter, though, if the Jayhawks don't play with more enthusiasm than they did in a 93-83 road loss to Texas on Wednesday.
"There's not a game plan for poor effort," Henrickson said. "There's not much adjustment to do if your effort's not there. We've got to make sure we bring that."
After an impressive 81-71 home victory over No. 22 Oklahoma on Feb. 17, KU followed it up with a stinker against Texas. The Jayhawks had previously beaten the Longhorns, 76-38, at Allen Fieldhouse on Jan. 23.
"Like a lot of teams, with energy, we're pretty good, and without it, we're not very good," Henrickson said. "We were a testament to both ends of that."
The 93 points allowed Wednesday were the most by a Henrickson team at KU and also the most a KU team ever has allowed to a Big 12 opponent.
Henrickson labeled the team's defensive effort as "terrible."
"We were so bad to start, and we make them shoot layups to beat us," Henrickson said. "The last thing you want to do when you're playing on the road is let somebody feel comfortable and confident."
The loss to previously 9-15 Texas once again puts KU in the position of needing victories to beef up its case for a potential spot in the NCAA Tournament.
With that in mind, today's home date against Texas Tech (19-7, 9-5 Big 12) is another opportunity for KU to put a quality win on its résumé.
The Jayhawks (16-9, 7-7) fell to the Red Raiders, 70-63, in the teams' first meeting on Jan. 19 in Lubbock, Texas. In that game, TTU double-teamed KU forward Carolyn Davis and had success with it, holding her to 11 points on 3-for-9 shooting.
The Red Raiders, who have four senior starters, also like to play small, which allows them to play fast in transition while setting up perimeter players with numerous ball screens.
Henrickson said it would be critical for KU to stay on Tech's shooters while also getting back defensively.
"We've got to make sure from the tip to the horn," Henrickson said, "that we're on point and everybody does their job."
Today's game will be televised on FSN.
More like this story on KUsports.com