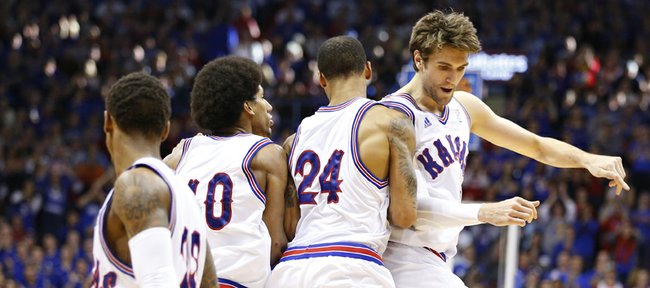 Photo Gallery
Kansas basketball v. TCU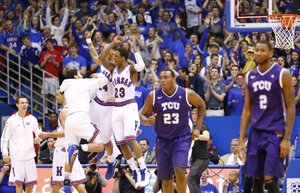 Images from Saturday's game against Texas Christian University at Allen Fieldhouse.
Podcast episode
Kansas coach Bill Self talks after his team's 74-48 victory over TCU on Feb. 23, 2013.
Podcast episode
Kansas players Jeff Withey, Ben McLemore and Perry Ellis talk after the Jayhawks' 74-48 victory over TCU on Feb. 23, 2013.
Podcast episode
TCU coach Trent Johnson talks after his team's 74-48 loss to Kansas on Feb. 23, 2013.
Jeff Withey and his Kansas University basketball teammates watched Jayhawk legends Jo Jo White, Walt Wesley, Dave Robisch, Bill Hougland, Bill Lienhard, Wayne Simien, Ted Owens and approximately 190 others settle into their seats behind the Jayhawk bench during warmups on Saturday in Allen Fieldhouse.
Talk about extra motivation to perform well against TCU, a team that had defeated the Jayhawks on Feb. 6 in Fort Worth, Texas. ...
"I don't know too many schools that have all the (former) players come back and have a banquet. We wanted to show up and keep the tradition going and keep on winning," KU senior center Jeff Withey said after scoring 18 points in the Jayhawks' 74-48 rout of the Horned Frogs.
"We knew we had to beat them by a lot to prove ourselves to the old guys," Withey added.
The (23-4, 11-3 Big 12) Jayhawks made sure a good time was had by former Jayhawks of all ages and time periods — players from the '52, '88 and 2008 title teams attended — during KU's 115 Years of Basketball celebration weekend.
"I think so," KU coach Bill Self said, asked if the current players wanted to perform well for the honorees. "We talked about that. I think they more wanted to play better for themselves. We played so poorly the first time."
KU scored 13 points during the first half of the 62-55 loss to TCU in Fort Worth.
On Saturday, it was (10-17, 1-13) TCU failing to score even 10 points the initial half as KU rolled, 38-9. The Horned Frogs. who were outscored by Ben McLemore, 10-9, hit four of 23 shots, 0-for-7 from three. Not one TCU starter scored the first half.
Meanwhile, KU hit 17 of 32 first-half shots, including four of eight from three.
"I was proud they got to see at least one good half of play," Self said of KU's guests. The nine points were fewest in a half by a KU foe since Cornell's nine in the second half on Jan. 2, 1996. It's the fewest amount of points allowed by KU in a half in a Big 12 game and fewest field goals in a half in a Big 12 contest.
However, Self was not elated with the final half, in which TCU outscored KU, 39-36.
"We just kind of got through it," Self said. "That wasn't very good playing at all the second half. The thing I'm disappointed most is if our starters would've taken care of business, then everyone else would have had a chance to play ample minutes. We messed around and didn't get it done. It was a good win, though."
McLemore finished with 14 points, Travis Releford 12 and Kevin Young six with eight rebounds. A big boost came from freshman Perry Ellis, who scored 12 points — his most in a Big 12 game — off 5-of-8 shooting with four boards in 15 minutes.
"Every game, I feel like I'm getting more comfortable," Ellis said. "It all starts in practice. I try to practice hard every day. Jeff and Kevin really help me out. They keep pushing me to step up to the next level. I listen to the upperclassmen and take everything in."
Ellis scored in double figures for the first time since totaling 11 versus American on Dec. 29.
"Perry hasn't seen the ball go in the hole a while. It's great he saw it go in," Self said. "We need scoring off the bench. Perry had 12 and Jamari (Traylor) two and that's basically it. We made six field goals off the bench and Perry had five of them. That's not good enough. We need scoring off the bench. Hopefully it'll give him some confidence."
Next up for KU is Monday's 8 p.m. contest against (19-8, 9-5) Iowa State in Ames, Iowa. The Cyclones are 15-0 at home this season. The game is meaningful as far as the conference race; KU and K-State remain tied at 11-3.
Also, it is an opportunity for KU coach Self to snare his 500th career coaching victory in this, his 20th season. He's 499-162, including a 292-57 mark at KU.
"We want that for him," Withey said. "He's done so much for us. It means a lot to us to be able to get that for him."