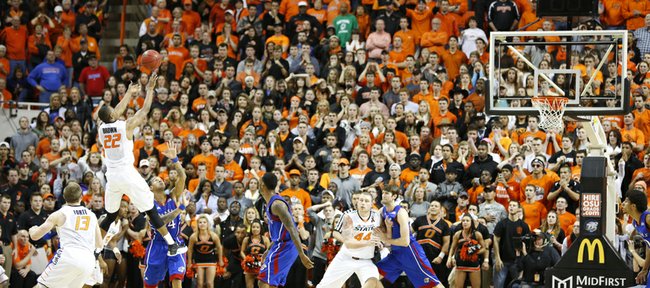 Photo Gallery
Kansas basketball v. Oklahoma State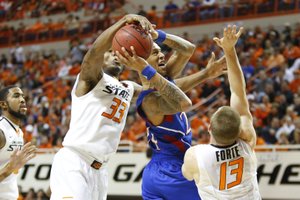 Images from Wednesday night's game against Oklahoma State in Stillwater.
Stillwater, Okla. — Spare Oklahoma State basketball coach Travis Ford any talk about this being a down year in the Big 12. This might not be the time to share the opinion the Big 12 schedule is easier this year than most.
Kansas University defeated Ford's Cowboys, 68-67 in double overtime, Wednesday, four days after OSU defeated Oklahoma in overtime in the same building. Next up for Oklahoma State: The longest trip in the conference, a Saturday game in Morgantown, W.Va.
"It's too bad somebody had to lose, and it was us," Ford said. "And we've got to move on. We can't sulk about it. We can't pout about it. We've got to move on. The last couple of games, we played a lot of minutes. We need to get them off their feet and rest their minds before a long trip."
Marcus Smart had a chance to win it in regulation but couldn't get a good look at the basket. Markel Brown missed a shot in the second overtime that could have won it. The two players were the keys to Oklahoma State defeating Kansas in Lawrence.
"It was a down locker room," Ford said. "They were disappointed, but, hey, I'm proud of how hard our guys played in a hard-fought game. You just watched two teams that wanted to win pretty bad. Give them credit. They made a tough shot there at the end. (Naadir Tharpe) made a tough shot, tough shot, tough shot."
Said Brown: "It's really tough, but we can't dwell on it. We've got to move on. It's the Big 12. It was a long game, so we have to get our rest for Saturday."
As Brown noted, it's the Big 12, which means there are no easy paths to the conference championship.