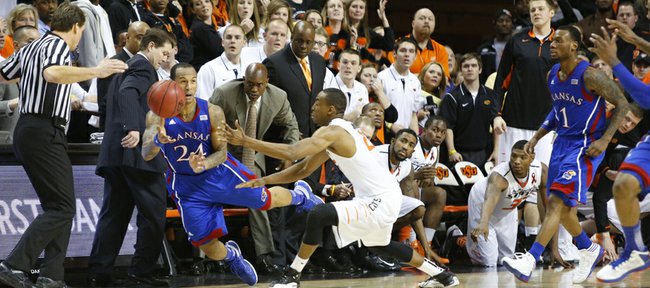 Photo Gallery
Kansas basketball v. Oklahoma State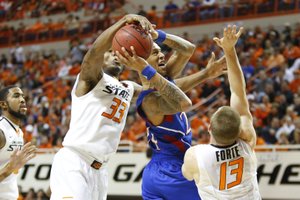 Images from Wednesday night's game against Oklahoma State in Stillwater.
Stillwater, Okla. — The superstars ordained as NBA players before they step foot on a college campus dominate headlines and mock drafts, but there still is a place for seniors in college basketball. And that place late Wednesday night was Gallagher-Iba Arena, where two exhausted men stood in the winner's circle after a heavyweight basketball game that couldn't be settled until two extra rounds were fought.
Fifth-year Kansas seniors Jeff Withey and Travis Releford can't match teammate Ben McLemore and Oklahoma State's wide-body freshman point guard Marcus Smart for talent and future earnings, but once the final of four buzzers sounded on a classic (warts and all) double-overtime game, there was no question who deserved the most credit for holding together KU's push for a ninth consecutive Big 12 title.
Releford played 48 minutes and still he had enough fumes in his engine to race down a ball about to go out of bounds and to Oklahoma State, giving the Cowboys one more shot at winning the game. He got to it and batted it forward to teammate Ben McLemore, and the game was over. Finally. Both teams exerted such effort and played such determined defense it hardly seemed fair that one had to walk away with a loss.
Kansas 68, Oklahoma State 67 in double-overtime won't soon be forgotten, and all the little things and big ones Releford and Withey did to compensate for a choppy offensive night from both teams were much appreciated by the coach who isn't afraid to tell it like it is about his team.
"What a great hustle play by Travis to keep that ball from going out of bounds," Kansas coach Bill Self said. "And it wasn't out of bounds. It was six inches in. What an unbelievable hustle play by him to pat that ball ahead. We've got a happy locker room. We're going to have a hard time getting home, obviously. We're not going to get home until 4 or 5 in the morning with the weather. But it'll be a much sweeter ride now."
Releford had just four first-half points. He finished with 18 points and six rebounds, made seven of 10 field goals and reminded everyone of what a terrific finisher he is. If he had to go up and under because Oklahoma State's athletic, relentless defenders left him no other option, he went up and under.
Seniors don't get fazed easily because they have seen it all and heard it all in all types of tones.
"He made a ton of head-up plays," Self said of Releford. "Travis wasn't plugged in at all at half. I really got on him at half. He did a much better job (the rest of the night), did a great job defensively on whoever he was guarding."
Afterward, Oklahoma State coach Travis Ford couldn't stop talking about how impressed he was with Withey's defense on the perimeter, when he hedged a screen and completely fouled up a plan designed to get the winning shot at the end of regulation.
"I'd rather draw him out, make him make plays out there instead of close to the basket, but what a great, great job by him," Ford said.
Withey totaled 17 points, 14 rebounds and four blocked shots.
Both seniors needed to be at their best because McLemore didn't score his first points until 10:05 remained in regulation on a follow dunk, and he finished with seven points in 49 minutes. Elijah Johnson played a strong second half but was limited to 32 minutes before fouling out, and Naadir Tharpe couldn't get anything to drop until hitting his game-winner.
This team's abundance of seniors can only help Kansas as it tries to lock down at least a share of the conference title with five games remaining. Seniors are poised and hungry.
"Go 1-for-11 from three and 17-of-27 from the line and have five assists," Self said. "... That's a remedy for getting blown out on the road against a good team. Somehow, our guys just figured out a way. That was a tough win for us. Guys showed a lot of heart."
Don't bother comparing schedules. Kansas became the favorite to win the conference, and it has its seniors to thank for that.