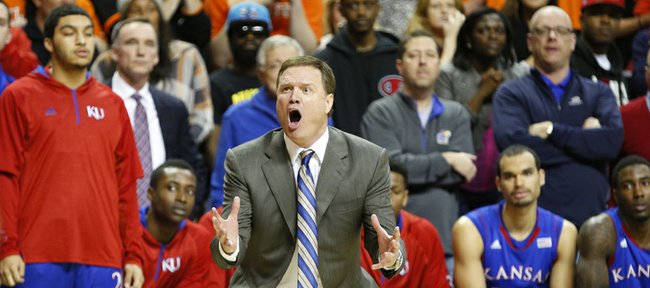 Photo Gallery
Kansas basketball v. Oklahoma State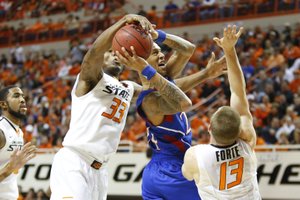 Images from Wednesday night's game against Oklahoma State in Stillwater.
Stillwater, Okla. — Bill Self, who gave out a batch of handshakes and hugs and executed a fist pump or two after Kansas University's double-overtime victory over Oklahoma State on Wednesday, admits he was more animated than usual on a snowy night at his alma mater.
"This is probably as excited as I've been coaching in a game in a while," Self said after sophomore guard Naadir Tharpe's shot in the lane gave the Jayhawks a 68-67 decision.
"I definitely was more animated with the officials tonight, but I'll be honest, I look forward to watching tape. I think I could have been more (animated), to be honest."
It was a game with huge implications in the league. The victory boosted KU's league mark to 10-3, same as Kansas State. OSU fell to 9-4.
Free-throw excellence
Senior Jeff Withey calmly sank 11 of 14 free throws on a night every charity was needed.
"I was pretty proud. I was a good free-throw shooter last year and made them tonight. I got my groove back a bit. It was easy to knock them down," Withey said.
Twitter talk
Rio Adams' official Twitter account exploded with some negative posts about his situation at KU around 3 p.m. Wednesday.
Here are some of the tweets either posted by the freshman guard from Seattle or someone using his account.
• Yeah the situation I'm in is great and all but it's obvious they want me to quit...
• All I was Tryna show this man is he had a guy that will take 50bullets for him but he's blinded by his favorites...
• There's no question that I would of been getting mad minutes anywhere else in America people its a #FACT..
• It's 2 Late Now....
• Alot of Hype can get you far I see it every time someone makes it and gets far...
• I just wanna be happy and play ball
After an uproar from KU fans on Twitter, he posted: "It's all good I gone through this before."
• Haha this is funny I tweet and its direct towards my team and KU give me a break if I feel I need to say something about my team ill say it
• None of my tweets were ever directed toward KU but it seems everytime I tweet it so happens that's who I'm talking bout thats not rite#AtAll
Adams, or somebody using his account, did remove several of the posts before Wednesday's game.
Self spoke to the Journal-World about the tweets after Wednesday's win at OSU.
"He is frustrated," Self said of the player who has not played much this season. "He didn't have a great shootaround today. I talked to him about it (tweets). I'm disappointed he'd say (tweet) anything negative. He will not be doing anything negative in the future or he won't be around. I read them. They were not the best in the world; they were not the worst, either."
NBA trades
Multiple outlets reported several trades involving Jayhawks in the NBA on Wednesday.
Marcus Morris reportedly was traded from Houston to Phoenix to join brother Markieff on the Suns. Cole Aldrich was traded from Houston to Sacramento. And Thomas Robinson was dealt from Sacramento to Houston.
Travel
KU's traveling party was to drive to Oklahoma City after the game and fly to Lawrence. No de-icing equipment was available in Stillwater.
Nice digs
OSU's Gallagher-Iba Arena, which used to seat 6,381, was remodeled in 2000 to seats 13,611. This season, the Cowboys averaged 9,082 through 14 dates heading into the KU game.
"Whoever designed that ... kudos because you did not compromise integrity of one of the most historic buildings to play in," said Self, a former OSU point guard.
Conner on fire
Future KU guard Conner Frankamp of Wichita North, who set the Wichita City League career scoring record on Friday night against Bishop Carroll, has scored 29, 37, 48, 43, 31, 40 and 37 points in seven games played since his return from a concussion.
Frankamp's jumper from the free throw line with 45 seconds left, gave him 2,233 points, two more than KU freshman Perry Ellis of Wichita Heights. He finished with 37 points in North's 52-40 victory.
"It's an honor, for sure, especially to do it in front of the fans at North," Frankamp told the Wichita Eagle. "It's been a goal of mine all year to get that record and help my team win as much as I can while trying to pursue that record. It was great to get it that night. There's a lot of relief that came out of my body. I was worrying about it all day and trying to win the game. It was excitement and relief."
Frankamp was taken out of the game to a standing ovation after setting the prestigious scoring record.
"I just told him how I was proud of him," said North assistant coach Marty Frankamp, who is Conner's dad. "I could tell he was relieved. He was double-clutching both his fists there. It was a good relief of pressure there."
Frankamp took in stride his omission from the McDonald's All-America game.
"It was pretty disappointing ... the fact I could have made it and to play with those guys," Frankamp said. "I can also use it as motivation to get better and work harder than them (those who made it)."
"It's kind of hard to think that they could pass up someone like him," Wichita Carroll coach Lonnie Lollar told the Eagle. "Those guys (like Frankamp) don't come around but every 20, 30, maybe 40 years."
More like this story on KUsports.com