No point in whining about the one-and-done rule that teases college basketball audiences with loud talents such as Oklahoma State point guard Marcus Smart and Kansas shooting guard Ben McLemore, only to take them away to a league with quieter audiences and less passionate action on the stage.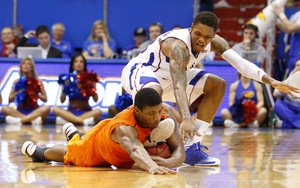 They're good enough at their soon-to-be-professions to start earning big money, so why begrudge them that? The fact that tonight could be the last time they share a court as Big 12 players makes for an interesting subplot because they both are so gifted and feature such different styles.
If McLemore is Muhammad Ali minus the boastfulness, floating like a butterfly and stinging like a bee, Smart is Joe Frazier, a relentless, thickly built, in-your-face buzz saw, leading with his chin and never retreating.
The long McLemore stands 6-foot-5 and weighs 195 pounds. The strong Smart checks in at 6-4, 225.
Smart shoots a little too often at times, McLemore too seldom.
Smart's Cowboys defeated Kansas in Allen Fieldhouse last month because Smart refused to let them lose. He celebrated with a stunning double backflip. McLemore drops jaws with his flashy dunks, but the closest he comes to celebrating is spontaneously flashing a grin.

They have turned the Big 12 Freshman of the Year award into a two-man race and are lead cars in the only slightly more crowded Big 12 Player of the Year derby.
Smart leads the conference in steals and ranks fifth in scoring, sixth in assists, 14th in blocked shots and 16th in rebounding. McLemore leads the conference in free-throw percentage, ranks second in scoring, third in effective field-goal percentage, 12th in blocked shots and 18th in rebounding.
For all their differences, McLemore and Smart have one thing in common: The more talented the competition, the more points they tend to score. McLemore scored 33 points against Iowa State, 30 vs. Kansas State, 23 against Oklahoma State and 22 at Ohio State. Smart stung chief rival Oklahoma with 28 points, had 25 at Kansas (plus eight second-half offensive rebounds), 25 vs. K-State, 23 against Gonzaga, 21 vs. Iowa State and 20 against North Carolina State.
The player whose team wins tonight will move into the lead for freshman honors and will join KU center Jeff Withey at the front of the pack for the top player hardware.
Regardless of what happens tonight, McLemore has the best shot among Big 12 players of becoming the top pick in the NBA draft. If he is, he'll become the first shooting guard taken with the first overall pick since Notre Dame guard Austin Carr in 1971.
Plenty of time remains in their college careers before they need to worry about the future. Both college basketball superstars have one motivator tonight and it has nothing to do with individual honors. They and the rest of the players know that the winner remains in a first-place tie with Kansas State and the loser tumbles to third place, one game behind the co-leaders with five games left on the schedule.
More like this story on KUsports.com