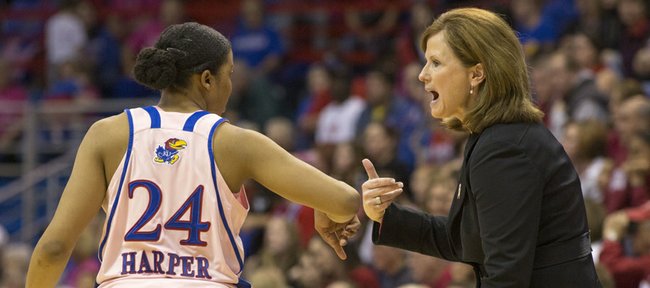 Kansas University women's basketball coach Bonnie Henrickson had a simple message for her team following its 81-71 home victory over No. 22 Oklahoma on Saturday: Don't become complacent.
"I thought for a stretch we fell in love with being happy," Henrickson said Sunday. "I'm not the fun-hater here. I'm the realist. We need to enjoy (the win) for the rest of the day, but (Monday), ... shine your goggles and be ready to go."
The Jayhawks boosted their case for a second-straight NCAA Tournament berth with a win over the Sooners, but they'll also need to add a few more victories to end up on the correct side of the NCAA bubble.
KU's best chance at adding another road victory will come at 7 tonight, as the Jayhawks face the Texas Longhorns at Frank Erwin Center in Austin, Texas.
UT, which is 9-15 overall and 2-11 in Big 12 play, dropped a 76-38 decision to KU during the teams' first match-up on Jan. 23.
The game actually wasn't that close. The Jayhawks led, 46-12, at halftime before building a 40-point lead late in the second half.
Henrickson said she posts the Big 12 standings on a board in the film room, so the players see where they stand nearly every day. The coach says with the technology out there, the Jayhawks know they have work left to secure an NCAA berth.
"My concern a couple weeks ago, 'Guys, if we think we're just going to pull out a couple wins at the end of the year and get in, you're kidding yourselves,'" Henrickson said. "We need to focus on the next one and being ready for the next one."
The Jayhawks thrived against the Sooners on Sunday by picking up the pace.
Though KU was only credited with six fast-break points, the Jayhawks had 78 possessions, which is a high number for a non-overtime game.
"I thought we were active defensively," Henrickson said. "We're a team that loves to run. They're playing for somebody who loves to run. But I think we kind of lost focus about what it takes to get out in transition, and that means you have to defend."
Senior forward Carolyn Davis, who scored 24 points on 10-for-17 shooting against Oklahoma, also was efficient in her match-up against Texas, contributing 18 points on 7-for-8 shooting in just 16 minutes.
"We know that's one of the biggest keys for us: get the ball inside to the post, whether it's driving it and dropping it or anything like that," Davis said. "That's what we thrive off of, and that's what we try to get in every game."
Texas has lost four-straight games and has dropped 13 of its last 15. The Longhorns' only home win during conference play was a 59-40 victory over Kansas State on Jan. 26.
More like this story on KUsports.com