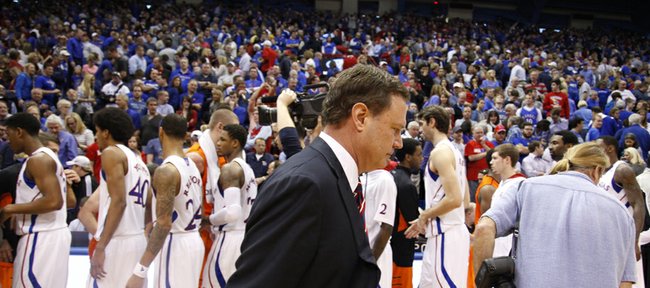 Stillwater, Okla. — Visions of Marcus Smart's acrobatic cartwheel and backflip on the center-court Jayhawk logo have been dancing in the heads of Kansas University's basketball players the past few weeks, ever since OSU's 85-80 win over KU on Feb. 2 in Allen Fieldhouse.
"If their coach allowed that, then that's up to them. If we go and get a victory there, you won't see us doing backflips or flips on their court. We are just going to walk out in style," KU senior guard Travis Releford said Tuesday, before today's much-anticipated rematch against the Cowboys.
"We've got a few guys who can definitely flip and do backflips. If we win, you definitely won't see any backflips or anything like that," Releford added.
Tip for today's game between the No. 9-ranked Jayhawks (21-4, 9-3 Big 12) and No. 14-rated Cowboys (19-5, 9-3) is 8 p.m., in Gallagher-Iba Arena.
"From a competitive standpoint, we did find that sort of disrespectful," said KU junior forward Justin Wesley. "At the end of the day, that was a good team. They did deserve the win. Hopefully we can keep the backflips from coming this time."
Freshman point guard Smart couldn't contain his glee after scoring 25 points, grabbing nine rebounds and totaling five steals in the victory on KU's home court.
"Now they have something that's really going to motivate them to come in here," Smart told the Oklahoman. "But like I said, it was in the emotion of the moment, in the flow and it just happened. I can't take it back now. As a player and competitor, if I saw that, that would definitely get me fired up."
A replay of Smart's backflip was shown on OSU's pre-game video prior to last Saturday's victory over Oklahoma in Gallagher-Iba.
"On the plane coming down here, in the locker room before the game," OSU coach Travis Ford told the Oklahoman, referring to the number of times he figures KU coach Bill Self will show the backflip to his players as a motivational tactic.
"Once you throw the ball up, (it) doesn't matter," Ford added. "There were certain things that OU did down (in Norman in victory over OSU earlier this season) that we used (in rematch). But like I told our guys, once you throw that ball up, you've got to play."
Self hasn't admitted to showing any tape of Smart's backflip, indicating clips have been available on TV and YouTube. Of course, he won't discourage any revenge-type motive for a game that will keep the winner tied for first in the Big 12 standings with Kansas State; the loser dropping to third.
"We need a payback type attitude going down there," Self said. "They're good. Before the season, I said I liked their roster better than anybody in the league. That hasn't changed."
KU backup point guard Naadir Tharpe said a key will be containing OSU's guards. Markel Brown exploded for 28 points with two rebounds in the first meeting. He hit seven of 10 threes.
"We've got to hit somebody every single time. Even the guards have to go to the glass," Tharpe said. "It was a majority of their guards getting extra rebounds as well as their bigs. It's something we've been working on at practice, hitting each other every day so we can steal that extra possession.
"Everybody has that loss on their shoulders," he added. "We want to get it off."
Lotta views: KU's Harlem Shake video had over 1,600,000 views on YouTube as of Tuesday night.
"I didn't know it'd blow up like that," said Wesley, the organizer of the video. "I think we were all happy how it turned out. Everybody looked silly. I was more excited for Drew (Andrew White III) and Perry (Ellis). They are the quiet ones on the team. They looked like they had a lot of fun with it."
Of Self's role writing the words, Harlem Shake on the chalkboard to open the video, Wesley said: "We told him it was an educational video. When he showed up he said, 'I'm not doing this.' We said, 'You can have a serious part but you've got to be in it.' He was cool doing it."
Self joked: "I'm sure that will get nominated for many awards on YouTube awards. I'd think I'd get best supporting actor for the huge role I played. I'm just glad I spelled the two words right."
About OSU: Junior guard Markel Brown leads OSU in scoring at 15.8 points per game. He averages 17.3 ppg in league play. Smart leads the Big 12 with 2.9 steals per game to go with his 15.0 ppg scoring average. Sophomore Le'Bryan Nash averages 13.3 points and 4.3 rebounds. Brown had 22 points in the first half of OSU's win over KU in Allen.
"He came off a lot of screens," Releford said, noting, "I didn't start off on him. I was guarding someone else. He got going early. By the time I got on him he had a rhythm and was already doing well. Hopefully we'll come out this game and make him uncomfortable and not have him get open looks."
The series: KU leads the overall series, 106-54. KU has won four of the past five meetings and five of seven. KU is 32-31 vs. OSU in Gallagher-Iba Arena. Since 1997, the start of the Big 12, the series is 4-4 in Stillwater meetings. Also since the inception of the Big 12, KU is 16-7 versus OSU (12-5 in regular-season play and 4-2 in the Big 12 Championship). Self is 10-8 all-time against his alma mater, including 9-5 while at KU. OSU's Travis Ford is 2-5 versus Kansas.
Recruiting: Julius Randle, a 6-9 senior forward from Prestonwood Christian Academy in Plano, Texas, who visited KU last weekend, tells Eric Bossi of Rivals.com he will pick a school "between now and the middle of March."
Randle, who has a final list of KU, Florida, Kentucky, N.C. State and Texas, said he had a great time on his visit to KU.
"It was my fourth time there, but I feel like I know a lot more now," Randle told Bossi. "I really got to see everything that goes into the program. Like when they get a big-time player, everything that goes into developing that player on the court, in the weight room. It's top notch for real."
Randle said Self told him he fits the system.
"The spots he put them in at around 15 feet or catching in the post or isolated on the side, he thinks I can excel in all those areas," Randle said. "He feels what I can do differently than any other player that he has had is get the ball off the glass and bring it up. If I don't get the rebound, he feels I should be the first person up the floor and get to my sweet spot. As long as I defend and rebound, he'll let me play with as much freedom as I want."
More like this story on KUsports.com