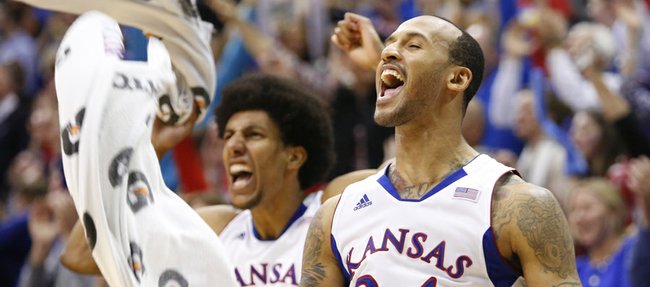 Kevin Young, who has been rail-thin since his days as a cross country runner at Perris (Calif.) High, says he has discovered the secret to putting on weight his second and final season at Kansas University.
"I just let my 'fro grow," joked the 6-foot-8 senior basketball power forward, who is listed at 190 pounds but in actuality may tip the scales 10 to 15 pounds below that standard.
Somewhat shy around the media, even in this, his senior year, the man with the expansive afro was in a jolly mood after Saturday's 73-47 home rout of Texas. It marked the Jayhawks' second straight victory after three consecutive defeats.
Young gladly discussed his role in production of KU's "Harlem Shake" video, which was filmed in KU's locker room Friday, and since being posted on YouTube has had more than 450,000 views.
"Oh my gosh. I got prepared for that video. I think I bought almost everybody's costumes," Young said of wacky costumes and props, such as guitars and hats.
"When they told me we were going to do it," Young added of organizer Justin Wesley, "I watched a couple (Harlem Shake) videos. I'd never seen it before. I said, 'If we're going to do this, we've got to go all-out. We can't just do a little half version of it. We've got to do it the best we can.'"
The Jayhawks' version of the Shake includes a starring role from coach Bill Self, who begins the video by writing the words "Harlem Shake" on the chalkboard.
"I have no idea," Self said, asked how filming dance videos helps a team. "The guys told me Thursday, 'Coach, we need you in the locker room at 2 o'clock.' They wanted me to dance, and that wasn't going to happen.
"Of course, if I knew I could wear a chicken head (like Ben McLemore in video) and nobody knew who I was, I might have done it. I didn't know what the Harlem Shake was. They asked me to do whatever I did, which I'm sure added a lot of value," Self added with a laugh.
"I do think it kind of shows team unity, and the other thing (is), I think our fans like seeing that our guys are real. I think that's as much as anything it does for us."
Of course, other dance videos have appeared featuring the Jayhawks in the locker room, such as one filmed after the Ohio State victory and available at http://bit.ly/Vy5ovz
"It's huge," Self said of the importance of players having fun. "There's not a team in America that has fun every time they go play. You go through ruts and lose your personality through the course of the season, at least every team we've had. Ours (funk) came at an inopportune time. We were duds three games. I think we got our personality back. When we play with energy, we are good. When we don't, we get average fast. That's the thing we have to learn."
The Jayhawks this past weekend received a jolt of energy from past Jayhawks on hand for the Texas game. They included NBA players Mario Chalmers, Marcus and Markieff Morris, Thomas Robinson, Tyshawn Taylor, Nick Collison and Xavier Henry, as well as Jeff Graves, Mario Little, Conner Teahan, Brady Morningstar, Jeff Hawkins and Wayne Simien.
"They text us every now and then," senior center Jeff Withey said. "The older guys don't give us a pep talk or anything. We know what we've got to do, but it's definitely good to have them back. They are our old teammates. You want to perform for those guys."
Seeing them, "gives you a good feeling that shoots through your body," noted senior Elijah Johnson. "In the locker room, you can't deny it."
Noted senior Young: "They let us know we've got to come out and do what Kansas does. They did it before us. It's our time now. It's more a support thing. They didn't put pressure on us. At the end of the day, we're all Kansas."
Self loves when former players return to town for games.
"These are kids they grew up with," Self said. "Thomas ... he was a roommate with (Johnson) for three years, and Tyshawn kind of mentored him. The twins, Mario Little, Brady … all of them care about these kids. I text Tyshawn the other day after he had 12 (points for NBA's Brooklyn Nets). He texts me back. I said, 'We've got to get Elijah going.' He said, 'I know, coach. I'm talking to him.' These guys stay in contact. I think having those guys back will help him a little bit."
KU will meet Oklahoma State at 8 p.m. Wednesday at Gallagher-Iba Arena in Stillwater, Okla.
Randle visit: Julius Randle, a 6-9 senior from Prestonwood Christian Academy in Plano, Texas, who arrived for his campus visit Saturday, remained in town Sunday. Randle, who has a final list of KU, Florida, Texas, Kentucky, N.C. State and Oklahoma, could be added to the roster of the McDonald's All-America game if he shows he's healthy in the next few weeks, zagsblog.net reports. He has returned to action from a foot fracture. Randle scored 19 points while playing just 20 minutes in his Senior Day game at Prestonwood on Friday.
"What we'll certainly do with Julius — one of the great players in the country, no question, a legitimate four-year man — we'll take a real good look and see how he comes back physically," Morgan Wootten of the McDonald's game told SNY.tv. "That's the key. Everybody knows he can play. It's just a question of whether he's physically sound or not."
More like this story on KUsports.com