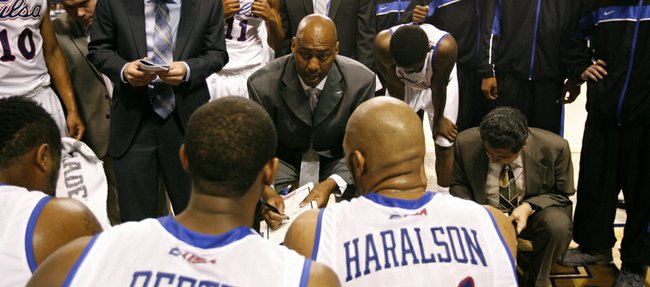 Tulsa, Okla. — When Danny Manning agreed to become the head basketball coach at the University of Tulsa, he knew he was adding his name to an elite list of coaches.
What he didn't know was that TU's past success would be so in his face.
In the back halls of Tulsa's Reynolds Center, two flights of stairs below Manning's corner office on the top floor, sits a room about three times the size of the lane. When the 6-foot-10 former No. 1 overall NBA Draft pick and 15-year pro first walked in, he saw something unexpected. Stationed prominently above the half dozen lockers about 12 feet up the wall were photographs the size of pizza boxes of three of the best-known coaches in Tulsa history: Bill Self, Tubby Smith and Nolan Richardson.
All three men hold a special place in the often overlooked history and tradition of the 4,000-student Conference-USA school, and all three of those photos since have been moved to another part of the facility at Manning's request.
"I was like, 'We're getting these out,'" Manning recalled with a laugh. "'We're gonna put these somewhere else. We're not gonna look at these cats that won a national championship every day.'"
"A new brand of hoops," is the slogan the university uses to promote the Manning era, and in the days since KU's all-time leading scorer and rebounder was hired last April, interest, excitement and, frankly, hope have been on the rise with a fan base that still celebrates the program's 2000 trip to the Elite Eight under Self and often asks, "So, when are we going back," even though the Golden Hurricane has not made the NCAA Tournament in 10 years.
There's also a giant photo of Self's Elite Eight squad plastered on the wall near the basketball offices. Just about every day, Manning walks past it and sees his former boss' giant, much younger face staring back at him.
"It's there. It's not going anywhere, and I would not be where I am at today without the relationship that I have with him," Manning said of Self. "So I enjoy seeing that mural. I enjoy that we think enough of the impact he had on our program with that team to put them on the wall. And we aspire to get there as well."
Kansas model
Reaching that point is a work in progress, but has a lot to do with Self. Tulsa assistant Brett Ballard, a former KU walk-on who worked with Manning under Self and also was the head coach at Baker University for two years, said much of what the first-year Tulsa staff does on a day-to-day basis resembles what Self does at Kansas. That model includes everything from practice plans and preseason boot camp to recruiting tricks and motivational tools.
But it's not as if Manning and company — former KU guard Steve Woodberry is an assistant, former KU manager Justin Bauman is TU's director of basketball operations, and Ted Juneau, Manning's high school coach, is a Tulsa administrator — are trying to turn Tulsa into Kansas South. Folks around town are quick to point out that former KU assistant coach Steve Robinson tried that from 1996-97. And it didn't work.
"He doesn't try to compare us to Kansas or make us like Kansas," junior Patrick Swilling Jr., said. "He's trying to build his own brand, his own name here at Tulsa."
Manning is not Self, nor Larry Brown, nor any of the half dozen former NBA coaches for whom he played. He's all of them.
"I've been very fortunate to be around some great coaches," Manning said. "And it's a little bit of this, a little bit of that. All of those things have made a contribution to how I think in this position."
Manning's players paint a picture of a coach who's fun to be around and takes input well. The way he runs practice backs up both claims. At one mid-February practice, after running through the regular routine of shooting and defensive drills, Manning allowed the competitor in him to rise to the surface. In a series of blue-versus-black, one-possession scrimmages, he and Ballard matched wits and did so in stealth mode, whispering instructions to their squads. After three successful possessions by Manning's black squad, the first-year coach unleashed in a booming voice, "Hey, Blue, I'm just making up stuff out here, and we're scoring on you."
On the next possession, Ballard's blue team forced a turnover that led to an easy bucket on the other end.
"Good, good, good," Manning said.
"He's intense," said Scottie Haralson, a senior who played for UConn coach Jim Calhoun as a freshman before transferring to Tulsa. "You can tell that it's not his first rodeo. He's learned from the best, and it's like he's been doing it forever."
Added Swilling Jr.: "We know that coming in to practice every day is not gonna be easy."
Time manager
In practices and games, Manning is equal parts smiles and barks. He appears to have fun being around the guys and also relishes the opportunity to teach the game he loves, often bouncing from serious to playful during the same drill. When he's wearing the whistle around his neck, Manning is direct, organized and often a step or two ahead of what's in front of him.
"We talk to our kids all the time about time management being one of the biggest adjustments you have to make in college," Manning said. "And as a head coach that's probably been one of my biggest adjustments, too."
When word got out that Manning was moving into the head coach's chair, many wondered whether the humble giant in both name and stature would be willing to step out of his shell and become the face of a program. Manning laughs at the thought while also indicating he understands where it came from.
"A lot of the things I did as a professional player I'm back out doing again," he said. "Whenever you take on a new job or a new role, if someone says, 'This is part of the gig,' then you do it."
Manning has done more than oblige. In addition to starring in weekly radio and television shows, he also has become a fixture in the Tulsa community. Manning's team and family get involved in some sort of give-back activity each week. He has been known to unload bags from the team bus by himself, and he routinely strolls across campus to visit with the other coaches or take in other TU athletic events.
"I think he's handled it great," Ballard said. "He has stepped into the spotlight more because he understands that's what he needs to do here. It's a big-time deal, and the tradition and support are terrific, but at the same time he can blend in a little."
Added Bauman: "I think it's been an adjustment for Tulsa, quite honestly. It's been awhile since they had someone in that position where they don't have to go out and promote the head coach. The head coach kind of promotes himself."
Manning is aware that his time as a head coach, at Tulsa or elsewhere, will be measured by wins and losses. He says he's proud of the work he and his staff have done in Year One but also admits that his team has fallen short of its biggest goal on several nights.
"Expectations don't change," Manning said, acknowledging the motto he borrowed from Self. "The goal is still to go out and be successful and win. And that's the mind-set that we have."
After watching last season's top two scorers transfer out before hearing his pitch and losing his top returning big man because of a preseason health scare, Manning went to work with the players who stayed and brought in seven newcomers — five freshmen and two transfers — to fortify the roster. Some are playing out of position, many have played hurt, and a few simply aren't talented enough to help Tulsa win at the level Manning believes is possible.
"The majority of the time, we've not had a problem with our guys trying," Manning said. "They try. And they play hard. And that's what you want."
'Remarkable' job
With just a few games left in the regular season and the Golden Hurricane hovering above .500 (14-11 overall, 6-5 in conference), many at Tulsa have been pleasantly surprised by what Manning has done this season and for the future. Manning has landed three targets in the Class of 2013 — two are big men — and is still trying to snag one more. Season-ticket sales are up by a little more than 300 from last season and the 8,300-seat Reynolds Center is starting to fill up the way it did when Self opened the building in 1998.
There are reasons for that. Some have to do with the effort put forth by the team or the way Manning has marketed Tulsa basketball. Others are tied to Manning's past.
"I see guys wearing KU hats and KU sweatshirts coming to the games," said senior associate athletic director Don Tomkalski, who has been at Tulsa since the 1980s. "The job he's done, with what he's had, is remarkable."
While much of the first season has been about laying foundations, it also has been about X's and O's. That part's in good hands, according to Tomkalski.
In a road game at SMU in January, Tulsa led former KU and Manning coach Larry Brown by 17, let the lead slip away and then executed a near-perfect inbounds play late to win.
A couple of weeks earlier, despite trailing by 17 at rival ORU, Manning tweaked things in the second half and TU won by four.
And in early February, while playing at UTEP without their leading scorer and facing a fourth straight loss, the Golden Hurricane held off a tough Miners team to get back on track.
"You can see it," Tomkalski said. "He knows how to coach. You see the team growing up all the time, and that's coaching."
Manning said he never realized he had the desire to become a head coach until he got older. The thought would flutter in and out, he said, but it never drove him, and he never spent a minute looking past the task at hand while serving as an assistant coach. Now that his time has arrived, Manning can't help but feel like his path as a player and coach led him to Tulsa.
"I don't think things turn out the way you want 'em to. They turn out the way they're supposed to," he said, mentioning that he encounters evidence of Jayhawk fans in Tulsa almost weekly. "I had a great job as an assistant coach at Kansas. It's a great gig. To me, it was not something that you leave unless you find something that really fits you. And this fit."
More like this story on KUsports.com