Photo Gallery
Kansas basketball v. Texas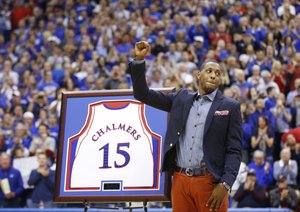 Images from Saturday night's game against Texas at Allen Fieldhouse.
Podcast episode
Kansas coach Bill Self talks after his team's 73-47 victory over Texas on Feb. 17, 2013.
After it was over, Texas men's basketball coach Rick Barnes joked with Kansas coach Bill Self that Self was running up the score by putting his son, Tyler, into the game late.
Barnes didn't have much reason to smile after that, especially at the postgame news conference when trying to explain his team's performance in a 73-47 loss to KU on Saturday night at Allen Fieldhouse.
"We didn't simply mentally do the things we wanted to get done on either end," Barnes said. "That's the thing that bothers me."
According to StatSheet.com, the worst field-goal percentage for Texas in the last 16 seasons was a 29.2-percent mark against Georgetown earlier this year.
The Longhorns weren't even close to that Saturday, making just 21.8 percent of their field goals (12 of 55).
The 21.8-percent accuracy, according to StatSheet, was the 12th-worst shooting performance by a Div. I team this year.
"I think we have to give them credit with their defense, but we had a lot of looks that we would have liked to make," Barnes said. "But you have to make them."
Texas' players also left thinking that they didn't take advantage of the opportunities they had.
"I have a pretty good feeling we had a lot of open shots," UT freshman forward Ioannis Papapetrou said. "We missed a lot of them, and when we miss shots and don't get defensive rebounds, then you put it on your defense.
"When they start making shots and feel confident and the crowd gets going, it was really tough to stop them."
Afterward, Barnes also was miffed with the officiating, especially when he felt a drive by Myck Kabongo should have drawn a second foul on KU's Ben McLemore in the first half.
"Plays like that can change the course of a game," Barnes said. "Now, I don't know if it would have made us shoot the ball better, but I'd feel a whole lot better if he was sitting over there.
"Those are things as coaches you try to do. You're going to try to go after certain players. You hope that you put fouls on them. But sometimes it goes your way, sometimes it doesn't."
Asked about KU, Barnes gave the Jayhawks credit, saying he'd always loved the way that Self's teams play.
"If you ask me, I'd say they're as good as anybody in the country," Barnes said. "But I think this is the year, and I've said it from Day One, I think it's a year where there's a lot of teams that can do something special in March. I don't think there's a dominant team.
"I think Kansas has as good a chance as anybody, especially when they execute."