Photo Gallery
Kansas basketball v. Texas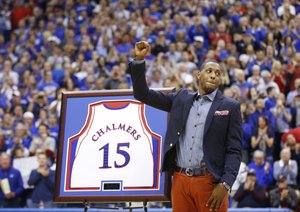 Images from Saturday night's game against Texas at Allen Fieldhouse.
Podcast episode
Kansas coach Bill Self talks after his team's 73-47 victory over Texas on Feb. 17, 2013.
Jamari Traylor, who had two points and four rebounds, played with his right thumb wrapped. He sprained his thumb at practice, KU coach Bill Self said.
Withey mania
Jeff Withey blocked two shots versus Texas and passed former Longhorn Chris Mihm as all-time blocks leader in Big 12 history.
Withey, who entered the game one shy of Mihm's total of 264, now has 265 rejections. Mihm played at Texas from 1998-2000.
"It definitely means something to me," said Withey, who blocked Jonathan Holmes once in the first half and once in the second. "I put a lot of hard work into getting it. I have a lot more games to play. Hopefully I can put some distance on it and make sure it doesn't get touched for 20 years or so."
What a dunk
Ben McLemore flushed a 360-degree breakaway slam dunk in the second half.
"I thought he was going to do a windmill between the legs," senior Kevin Young said with a smile.
Self scores
Tyler Self hit a driving layup in the final moments. He was fouled and missed the free throw.
"That was a hard shot, but if he wouldn't have gotten fouled it probably wouldn't have had a chance to go in," Bill Self said. "He was pretty happy afterwards. I will probably hear at home how he needs to probably start getting more playing time now," Self added, smiling.
UT coach Rick Barnes joked that Bill Self was running up the score in having his son score such a spectacular bucket.
GameDay
ESPN's "GameDay" crew held a two-hour show Saturday morning attended by about 5,000 enthusiastic KU fans in Allen Fieldhouse.
KU coach Bill Self answered questions from Jay Bilas, Rece Davis, Digger Phelps and Jalen Rose over the loudspeaker in the arena.
Self and former Michigan player Rose had a funny exchange.
"I listened to you earlier, Jalen. You said (if you were a coach) you would spend 70 percent of the time on offense and 30 percent on defense."
"Because I didn't play defense," Rose interjected.
"I know that," Self said. "When I was at Oklahoma State we played you in the Sweet 16 and we tried to pick on you back then."
"It was fun to play in that Oklahoma State game," Rose fought back.
"That's because you won," Self stated, grinning.
Self added that in a perfect world, "You recruit guys who are hard to guard. If I had to pick one, I'd want offensive players and teach them how to guard."
A highlight of GameDay was Withey and Travis Releford playing the game "Know Your Teammate," in which they answered questions about the other player.
Record
Future KU guard Conner Frankamp of Wichita North, who on Friday passed KU's Perry Ellis as all-time leading scorer in Wichita City League history, was not chosen to play in the 2013 McDonald's All-America Game.
"We're disappointed that he didn't make it, obviously, North coach Gary Squires told the Wichita Eagle. "He has all the tools, all the skills, all the talent to make it."
Frankamp, who scored a City League record 52 points in a game, has scored 40 or more points nine times, including five times this season.
"He is a great all-around player, plus he does a lot of things besides scoring, Squires told the Eagle. "He's a playmaker, excellent passer, he can rebound."
Stats, facts
KU is tied with Oklahoma State and Kansas State for first in the league at 9-3. ... In the first half KU held UT scoreless from the field for 7:50, going on a 13-1 run ... Texas' five first-half field goals were the fewest KU has allowed in a half this year and the fewest since Howard connected on five first-half field goals on Dec. 12, 2011. The last time a conference opponent had five or fewer field goals in a half was Texas Tech, who went 5-of-24 in the opening half Jan. 16, 2011. ...Texas' three assists were the fewest by a conference opponent since the 1983-84 season and fewest in a regular-season game since Ohio's three assists on Nov. 26, 2010.