Photo Gallery
Kansas basketball v. Texas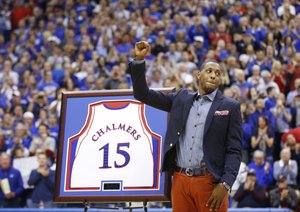 Images from Saturday night's game against Texas at Allen Fieldhouse.
Podcast episode
Kansas coach Bill Self talks after his team's 73-47 victory over Texas on Feb. 17, 2013.
Former Kansas University basketball combo guard Mario Chalmers had his jersey number 15 hung in the Allen Fieldhouse rafters in an emotional ceremony at halftime of Saturday's KU-Texas game.
Wearing a blue sports coat and orange slacks, Chalmers was accompanied onto the court by KU broadcaster Bob Davis.
Chalmers' No. 15 was revealed in the southwest corner of jersey row, between Wayne Simien's No. 23 and Max Falkenstien's No. 60.
"I love all the fans. This will always be my home no matter what. I love Kansas," Miami Heat guard Chalmers said in concluding his speech.
He thanked his parents, KU's coaches and fans. He singled out former teammate Jeff Hawkins.
"Without him, I wouldn't be here today," Chalmers told the crowd. "My freshman year was one of the hardest times for me. Me and coach (Bill) Self didn't get along. I wanted to transfer. I think it would have been one of the worst decisions I ever made. Jeff picked me up from my dorm room and told me he went through the same thing. There's no greater feeling to play in the fieldhouse in front of 16,300."
Before the game, he addressed the media.
"Years down the line being able to see my name in the rafters is a great honor. It's something you always hope for," he said of jersey 15 hanging high.
"That was one of my dreams growing up, to leave my mark on whatever school I went to. It happened to be Kansas, and I am glad I was able to do that."
Chalmers becomes the 27th KU men's player to have his jersey hung. Also, broadcaster Falkenstien has been so honored.
Chalmers, who was most outstanding player in the 2008 Final Four, hit the biggest shot in KU history — a three-pointer that forced the '08 NCAA title game against Memphis into overtime.
"I'd say 100," Chalmers said, asked how many times he's watched "The Shot" on tape. "Yesterday was the first time in a couple years. They played it at the reception (for Chalmers Friday night).
"It's a moment in your life you'll never forget."
He was asked to identify the most famous person to ask him about the shot.
"It has to be President Obama," Chalmers said. "He said something about the shot on our trip to the White House (with the world-champion Miami Heat). It doesn't get any better than that."
Chalmers identified his three most memorable games.
"My first game against Arizona. It's one of the worst games I had in my life," he said. "Of course, the national championship game and beating Florida in Vegas. Florida was a big moment for us for a young team."
Chalmers, who also mentioned all the Late Nights in the Phog and a victory over Texas when Kevin Durant played for the Longhorns, spoke with the Jayhawks at Friday's practice.
"I said, 'It's a good opportunity for you. Make the most of it,'" he said.