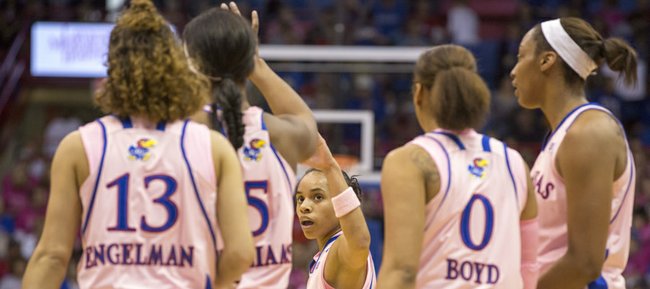 When a 19-point lead dwindled to seven with 5:35 left, Kansas University basketball forward Carolyn Davis stuck her backside into Oklahoma's Nicole Griffin on the right block before raising her right hand.
The message was clear to KU's Monica Engelman: "Give me the ball."
It didn't matter that many teams would have backed it out with 24 seconds still left on the shot clock. Or that Griffin had just performed a two-handed volleyball swat of a shot on KU's previous possession.
Davis received the pass, took three dribbles, then turned over her left shoulder to put in a short turn-around jumper.
It was the first of six straight points for the Jayhawks, whose poise showed down the stretch in an 81-71 victory over No. 22 Oklahoma on Sunday at Allen Fieldhouse.
"I knew I had to take over as a senior, as a captain," Davis said. "I just tried to push my teammates to get me the ball."
Davis' basket came at a time when KU's play was starting to waver, as OU used an 18-6 run to close the deficit to 60-53.
Earlier in the week, the Jayhawks had come back from a 23-point deficit to win at TCU, and Davis knew a game's fortunes could turn quickly when a trailing team gained confidence.
In a previous timeout, KU coach Bonnie Henrickson challenged her players not to lose their aggressiveness — just before Davis followed through on those words.
"She wanted the ball," Henrickson said, "and she wanted to go make a move."
On an afternoon Angel Goodrich set the school's career-assists record with 10 — pushing her total to 687 assists, which broke the previous mark of 686 held by Lisa Braddy — Davis was KU's best offensive option.
The 6-foot-3 forward led KU with 24 points on 10-for-17 shooting while contributing 18 of the Jayhawks' 46 points in the paint.
"We need her to do that every single game, to step up and be the big that we need her to be," Goodrich said. "That's what she did. I'm proud of her."
The formula was simple for KU in building a 34-22 halftime lead: get easy shots while limiting them defensively.
KU was especially effective going in the post to Davis, who scored 13 first-half points on 6-for-9 shooting.
Meanwhile, the Sooners started out cold. OU made just three of its first 22 field goals (14 percent) as KU used a 17-2 run to pull ahead, 19-7, with 7:09 left in the first half.
"We shot so poorly today," OU coach Sherri Coale said. "Just a lousy offensive performance."
Engelman posted her second straight 20-plus-point effort for KU, contributing 21 points on 6-for-14 shooting.
The senior guard had a career-high 26 points in KU's 76-75 victory over TCU on Wednesday.
"It's huge for us," Henrickson said. "The confidence she played with today ... she got to the rim and hit pull-up twos."
Goodrich added 17 points, while Chelsea Gardner contributed 10 points and nine rebounds.
The victory was KU's second against a ranked opponent this year. The Jayhawks also defeated then-No. 22 Iowa State, 78-75 in overtime, on Jan. 30 at Allen Fieldhouse.
The victory also provided KU (16-8 overall, 7-6 Big 12) with a résumé boost in its case to make the NCAA Tournament for a second consecutive year.
The Jayhawks will play at Texas at 7 p.m. Wednesday.
More like this story on KUsports.com