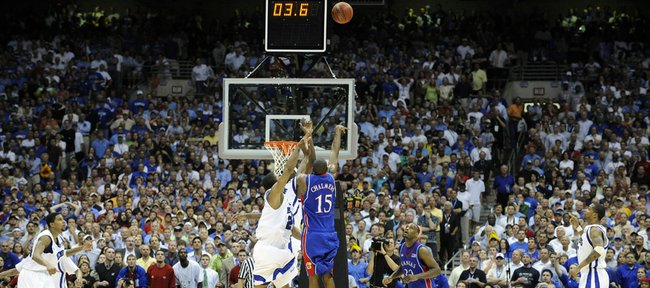 Kansas University senior center Jeff Withey will be in the locker room with his teammates and coaches, resting and receiving instruction at halftime of tonight's KU-Texas game in Allen Fieldhouse.
Thus, he won't have a courtside view of Mario Chalmers' jersey No. 15 being hung in the rafters.
That's OK. He and his teammates were able to mingle with Chalmers at practice Friday and will have a chance to visit with him again today either before or after the 8 p.m. Big 12 battle.
"Mario and the Miracle ... The Shot," Withey exclaimed, well aware of Chalmers' role in KU winning the 2008 national championship. "We all look up there (every home game to watch a pre-game video that includes Chalmers sending the Memphis game into overtime).
"It's awesome he gets to come back and get his jersey retired. We'll be playing for him and hopefully get that win for him, also."
Yes, there is a game to be played tonight between the Jayhawks (20-4, 8-3) and Longhorns (11-13, 3-8). UT is 1-0 with sophomore sensation Myck Kabongo, who missed the first 23 games because of NCAA suspension.
However, there are lots of side stories as well: Chalmers' jersey retirement; ESPN's "GameDay" being in town; the return of NBA players Marcus and Markieff Morris, Thomas Robinson and Nick Collison, who will be seated behind the bench; the visit of prize high school senior recruit Julius Randle; as well as the possibility of 7-footer Withey becoming the all-time leading shot blocker in Big 12 history.
Withey, who is KU's single-season and career record holder, enters with 263 blocks — one behind Chris Mihm of Texas, who had 264 from 1998 to 2000.
"No, I don't expect that at all," Withey said, asked if he thought Mihm would be on hand to watch his Longhorns and also congratulate Withey if he nets a block or two. "It's definitely an honor, something that's cool and I'm excited about. I want to be able to beat it so it lasts 20-30 years, something like that, not so somebody next year can beat it or the year after that. It's something special, and I'm proud of it. I need to put some distance on that."
Withey had 14 points, nine rebounds and three blocks in KU's 64-59 victory over Texas on Jan. 19 in Austin, Texas. Kabongo, a 6-1, 180-pounder from Toronto who is expected to be a first-round pick in the 2013 NBA Draft, did not play in that contest.
"He is a great player," Withey said. "Whenever you get somebody back, it brings more energy to your team and confidence. It will be a tough Texas team to beat. It was a tough game in Austin. It'll be tough here. He's a great player. He'll bring a lot to their team."
Kabongo scored 13 points, with seven assists, four rebounds and four turnovers while playing 35 minutes in Wednesday's 89-86 double-overtime victory over Iowa State in Austin.
"Kabongo definitely makes a difference from a speed standpoint," KU coach Bill Self said. "They can play (Kabongo) and Felix (Javan, 5-10 freshman, six points, four assists vs. KU) together. They can change the pace and do some different things when they put the two little guards in there together."
As far as the big picture entering today's action ... seven teams in the Big 12 appear to have a shot at the title with seven games to play.
KU, Oklahoma State and Kansas State are tied at 8-3; Oklahoma and Baylor are 7-4; Iowa State is 6-5; and West Virginia is three back at 5-6.
"Every team that's tied controls its own destiny. There may be five teams that actually control their own destiny, whether they win the league or not," Self said. "Obviously, the games that we have left, beginning Saturday with a Texas team that's playing really, really well, we have set ourselves up for a journey that is a great opportunity, and it will certainly test us. We can know a lot more about ourselves moving forward into the postseason on how we react within the next month."
KU, which has won eight straight league titles, obviously cannot afford another home loss (to go with loss to OSU) with road tests remaining at Okie State, Iowa State and Baylor.
"We've got some more confidence after the game Monday," Withey said of an 83-62 home Big Monday victory over K-State that snapped a three-game skid. "We're trying to build off that. We went through a rough area last week. That's over. We had a couple good days of practice. We're just trying to get our flow back."
A fired-up Withey had 17 points, 10 rebounds, five blocks and two steals against KSU.
"After losing three in a row, I was pretty mad going into that game," Withey said, asked about the scowl on his face in the early going. "Texas is a great team, and we're looking forward to playing them. Hopefully we can all be aggressive."
Aldrich honored in Minnesota: Former KU center Cole Aldrich of the Houston Rockets had his jersey No. 45 retired at his high school alma mater, Bloomington (Minn.) Jefferson High, Friday night.
Shaking: The Jayhawks filmed their "KU Basketball Harlem Shake" video before practice Friday. It can be viewed at http://bit.ly/XaRTjs
Randle in the house: Julius Randle, a 6-9, 240-pound power forward from Prestonwood Christian Academy in Plano, Texas, is slated to attend tonight's game. Randle is considering KU, Texas, Florida, Kentucky, N.C. State and Oklahoma.
GameDay schedule: ESPN "GameDay" will air two shows today in Allen Fieldhouse. The morning telecast begins at 9 on ESPNU. Doors to Allen Fieldhouse open at 7 a.m. Admission is free. The show continues from 10 to 11 a.m. on ESPN. ESPN also will televise a show from 7 to 8 p.m., from the fieldhouse floor. A ticket to the 8 p.m. KU-Texas game is required to watch that segment of the show in person.
On Friday, ESPN analyst and former Notre Dame coach Digger Phelps said he wishes "GameDay" could come to Lawrence every year.
"A few years ago we were here, when I saw the 'Star Spangled Banner' with the trumpets, then you see them (fans) going, 'Rock Chalk, Jayhawk, KU,' and the acoustics, you get goose bumps," Phelps said. "I said to Bill on the phone the next day, 'I'd have those recruits in on Saturday night because you can forget Cameron, you can forget the Smith Dome, you can forget Pauley, it's all about you, baby.'
"They had a three-game losing streak (entering Monday's KSU game). As soon as that game started, the crowd was not going to let those guys let up the other night against Kansas State. It was the crowd, the sixth man that got this team to recapture what it lost. That's the best of this place. It's second to none as far as I'm concerned."
Frankamp record: Wichita North senior shooting guard Conner Frankamp, a Kansas basketball signee, scored 37 points Friday night against Wichita Carroll, setting the Wichita City League individual career scoring record of 2,233 points.
He broke current KU freshman Perry Ellis' record of 2,231 points.
The state individual career scoring record is 2,554 points, held by Josh Reid of Brewster (1993-96).